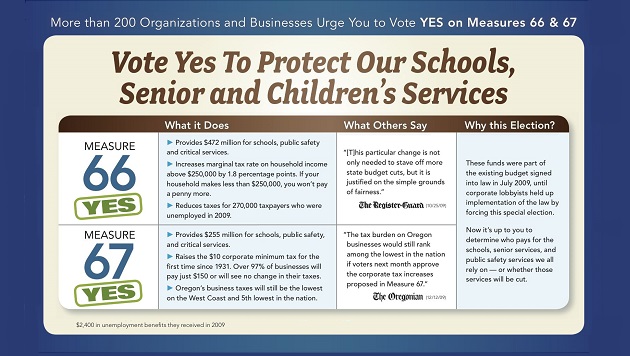 In January 2010, Oregonians voted to protect public education and public services with two new tax measures that increase taxes on corporations and the wealthy.
Oregon has a history of rejecting sales tax and other regressive tax increases, but now the state faces a large budget deficit. To cover $727 million of this deficit, measures 66 and 67 increase the corporate minimum tax, paid by two thirds of corporations that do business in Oregon, to $150, and an increase on income tax paid by the highest 3% of earners.
The minimum corporate tax has been $10 since 1931, hardly keeping with inflation and state budget needs. With the recent bail-out of Wall Street, public anger at the rich is high. The campaign to save public services was taken up by progressive groups in Oregon. The Oregon Education Association, public employee unions such as AFSCME and SEIU and others, Jobs with Justice, the AARP, the Oregon Health Care Association, and over 250 other organizations formed the ""Vote Yes for Oregon"" coalition.
Many member groups of the ""yes"" coalition had worked together on other campaigns before, and knew that they would face a corporate funded opposition campaign. The ""yes"" coalition appealed to voter anger, and focused on public outreach. Supporters were given fliers full of information on the campaign website, and encouraged to talk to their friends, coworkers and neighbors.
Volunteers went to sports games, organized door to door information spreading, and made phone calls to voters. Their message was straight forward: increase the corporate minimum tax, paid by two thirds of corporations in Oregon, and higher taxes on the richest of the rich. Their message stressed the importance of the tax measures to nurses, teachers, and public safety.
The support received by the ""yes"" campaign was quite large. On Martin Luther King Day, the coalition wanted to mobilize 500 volunteers to canvas across the state. Over 700 gathered at SEIU union halls and other locations in various cities and then went out into communities to door knock and canvas. Perhaps the clearest indicator of the ""yes"" support was that it was able to raise $6.9 million from mostly public employee unions, compared to the opposition campaign ""Oregonians Against Job-Killing Taxes"" that raised $4.6 million from business groups.
The opposition response to the ""yes"" message was that it was irresponsible to increase taxes in a recession, and that businesses would be forced to raise prices, make layoffs, or close due to the tax increase. The ""yes"" campaign consistently explained that the tax increases on corporations and high earners were modest and fair. Already in 2009, $2 million was slashed from the budget, and if measures 66 and 67 were not passed, thousands of elderly and disabled would lose health coverage, and tuition at state schools would be increased to maintain the budget.
This tax on the wealthy is an important first step to solving the budget crisis in Oregon, and will be a great example to those feeling budget cuts elsewhere. It is highly likely that more cuts will be needed in Oregon to deal with the budget crisis, so the fight to protect public services must continue. Corporations and the rich have enjoyed bailouts and low taxes, and can afford to give back to the rest of us when we need it most. If businesses threaten to move away from the state's high taxes, they should be taken into public ownership – the rich should not be allowed to take away jobs in order to make a bigger profit.
Oregon voters have defended their interests, and rejected the neo-liberal logic that cuts to social services and layoffs are the only way to solve the budget crisis. They have shown that services can be protected by going after those who are attacking them, and that a well organized struggle can defeat corporate propaganda and win gains for ordinary people.