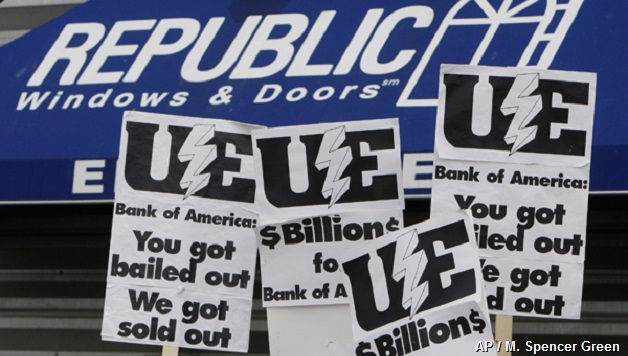 By Steve Edwards, President, AFSCME Local 2858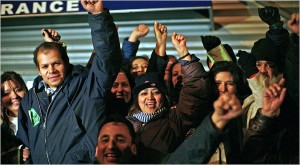 A couple of hundred Chicago factory workers electrified the labor movement in December, winning in six days of direct action what years of lawsuits couldn't have: all the money that was owed to them by a bankrupt employer.
Told on a Tuesday that Republic Windows & Doors would be out of business by week's end – despite its state-of-the-art, city-financed factory, a useful, energy-efficient product, and orders still on the books – the 260 members of United Electrical Workers (UE) Local 1110 came in to work on Friday but didn't leave.
Instead, at a brief meeting in the cafeteria they voted 200 to 0 to hold their factory and its contents hostage until they were paid their legal due. This included not only their accrued vacation pay but also the 60 days of severance and healthcare due to them under Federal law.
The news spread fast. The next day, Saturday, December 6, over 300 supporters showed up at the Goose Island factory for a noon demonstration. Learning that the company was blaming the situation on its creditors, including $25-billion-federal-bailout-recipient Bank of America, this "prayer vigil" made up a new chant: "They got bailed out, we got sold out!"
The occupation caught people's imagination. All that day and late into the night, working-class people, from raggedy anarchists to suburban moms with their kids in their Christmas scarves and hats, brought donations of money, food, and blankets to sustain the occupiers.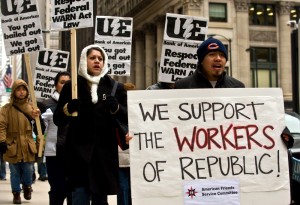 TV stations that had ignored far bigger labor struggles took up the story because they could not ignore the anger over billions of dollars going to Wall Street while workers lost their jobs. On Sunday morning, still more media showed up as Operation PUSH brought 300 bags of Christmas dinners from a unionized local grocery chain.
What the workers were doing was completely illegal but entirely just. They were so unified and determined that management didn't even try to make them leave. The Chicago police took one look at the situation and left the decision to a higher power – the Mayor – and throughout the next few days, as politicians from Jesse Jackson and Congressman Luis Gutierrez to Governor Blagojevich and President-Elect Barack Obama called on Bank of America to pay the workers, Mayor Daley was uncharacteristically silent.
The closure of the architecturally acclaimed factory in the heart of the Goose Island "Tax Increment Financing" district, where subsidized industrial showplaces push the "condo-lonial" invasion of the yuppified Gold Coast into the working-class neighborhoods of the real Chicago, is a symbol of the failure of Daley's privatized dream world.
Daley paid the company to stay in the city, with almost $10 million in direct grants and a $12 million loan over the past dozen years, only to have it end like this – and then the Chicago Tribune announced, two days into the occupation, that the family who owns Republic Windows & Doors had already bought a non-union plant in Iowa from which to continue to operate.
The same owners had paid only $2 million about two years ago to become majority shareholders – in a plant that had cost $39 million to build 12 years before – and had already sold the building and the land under it to the multi-billion-dollar Wrigley candy company – and still managed to borrow millions from Bank of America and other banks.
We, the working-class people of Chicago and the world, have already paid for this factory.  The workers who built it, the workers who worked in it, the workers who pay taxes whether we like it or not to the city of Chicago and the federal government that bailed out the banks, we've paid for this factory over and over again. Private ownership has failed to keep it open, despite massive subsidies from both city and federal governments.
Capitalism produces goods only when there is a profit to be made. Yet there remains an enormous unmet need for useful products – in this case, energy-efficient windows for the aging homes of Chicago and the region. The city is not shy to use eminent domain when it wants to build a new prestige project. They should use it just as decisively to save our jobs and industry.
Failing plants like Republic Windows & Doors should be taken into public ownership, without compensation for the previous owners except in cases of proven need, and operated under the democratic control and management of workers and the community to produce what society needs.