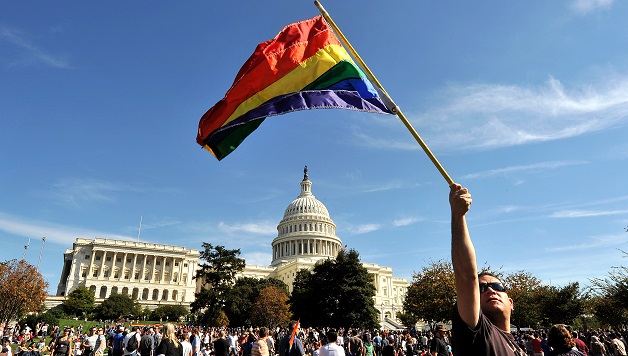 On June 27, the US Supreme Court upheld the rights of a gay couple from Texas. Significantly, they did not stop short at simply decriminalizing gay sex, but made a strong declaration about the equal status and rights of gay people.
The reaction of the religious right is a good marker of how important this ruling is. On the same day, Reverend Jerry Falwell said: "This is probably as bad a day as the court has had on social issues since Roe vs. Wade."
Jay Sekulow, legal director for the American Center for Law and Justice, a conservative legal advocacy group founded by Pat Robertson, said: "We all were especially surprised by the scope and breadth of today's opinion. It was a grand slam homer for the other side."
Even worse, a homer hit by people who are supposed to be on your team! The ruling passed six-to-three, with four Republican-appointed justices voting for it.
Celebrate
It's a time for celebration in the lesbian, gay, bisexual, and transgender (LGBT) community. But it has also brought the issues of how and when to fight for equality back to the fore.
The Supreme Court ruling has broad implications. It will put issues such as LGBT people openly serving in the military back on the agenda, and it will spur on the drive for legalization of LGBT marriage.
However, moderation is being urged by many of the key campaigning groups. Their message is that this is a victory won through lobbying and carefully planned legal battles, and that the last thing we need right now is for members of the community to let this success go to their heads and then they start rocking the boat.
To win legal victories and to capitalize on them, we need a movement, not just lobbying groups. LGBT Americans are now officially recognized as deserving all of the rights of any American citizen – but this official status would never have been granted without the movement that took place over the last thirty years. And it will have limited practical implication unless we continue to take to the streets and build broad campaigns linked with other victims of prejudice in our society.