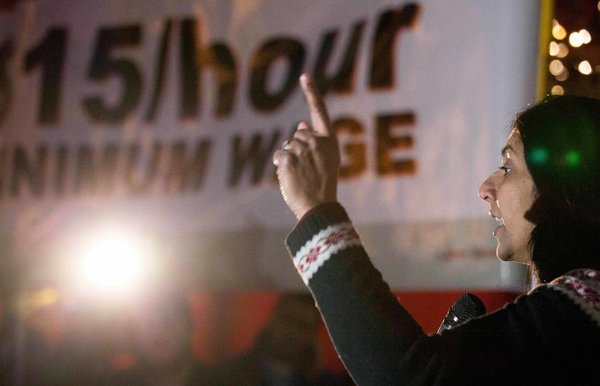 "I only take an average worker's wage and donate the rest of my salary to help build social justice movements." – Councilmember Kshama Sawant
Every Councilmember faces a choice of who they represent and which world they inhabit. My place is with working people and their struggles. I was elected to give a voice to working people, union members, women, people of color, and immigrants. In line with the principles of the political party I represent, Socialist Alternative, I pledge to stay accountable to working people by taking only the average worker's wage.
Seattle City Councilmembers receive over $140,000 a year – the second highest of any city council in the country. Inevitably, such a salary removes Councilmembers from the realities of life for poor and working people.
I take home just $50,000 per year after taxes. The remainder of my salary goes to a Solidarity Fund to help build social justice movements.
Towards the end of each calendar year, and more regularly as needed, I will give a full account of my income and how my Solidarity Fund is being used.
---
2014 Donations:
Remaining balance going into 2016: $18,650
Remaining balance going into 2017: $19,975
2017 Donations:
2018 Donations:
2020 Donations:
| | |
| --- | --- |
| Tax Amazon | $10,000 |
| 15 Now | $7,200 |
| SEIU 1199NW Solidarity Strike Fund | $1,000 |
| Wildcat Strike Fund at UCSC | $1,000 |
| Flowers for Imogene Williams, longtime Seattle activist | $58.30 |
| Diaz Love gofundme | $500 |
| Summer Taylor gofundme | $500 |
| Rent Strike 2020 | $4,000 |
| Funeral cost for Lusis Eduardo activist on homelessness, and immigrants rights issues | $100 |
| Sherae Lascelles campaign | $100.00 |
| Byron Sigcho campaign | $60.00 |
 2021 Donations
| | |
| --- | --- |
| Be: Seattle | $500 |
| Amazon Unionization in Bessemer Alabama fundraiser | $3,007 |
| Support activist traveling Bessemer Alabama to help with Amazon unionization  | $400 |
| Duante Wright Family's gofundme | $500 |
| Flowers to Edmund Witter of Housing Justice Project | $66 |
| Nickelsville Fundraiser donation | $1,000 |
| Pete J. McGuire Group Legal Aid GoFundMe | $1,000 |
| Pizza for Rainier Court tenant organizing meeting from Castello's | $197 |
| Bahn mi sandwiches for Rainier Court tenant organizing meeting | $275 |
| John Deere Strike Fund on Gofundme | $5,000 |
| Pizza for Rainier Court tenant organizing meeting from Castello's | $98 |
| Drinks and supplies for Rainier Court tenant organizing meeting | $51 |
| Pizza for Rainier Court tenant organizing meeting from Castello's | $280 |
| Drinks and supplies for Rainier Court tenant organizing meeting | $57 |
| Donation to 15 Now | $4,800 |
| Donation to Socialist Alternative | $10,000 |
 2022 Donations
| | |
| --- | --- |
| Donation to Starbucks Workers United Strike & Support Fund | $1,000 |
| Donation to Socialist Alternative | $2,000 |
| Donuts and coffee for Rainier Court tenant event | $80 |
| Flights/hotel rooms for unionizing Starbucks workers for press conference and rally | $1,670 |
| Flights to Seattle for press conference and rally for unjustly fired Memphis 7 workers | $1,720 |
| Minneapolis Federation of Teachers and Education Support Professionals, Local 59 Strike Fund | $2,020 |
| Donuts and coffee for Rainier Court tenant meeting before public comment | $47 |
| Strike Fund for PNW Starbucks Workers United | $5,000 |
| Food for striking Marysville Starbucks workers | $20 |
| Flights for unionizing Starbucks workers to Seattle for April rally | $6,647 |
| Accommodation for Starbucks workers in Seattle for April rally | $3,310 |
| Reimbursement for Starbucks workers' transportation (gas/rideshares) | $432 |
| IRS Tax Payment | $5,264 |
| Banh mi sandwiches for Starbucks worker organizing meeting | $110 |
| Pizza and other food for Starbucks worker organizing meeting | $144 |
| Unionize Starbucks & Amazon vinyl banner from Trade Printery | $264 |
| Donation to Amazon Labor Union | $10,000 |
| Donation to Amazon Labor Union | $10,000 |
| Donation to Seattle Art Museum VSO Union | $1,000 |
| Food for organizing meeting with unionizing MightyKidz workers | $200 |
| Donation to MightyKidz worker organizing fund (Magnolia Childcare Union) | $2,000 |
| Donation to CAUSE South Carolina unionizing Amazon workers | $1,000 |
| Donation to IAMAW Strike Fund | $1,000 |
| Donation to Unionize Amazon Northern Kentucky KCVG | $5,000 |
| Donation to Socialist Alternative | $40,000 |