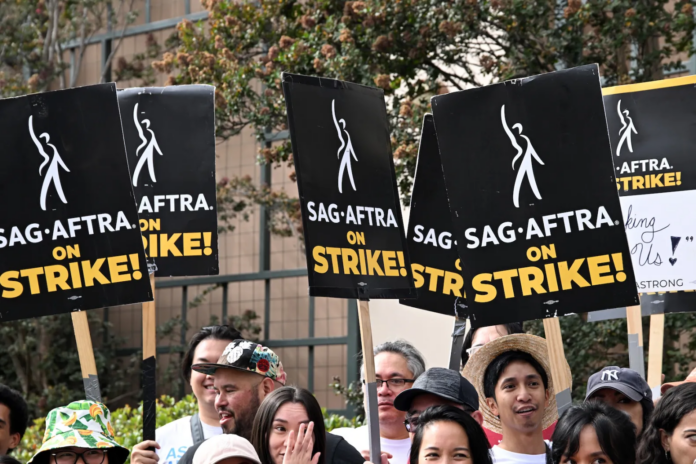 Eddie K. Robinson, SAG-AFTRA member (personal capacity)
It's no secret that the life of a working actor can be a tough one. Out of the 160,000+ members that make up SAG-AFTRA, the vast majority are constantly struggling to make ends meet, to pay their bills, afford their ever increasing rents, and take care of their families, solely by means of their artistic work.
Despite the big names we all know, most actors are in between gigs, with no real way of knowing where on the horizon the next job lies. As a member of SAG-AFTRA since 2012, my artistic life has been filled with incredibly gratifying experiences and opportunities, but also with just as many hardships and sacrifices. Many actors have to take on multiple jobs in order to "stay in the game," in hopes that our sacrifices will be rewarded and valued by an industry that has, for far too long, treated rank and file actors as a disposable resource. And that is at the heart of why actors have been on strike for 109 days, as of Halloween, October 31st, 2023.
The Fight And Frustrations So Far
For months now, actors have been striking against the AMPTP, the Alliance of Motion Picture and Television Producers. The insatiable greed of Hollywood producers, executives, and streaming services such as Netflix, Disney, Warner Bros. Discovery has caused a historic work stoppage that has shut down almost all film and TV production in North America. At a certain point, both actors and writers in the Writers Guild of America were on the line together – completely shutting down Hollywood and winning the writers a historic contract.
The fight for actors has been primarily over securing increases in our base wages and a reworking of our residual payment structure to keep pace with crushing inflation, combating the rise of artificial intelligence and it's dystopian potential to replace flesh and blood artists with digital facsimiles, and winning better conditions around the audition and self taping process. Ever since the pandemic began, actors have had to take on more work and responsibility than ever before, just to audition for jobs due to so much of the business moving online.
And despite the current high spirited picket lines and social media posts, frustrations are indeed starting to mount all over the industry the longer this fight goes on. In addition to actors going without work, something that the rank and file are often used to, there's a whole ecosystem of film industry workers whose lives have been impacted by the strike. Costume and makeup artists, props specialists, drivers, cooks and craft service workers have all had to go without the work that they expected to have this season. There have even been some reports of production and crew members blaming the strike itself for their current struggles, instead placing the blame solely on the bosses, where it belongs. This type of division among workers cuts across the solidarity needed to bring the AMPTP to heel and only aids in the bosses' capitalist agendas.
There have also been some misguided attempts by some of our more prominent members to bring an end to the strike. A collection of A-listers, led by George Clooney, naively attempted to break the stalemate by presenting guild leadership with an offer to pay more in membership dues and contribute more to the fund that sustains our health insurance. This was clearly misguided, due to the fact that it would literally violate labor law, shift blame and pressure away from the bosses, and come nowhere near winning the on demands that the union's been fighting for for months. This speaks to a particular divide in consciousness between some of our more "well-off" members of the union and the rank and file. Luckily, most of the membership didn't go for that: 3,600 members signed an open letter expressing their solidarity and determination to strike until a worthy deal is reached. It also warned against the "minority who are not willing to make temporary sacrifices for the greater good, for the rank and file."
There's also been other sloppy attempts at escalation, from the union leadership, pertaining to how actors should celebrate Halloween. On October 20, union leadership posted an infographic containing "Halloween costume guidelines" for members on the picket line and elsewhere, stating that members should avoid "any and all costumes that would promote or take inspiration from shows and/or films that are being struck." This is a very inconsequential tactic, and exposed the weak position of the union leadership.
The Time For Escalation Is Now
Time is running out for the industry to salvage the 2023-24 TV season and the 2024 summer box office and due to constant stops and starts in negotiating, this long strike has become a battle of whose collective resources run out first, the bosses or the workers. The often-used refrain of "One day longer, One day Stronger" pushed by union leadership, needs to be replaced with actual escalatory tactics and actions.
Maybe it's time to start calling for boycotts of these streaming services. Maybe it's time to do away with the divisive and confusing Interim Waivers/Agreements that allow a small portion of actors to continue working while the rest of us march on the picket line. Maybe it's time to build broader and stronger alliances with striking workers from other sectors of our society during this era of increased labor activity. But it's way past time to start applying maximum pressure on the bosses, and also, frankly, on our leadership as well. The victories won by the Writers Guild of America just proved that the AMPTP can absolutely provide for what we're demanding, if we remain clear and steadfast in our demands.
"Power concedes nothing without a demand. It never did and it never will." That famous quote rings as true today as when Frederick Douglass said it over 165 years ago. Only rank and file worker solidarity, escalation, and maximum pressure on the bosses will bring this strike to its long overdue end. It's way past time for all of us to get back to work doing what we love and for the bosses to fully recognize our value and our labor. Until then, the fight continues.