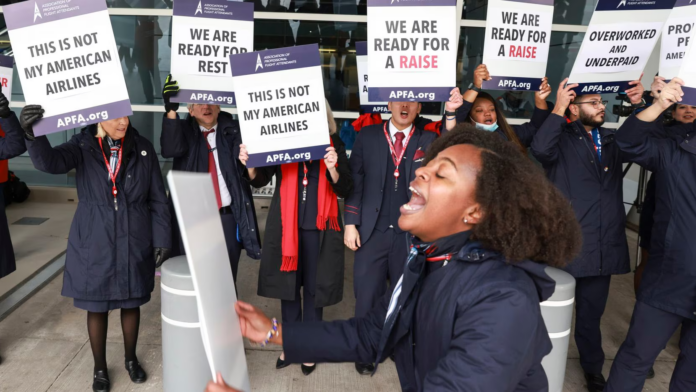 By Barbara O. – Airline Worker, Dallas
An overwhelming 99.47% of American Airlines flight attendants have voted to authorize a strike, with over 93% of eligible flight attendants participating in the vote. American Airlines (AA) is operated by over 26,000 flight attendants who are demanding better pay and working conditions against the corporation's reported $1.3 billion profit in the second quarter of 2023. Their union, the Association of Professional Flight Attendants (APFA) is one of three main unions representing flight attendants in the US, alongside the Transportation Workers of America and the Association of Flight Attendants-CWA, which is led by international president Sara Nelson.
Labor struggles have shaped the airline industry in the United States, and with support for unions at a historic high, a flight attendant strike would be a powerful tool to flex behind their demands. AA flight attendants are demanding a 35% one-time wage increase along with 6% annual raises and increased benefits.
And they wouldn't be alone! Entertainment writers organized in the WGA have been on strike for more than 100 days. SAG-AFTRA actors are exploring a widening of their strike to video game companies. At informational pickets to announce the strike authorization, AA flight attendants were joined by airline ramp workers, pilots, actors, writers, and transportation workers from other industries and unions. Although #SolidaritySummer is coming to a close, significant potential actions are on the horizon, reminiscent of Striketober in 2021.
To see the more traditional, 'heavy battalions' of the working class in logistics, warehouses, and transportation escalating with major action is key to reversing the race-to-the-bottom workers have faced in the neoliberal era. The Big Three Detroit automakers (GM, Ford, Stellantis) and the United Auto Workers union (UAW) are negotiating a new labor contract with a real possibility of escalating into a strike – around the same time the American Airlines flight attendants could walk out.
According to polls in 2022, a majority of people believe corporations' behavior is a major cause of inflation by raising prices to take advantage of the pandemic. This price gouging is highly visible in the airline industry, where large, 'legacy carriers' like American, Delta, and United, raised ticket prices over the summer holiday to outpace inflation even as fuel prices were going down, in reality, so they could each record more than $1 billion in profits in a single quarter.
Pay And Safety For Flight Attendants, Not Just Glamorous Travel
You may have heard that flight attendant hourly pay only begins when the boarding door is closed, but serving drinks and snacks is only a small portion of the job. The notoriously sexist industry of the past has significantly shifted standards against sexism, but the contemporary battle for gender equality in aviation is a material fight for better pay and working conditions.
According to an American Airlines flight attendant, they're required to walk through security at the airport at least one hour before flights. While ground crew and pilots have their own security checklists aboard an aircraft, a flight attendant has to confirm all safety equipment on board is present and operational, which can take several minutes. Boarding can take at least 30 minutes, with crew briefs before and after flights, and then there's time spent running between gates to connect if there are multiple flight legs in a day. All of that is time spent working and is technically unpaid. For AA's 6,700 flights per day, that's many thousands of hours of unpaid labor.
Flight attendants at American receive a monthly guarantee of hours when getting started at the lowest base wage. A flight attendant on one AA picket did the math: "A new hire is guaranteed 75 paid hours per month at the lowest base pay which is $30.35 an hour, plus what's called a 'per diem'; although this is actually a very tiny hourly amount of $2.20 an hour for the time the plane isn't moving. So 75 x 30.35 = $27,315 a year not counting the per diem (because it's unreliable when you're on-call and it's unclear how much you might fly). The ongoing joke is you can have a glamorous job as an American Airlines flight attendant and still apply for food stamps."
The AFA identifies flight attendants as "aviation's first responders." In the past, every stewardess needed to be a qualified nurse. Today that isn't a requirement, but the job is first and foremost about being a safety professional.
The image of the 'stewardess' in early commercial aviation is riddled with backward ideas. From an airline's commercial campaign emphasizing women saying "fly me" to a supposed memoir called "Coffee, Tea, or Me?" revealed to be some man's fantasies of a stewardesses' "promiscuous existence," the culture of sexist objectification was promoted by corporations and encouraged pilots and passengers to mistreat professional flight attendants. News anchor Harry Reasoner famously said, "I don't want a sex object in a narrow aisle but I don't want a surly union member either. I want someone youthful and illusory who looks like she thought flying was fun even if she knows more about emergency evacuation of airplanes than I would like to think about."
Flight attendants began unionizing in the 1940s and '50s, and when conservative leaderships didn't fight hard enough to challenge sexism or fight for better wages and benefits, flight attendants built new, independent unions. Gloria Steinem played a special role in elevating the flight attendant's struggle, a struggle which became a key, organized part of building feminism's "second wave." Marx said the horrors of capitalism create the system's own gravediggers in the working class: flight attendants were pushed by sexism, discrimination, and a lack of respect as safety professionals in a key industry. It was crucial that gender equality was part of their demands from the beginning. Of course today there is more work to be done.
Working Class On The Move
Flight attendants at all airlines should be paid a full wage for boarding and duties performed before and after the aircraft door closes. It took more than a decade of work by aviation unions to change the Federal Aviation Administration's mandated rest period rule from 9 to 10 hours for flight crew, even though fatigued crew members historically account for significant airline accidents. The New York Times recently covered the crisis in air traffic control, where mandatory overtime and long hours have led to an increasing number of near misses which were so close that the FAA called these encounters "skin to skin." These dangers are in part due to understaffing in air traffic control with its roots in President Reagan firing more than 11,000 workers with the Professional Air Traffic Controllers Organization during their strike in 1981. Decades later, air traffic control staffing and the training required hasn't caught up to the need while the existing workforce is overworked to exhaustion.
Pilots have been in negotiations and winning stronger contracts. AA's pilots ratified a contract with a 40% pay raise over four years. United Airlines pilots are voting now on whether to accept a new contract which could include 40% raises worth $10 billion, after Alaska, Delta, and American organized for big increases. For airline crews, long hours, fatigue, and rest periods are of crucial importance in negotiations as well.
If American and APFA are unable to reach an agreement in federal mediation, APFA could request to be released into a 30-day cooling-off period, after which the attendants would be free to begin a strike. Southwest pilots have authorized a strike and could be walking around the same time. These actions combined would threaten over a third of airline travel.
Earlier this year, APFA warned AA flight attendants not to take what they called "self-help action," meaning organized sick-outs, slowdowns, or refusal to perform duties, citing that their negotiations are governed by the Railway Labor Act of 1926. The Railway Labor Act is intended to prevent major strikes and economic disruption in key logistics industries, like airlines and railroads, and requires workers to overcome a number of hurdles and go through official mediation before taking strike action. This is a clear indication of how much power airline workers have, and with the support of pilots across airlines, and workers in other industries, American Airlines flight attendants could leverage a lot of power in spite of these legal binds.
Hitting The Bosses In Their Pocketbooks
Transportation and warehouse workers make up about 7-9% of the total workforce in the United States and have been a key area of struggle long before the pandemic but any workplace action needs sustained, broad public support. A strike at UPS was cut across by a tentative agreement that was mostly acceptable to the company, but those workers debated a tactic that would have shaken the economy at its foundation. Democratic Party leadership undercut railroad workers who threatened to strike for better pay, sick days, and better protection against dangerously fatiguing hours. Those issues aren't resolved although rank-and-file workers in logistics will need to regroup and prepare for the next opportunity in the fight. Amazon workers are fighting for a union at the company's largest Air Hub.
During President Trump's government shutdown, a mass sick out by air traffic controllers brought airport operations to a halt in the US's largest airports. AFA president Sara Nelson followed up the action by calling for a general strike and a walk-out by all flight attendants nationally saying, "if air traffic controllers can't do their job, we can't do ours." The threat of workers shutting down the airline industry forced Trump to negotiate to end the 2019 shutdown and highlighted the massive amount of power airline workers have.
However, billionaires and politicians also recognize the power of airline workers, and politicians regularly side with corporate airlines over workers. Reagan's breaking of the PATCO air traffic controllers strike ushered in decades of decline and attacks on the labor movement, but mass direct action by organized workers, with broader support, can rapidly extract key concessions and show the relevance of organized, militant action. The recent victories of pilots show corporate airlines will pay raises if their pocketbooks are threatened.
Flight attendants at American Airlines will need to be prepared to call on the rest of the labor movement and wider working class for support should they strike. They'll need to be prepared for the about-face of Democratic Party politicians, showing up to speak at their pickets as allies in their fight one day but pressuring flight attendants to return to work the next, as they did with UPS and railroad workers. APFA will need to escalate the struggle, with transparent bargaining, to mobilize their members every step of the way, and stand up to the pressure they'll come under from the political establishment. Socialist Alternative stands with American Airlines flight attendants in their fight!