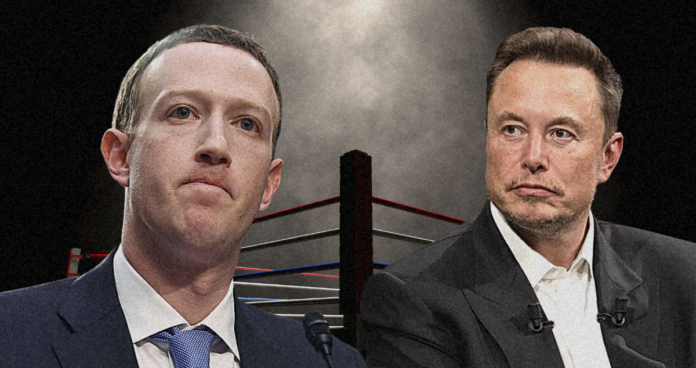 Tensions are heating up between two of the richest men on the planet, but rather than a typical dispute heading for the courtroom, this grudge match between two titans of U.S. social media appears to be heading to the ring.
Two tech billionaires, Elon Musk and Mark Zuckerberg seemingly agreed to a cage match faceoff earlier this summer, following escalating agitational banter between the owners of Twitter and Facebook respectively. In light of Zuckerberg rolling out Threads, essentially a Twitter knockoff meant to take advantage of dissatisfaction with Musk's latest big corporate conquest, Elon took a dig at Zuckerberg in a tweet, stating: "I'm sure Earth can't wait to be exclusively under Zuck's thumb with no other options." The irony of this was not lost on us, nor was the blatant contradiction of how Musk has curated X to benefit right-wing talking points and boost his own presence, rendering his lip service to free/equal speech empty. This was the initial comment that prompted another user to "warn" Musk of Zuckerberg's mixed martial arts training, to which Elon responded that he would not be averse to a cage match to settle this dispute.
While talk of the cage match died down shortly after it began, it was revitalized on August 6, following the announcement that the fight would be streamed on "X" (formerly Twitter) and that all proceeds would go to a charity for veterans. It doesn't take an "X"-Ray to see through the thin layers of charitable sentiment to the underlying objective: to use this media spectacle to divert the attention of internet users. As both of their platforms, along with many others, have been vessels for disastrous news coverage and growing anti-establishment sentiment, what better to break up the feed than with a premeditated gladiator battle that is sure to rake in profits? It is worth noting that the primary demographic tuning into this hypothetical skirmish would be young people, most watching in the vain hope of mutually assured destruction.
Whether or not this bloodlust for the billionaire class will be satiated is still to be determined, but most crucially we must recognize that this desperate ploy for media attention is but another means to divert the minds of working-class people and rally support for one evil versus another, again bringing to the forefront the need for democratic public ownership of social media.