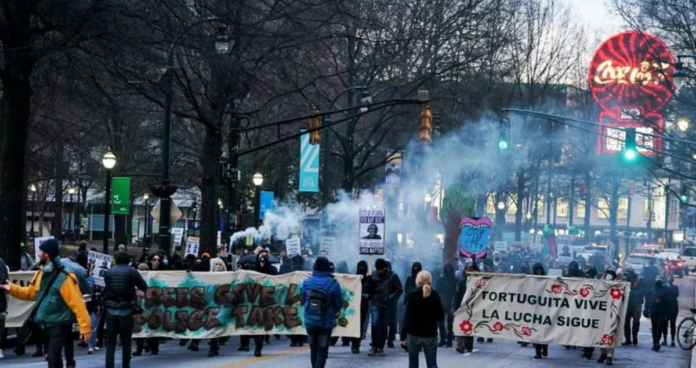 For months, Atlanta's political establishment has been trying to sell to the public its plan to establish a massive $90 million dollar training facility for police officers, known as "Cop City." Building Cop City will cut down some of the last native forests in Atlanta, and bulldoze a predominately Black working-class neighborhood. This heinous plan has inspired a persistent struggle from working people and youth against the building of the facility.
For several months, protesters continually occupied the Cop City location. That went on until police swarmed the area in January, killing an unarmed activist and arresting dozens. Atlanta prosecutors are now attempting to charge these protestors with domestic terrorism. If prosecuted, these activists could face upwards to 35 years in prison!
Who wants to build this massive installation, and why? Atlanta's political establishment, which is predominately the Democratic Party, wants a stronger police force to prevent or respond to another massive uprising like during the George Floyd movement. In 2020, former Atlanta mayor Keisha Lance Bottoms sent militarized police after protests and decried the protests as "chaos" and "not in the spirit of MLK." She was rewarded for having protected racist policing and private property with a job in the current Biden administration. Now, the new mayor and city council of Atlanta are continuing the course of increasing repression of workers as Democrats across the country reinforce law-and-order policing, like we've seen from Eric Adams in NYC and Lori Lightfoot in Chicago.
Corporations such as Amazon, UPS, and Wells Fargo support the establishment of Cop City by being wealthy backers of the Atlanta Police Foundation. They too see the need for a stronger police department to intimidate workers from building a militant and broad movement challenging racist policing as well as more money for social spending. It's endeavors like Cop City that make crystal clear that Democrats and corporations only pay lip service to racial justice, while using their money and power to ensure the continuation of police violence on Black working-class communities.
Now an upcoming referendum in November will decide if the public supports the building of Cop City. The movement for a decisive "No" vote on Cop City will need to clearly articulate an alternative with bold demands that speak to the needs of working-class Atlantans, particularly the Black working class. Average rent in Atlanta rose 31% in the past five years – the $90 million allocated to Cop City should go into building permanently-affordable housing to combat economic evictions, which are a primary driver of gentrification. The struggle against Cop City has already demonstrated the strength of a unified movement against racist police violence and environmental destruction – a bold, multi-racial coalition of working-class people, the labor movement, and community activists around a positive program for the needs of all working people could be even more explosive.