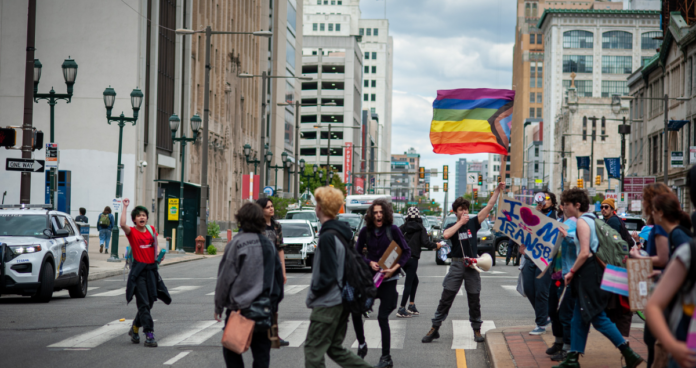 On a sunny afternoon in late April, 200 students from across Philadelphia marched up the middle of Broad Street between City Hall and the Philadelphia School District building. Like many other students across the US who have entered into struggle against the reactionary, anti-trans rhetoric put out by the far-right and right populists this year, we walked out of school at noon on April 25 to demand the protection of our trans classmates. With calls against the three bills on the table in Pennsylvania that would restrict trans access to healthcare, education, and sports participation – as well as calls against both the Republicans for launching these attacks and the Democrats for failing to put up a fight – students took and blocked Broad Street for over an hour. The walkout was hugely successful, with nearly twice the number of people attending than what we expected. This did not happen on its own, rather it took hard work from the organizers over the course of several weeks.
How We Built For Our Walkout
Two weeks before the walkout, a leading organizer from another school in the Philadelphia School District proposed a public meeting where students from schools looking to get involved could meet with the organizers to discuss. He was able to find a location and time for the meeting and we created an agenda as well as a presentation to start the discussion. This meeting focused on a plan to build for the walkout. Additionally, we formulated our demands of making Philadelphia and Pennsylvania sanctuaries for trans people, voting down the bills HB 138, HB 216, and HB 319, fully funding public schools to support resources for LGBTQ+ kids, and universal healthcare that includes gender-affirming care. Over the next weeks, the organizers focused on writing speeches and, importantly, actively building the walkout to ensure high attendance and energy by convincing their friends, classmates, and teachers to walk.
At my school, a group of four students including myself spent the two weeks between the public meeting and the walkout actively talking to everyone in our school about the event. As one of my friends who was crucial in mobilizing our school put it, we had to "annoy everyone with how much we talked about the walkout." We printed dozens of flyers that detailed when and where we would meet to walkout at our school, handed them out, and put them up around campus. More significantly, however, in building the walkout was actively politically motivating our friends and classmates in discussions. This included going to clubs and electives and asking to make an announcement about the walkout or simply talking to classmates during breaks to convince them of the importance of taking action. On top of this, Socialist Alternative helped students to table in school zones which allowed students who had not heard of the walkout yet to either start organizing their schools or connect with people leading the walkout at their schools.
Solidarity In Action
Not only are students and youth engaged in this issue, but a number of working people are too. During the rally, several teachers walked out with their students in a show of support for their trans students. At my school, we were able to convince some of our teachers to walk out with us. Conditions at our school were very favorable for this as there is a high trans student population allowing teachers to easily see the importance of this movement. However, it was still necessary to approach teachers who we knew would be willing to walk out and explain the political importance teachers have in the movement with their ability to shut down schools in defense of their trans students. Many teachers were ready to walk out as soon as we mentioned to them that they were welcome to walk with us, but pointing to the power the labor movement can have in social movements still helps to point in the direction of what is necessary to win our demands. Additionally, many people working around City Hall showed their support through cheers and honking their car horns. The support from the sidelines shows the potential power the movement could have: plenty of people in society oppose the attacks on trans youth, but don't know if – or how – they can fight back. The walkout turned out to be incredibly successful, not only because of the pre-existing support around trans rights, but because of our willingness to point to the walkout as a way to act on this support.
Still, it is crucial to recognize the role pre-existing support for trans rights played in making the walkout successful. The walkout would not have had 200 people who stayed throughout the rally had people not already had an urge to fight back against the attacks on trans youth. Additionally, even as we marched several blocks between City Hall and the School District, energy stayed high with chants against both the attack on trans youth and the capitalist system.
What Comes Next
Despite the strength of the walkout, during the public meeting that followed, we agreed that there were many things we could have done better. The main aspect of the walkout that we did not make as strong as possible was the political messaging. While we did formulate several demands which were periodically mentioned throughout the rally, the messaging still tended towards moral arguments for trans rights. Of course, it is important to recognize that trans kids at this point in time have spent much of their lives arguing for the morality of their existence due to the spit-fire culture war many have been immersed in online and old habits die hard. However, next time we will emphasize the importance of putting our demands front and center as well as emphasize how important it is to show a clear way of fighting for said demands. The people who attended the rally were very energetic and angry at the attacks on trans rights that they saw nationwide. They did not need to be convinced that trans rights were necessary, they needed a way to fight for trans rights.
Some of us put forward the idea of involving the labor movement in the struggle for trans rights. There was high receptiveness to the idea that shutting down capitalist production around demands to protect trans youth would be an effective way to fight back. Additionally, I am a member Socialist Alternative and Socialist Alternative was the only organization putting forward the need for an escalation plan to strengthen and expand the movement. We recognized that not only is it necessary to escalate and expand the movement to win the demands put forward, but there was energy amongst those who walked out to escalate the movement. This was shown with several students showing up to the public meeting we called to continue organizing.
Students are currently trying to organize for further actions in the Philadelphia region. We as students are ready to enter into struggle around trans rights and have proven that we know how to organize actions. However, walkouts alone are not going to win this fight. We need energetic, coordinated actions nationwide, with strong political messaging and a clear path forward that includes the labor movement. We have proven that students have what it takes to spearhead this movement, and we will prove that we have what it takes to win it.