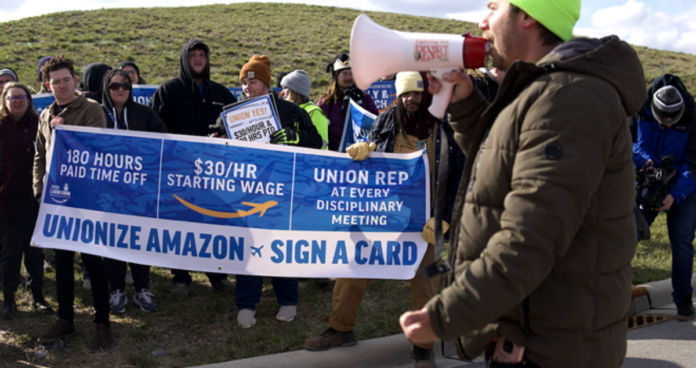 In a small office in Florence, Kentucky – tucked behind a dentist's office and a podiatrist – the most important union drive in the country is underway. A five-minute drive from Amazon's $1.5 billion Air Hub, the Amazon Labor Union KCVG office is a flurry of activity. Every day workers come in and out, attending union orientations and card collector trainings, doing data entry and talking about the most recent insult from management.
One Monday morning in April, the union hotline got a text: "Amazon is allowing weights and other heavy unmarked packages [to] come down the shoots. They are gonna kill someone. I have seen bloody noses on nights due to this."
The next day a worker reported that there was another bed bug infestation in the vans they use to transport the planeside crews around the facility. She reported: "We have had this problem before, but Operations still seemed to be scrambling for a plan. They had me hold the bed bug during the long wait to get ahold of our safety team." The crew was sent home with no pay.
Looking at the breakneck grind that workers at this facility face, you wouldn't have a clue just how important they are for Amazon's long-term plans.
Amazon's Golden Goose
The KCVG Air Hub was described by Sarah Rhoads, VP of Amazon Global Air, as "an operational symphony." In her "Welcome to the Air Hub" post on Amazon's corporate blog, she describes the C-Suite's vision for this facility. It will be the "hub of operations" for Amazon's air freight system, and the completion of phase one of construction represented a "historic milestone" for the company.
Cartoon villain himself Jeff Bezos made a surprise appearance at the facility's groundbreaking ceremony. In the most depressingly hilarious illustration of how little work he actually does to operate these essential facilities, he kicked off construction by climbing into a frontloader, driving it about six feet into a ceremonial pile of dirt, and then hopping out.
Before treating the press to that nauseating bit of theater, he'd given a speech outlining how essential this Air Hub is to realizing Amazon's plans for one-day delivery. The hub's $1.5 billion price tag makes it among the largest capital investments the corporate giant has ever made.
In less than a decade, Amazon has built up an air freight network that is on pace to directly rival UPS and FedEx. The execs in Seattle will chalk that up to their corporate culture of innovation, risk taking, and "customer obsession." But the reality is, it was accomplished the same way Amazon accomplishes any breakthrough: by cutting corners to cut costs and by throwing thousands of workers into the meat grinder of "maximizing productivity."
A former Amazon employee described the company's rapid scale-up of Amazon Air: "We took off, and there was no landing gear."
Maximum Leverage
Amazon's investment in the KCVG Air Hub is impossible for them to turn around. Over the past 12 months, takeoffs and landings out of KCVG are up by 125%. The company just acquired 10 Airbus freighters through a partnership with Hawaiian Airlines, dramatically increasing the amount of freight they are able to move.
This has two important implications for the workers who keep the Air Hub running. One, the demands on their time and bodies is only going to get more intense. They will be asked to do more, faster, and with no consideration for their safety. The other implication though, is that if they are able to overcome Amazon's union busting and form a union, they will have genuinely enormous bargaining power. By leveraging their ability to shut down Amazon's entire air network, they can bring the billionaire executives to their knees. This leverage, if properly wielded, can transform the way Amazon treats its employees. They can win a $30 an hour starting wage, real paid time off, an end to brutal mandatory overtime, on-site early open childcare, fixed schedules, and so much more.
Not only would this dramatically improve the lives of workers at KCVG, but could affect Amazon workers across the company's vast network of sort and fulfillment centers and delivery stations.
The dark side of this story though, is that Amazon knows just as well as we do what a union at KCVG represents. They will pull out an unimaginable arsenal of dirty tricks to crush the workers' campaign for a union. In Bessemer they rerouted stoplights and installed a fake mailbox, in Staten Island they systematically assassinated the character of nearly every leading worker. Winning the union at KCVG will require an all out war, and every worker has a role to play.
Fighting To Win
The campaign to unionize KCVG is off to an electric start. It is a thoroughly worker-led drive, with a strong Organizing Committee and a growing Shop Team (the wider group of workers who do regular activity with the union). In the union office there's a huge white board with a calendar of activity for the week. Just a passing glance at this calendar gives you a sense of how serious this campaign is. Near-daily union orientations, tabling at the facility covering all shifts, card collection trainings, and meetings to discuss key workplace issues.
This dynamism is an incredible launching pad for a vibrant summer card collection campaign. In the coming months, that nondescript union office will need to become a heartbeat for the thousands of workers at KCVG. Workers representing all shifts, schedules, and positions, speaking all languages and representing all faith groups and communities, will need to be in ongoing discussions with one another, prepared to counter every union busting lie from management while remaining laser focused on the working conditions they're fighting for.
Socialist Alternative is proud to be involved in this campaign and is prepared to do whatever we can to help make KCVG the second unionized Amazon facility in the country.