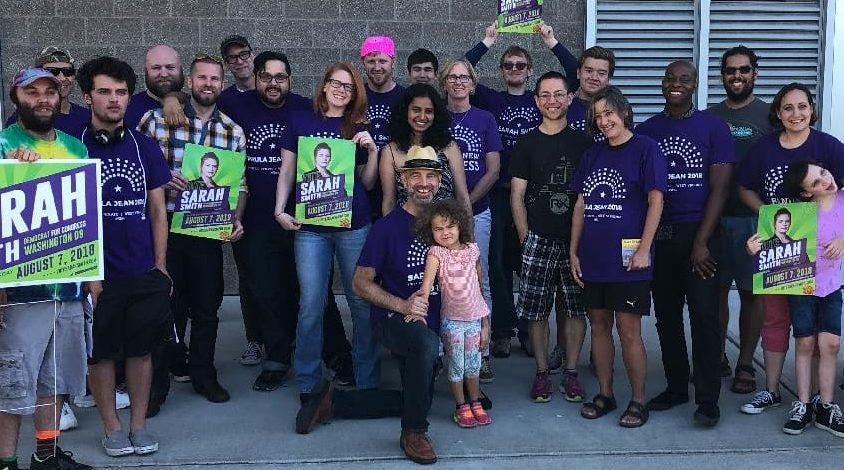 Sarah Smith, running to represent Washington State's 9th District in the House of Representatives, is part of national wave of young left and socialist candidates who are seeking to unseat more conservative Democratic incumbents and drag the political establishment to the left.
Embracing the powerful ideas that fueled Bernie Sanders, Alexandra Ocasio-Cortez, and Julia Salazar's campaigns, Sarah pledges to fight for the Justice Democrats platform which includes increasingly popular left demands like Medicare for All, tuition-free college, and abolishing ICE. Over the course of her campaign, she joined the Democratic Socialists of America and won the endorsement of DSA's Seattle chapter.
Her campaign also prominently features a pledge not to take money from corporations. This stands in stark contrast to her opponent, 11-term incumbent and ranking member of the House Armed Services Committee Adam Smith, who has received some of the highest corporate donations, particularly from military contractors, of any member of the house. In an effort to highlight his unsavory ties to military production at Boeing – with much of it centered in the 9th District – Sarah chose to make anti-war demands a central theme of her campaign.
Muddied Waters
It is very positive that Sarah Smith and her supporters are using this election to wage a fightback against corporate politics and the hypocrisy of the Democratic Party establishment. We need more energetic challenges like Sarah's to popularize bold working class demands and policies. Unfortunately, despite her similarities to successful figures like AOC and Salazar, Adam Smith appears poised for a decisive victory on election night.
Sarah Smith, like AOC and Salazar, is running both as a DSA member and a Democrat. By embracing the Justice Democrat platform she had hoped to gain support from the party's influential left-wing figures and increase the legitimacy of her newcomer campaign. But Adam Smith, a seasoned political operative and important figure in the Washington State Democratic Party leadership, was able to secure the endorsements of all well-known Democrats, including high-profile Justice Democrats like Pramila Jayapal.
Since her election to Congress in 2016, Jayapal has gained national prominence as a left leader in the Democratic Party and is seen as a close collaborator with Bernie Sanders. The spectacle of Pramila Jayapal backing a thoroughly corporate candidate like Adam Smith against her fellow Justice Democrat Sarah Smith, underscores the deep contradictions inherent in the doomed project of trying to build a consistent left wing of the Democratic Party.
With this left cover, alongside professing his sudden passion for Medicare for All, abolishing ICE, and carbon fees targeting Big Oil, Adam Smith managed to blur the differences between his campaign and Sarah's. This appearance of left credibility combined with his corporate-funded campaign war chest, has allowed Adam Smith to appear to many as a stronger, more effective proponent of many of Sarah Smith's key demands.
This campaign is a clear example of why Socialist Alternative has consistently argued that the new wave of Sanders-inspired candidates – especially those identifying as socialists and backed by DSA – will ultimately be more successful if they link their campaigns to bold calls to build a left, movement-oriented political alternative to the Democratic Party. Sarah Smith did not gain any support from the Party's institutional backers like the trade unions, the big NGO's, elected officials, or official party structures.
Smith also failed to center working class demands like taxing big business, Wall Street and the rich, or fighting demands for housing affordability like rent control, none of which Adam Smith would likely have been willing to support because of his ties to big business. She could have boldly supporting Bernie Sanders' recent popular and successful Tax Bezos campaign, which was part of the pressure that led to Amazon's recent concession of a $15 minimum wage. By centering the demand to tax big corporations in her campaign material would have connected with popular consciousness among her voting base and anger at Amazon and big business, while and showing a clear, concrete alternative to the austerity budgets currently squeezing public services and working class families at all levels of government.
However, by running as a Democrat on a political program similar to Adam Smith's, she ultimately muddied the waters around what type of politics she represents. Once the union leaders and left Democrats she claims allegiance with came out in support of her opponent, her criticisms of him became less convincing and the difference between their two sets of politics became less clear to voters. On the other hand, if Sarah had more firmly embraced socialist politics, her decision to join DSA, and more energetically linked her campaign to the living social movements in her District, she could have galvanized a far larger and more energetic activist base.
Drawing Lessons
It's important for the left to analyze both the successes and failures of left challengers to the political establishment in order to draw out lessons that will strengthen our movement going forward.
Ultimately, Sarah Smith was unable to sufficiently distinguish her politics from those of Adam Smith and identify herself with a clear, fundamentally different political direction in the eyes of voters. We also disagree with Sarah Smith about her decision to run within the Democratic Party. In our view, running independent of the Democratic Party and would have helped her accomplish this, as well as making clear the need for a new party for working people independent of corporate money and power.  
Regardless of the outcome on election night, Sarah Smith's DSA-backed campaign to unseat Adam Smith is an important and positive development in Washington State and national politics. Adam Smith certainly deserves to be unseated, and every vote registered against him this election will help prepare the ground for future challenges to corporate Democrats. We urge future left and socialist candidates to draw lessons from Sarah's bold challenge against a powerful establishment figure to ensure more victories in future elections.