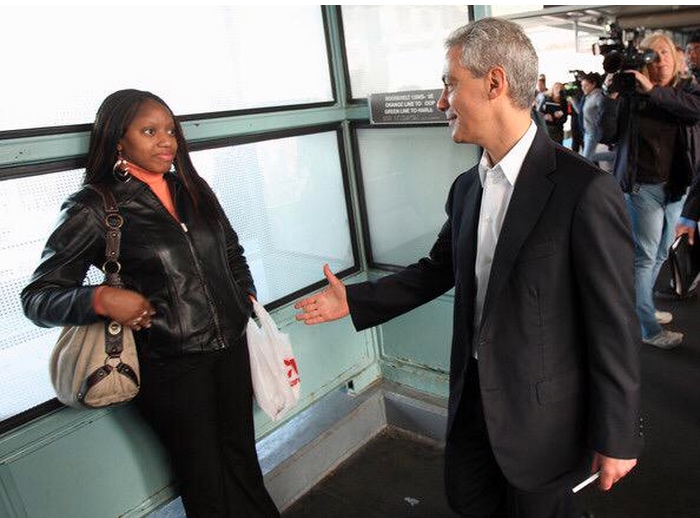 After a close-chested deliberation, Rahm Emanuel shocked Chicago by deciding against running for a third term as mayor in February 2019. But after the surprise of Emanuel's announcement hit the city, two sets of reactions quickly developed.
The corporate press praised the mayor while reflecting the ripple of a concern that immediately began spreading among Chicago's business elites, who now worry for their big development plans and future profits. Emanuel is well-liked by billionaires and mega-corporations for being their reliable manager in a globally important city. Over the years, he has received some of his biggest donations from billionaire Republican donor Ken Griffin and on Tuesday, a Wells Fargo Asset Manager lamented the departure of "a very good partner to investors" who are now faced with an uncomfortable "uncertainty," Bloomberg reports. A Crain's Chicago Business headline summed up the gut reaction of ruling elites: "Now what?"
The other reaction on social media, in the streets, and at workplaces was joy. Chicago cheered the fall of "Mayor 1%." Working people know Emanuel by the laundry list of attacks on their living standards and communities: closing 50 schools while underfunding the rest of the system, attacking unions and cutting pensions, privatizations, covering up the 2014 police murder of Laquan McDonald, subsidizing gentrifying developers, hitting residents with red light cameras and other traffic tickets which for low paid workers can mean bankruptcy – while neglecting potholes in city streets to focus on fantasy projects like Elon Musk's hyperloop tunnel to O'Hare airport. All of these have contributed to the massive social crisis of Chicago's majority Black and Latino communities where on one recent weekend, over 70 people were shot, twelve of them fatally. While his recent efforts to polish himself up before a third run produced results in the polls, his approval was rising from a low-point of 27%.
Chicago's Corporate Democratic Machine Continues to Lose Steam
Emanuel's departure is another symptom of the rot and decline of Chicago's corporate establishment. For over 80 years, with brief exceptions, Chicago's Democratic Party has anointed its mayors to rule over a rubber-stamp city council and to act as reliable representatives for big business. In 2011, after Richard M. Daley ran the city for 22 years, the establishment was able to smoothly pass the the baton to Emanuel. Elites successfully retained Daley's pro-business policies – like the scandalous parking meter privatization – but replaced a worn out Daley brand with Emanuel's fresh-from-the-Obama-White-House glow.
It faded quickly. Over his term, working people spurning Emanuel on "L" stops or at public events became a trope captured by news cameras But this anger came onto the streets as well. The Chicago Teachers Union strike in 2012 pushed back Emanuel's most ambitious attack on public schools, and, in 2014, as CTU president Karen Lewis moved to run against him for mayor, she began with a sizeable lead. Unfortunately, brain cancer sidelined Lewis, but the CTU backed previously obscure reformer Chuy Garcia for mayor and he received 33% of the vote running as a progressive alternative, forcing Emanuel to an unprecedented two-candidate runoff. Emanuel won, but before the year was out The New York Times published a call for his resignation, fearing the pressure of massive and disruptive Black Lives Matter protests that hit the Chicago in late 2015. This movement was in response to the revelation that the mayor kept the horrific video of the 2014 police murder of Laquan McDonald secret so as not to spoil his reelection campaign. Emanuel's withdrawal announcement came just the day before the start of the trial of Officer Jason Van Dyke, McDonald's murderer, around which there is the potential for mass protests to reemerge.
Ultimately, as numerous Chicago activists and labor organizers have pointed out, these movements in the streets and the long simmering anger toward the political establishment is what made the exit door the most attractive choice for the mayor. As long-time Obama adviser David Axelrod said in response to the news, the big question for Emanuel was likely "Do you want to serve another four years?"
For Emanuel's part, in TV interviews following his announcement he was still confident he could win again in 2019. Yet, although there is not a great deal of quality polling data, existing numbers pointed to trouble for the mayor. Several polls from earlier this year showed that when given the option of any other candidate or no candidate at all, over 60% of Chicagoans were ready to vote against Rahm. Although he had drawn 11 challengers by the time he withdrew, his universal backing by big business and national Democratic muscle meant that Emanuel was still the most likely winner. But he would have had to use the full force of the waning Chicago Democratic machine and dump his growing $8 million war chest on the city. Even then, it's unlikely he would have avoided a runoff.
This is not the position the Chicago Democratic establishment is used to. The nationwide shift to the left in the Democratic base, particularly in major urban areas, has come to its door. Under Emanuel, social struggle has rocked the city and there are now hundreds more organizers fighting back. Many of these count themselves as socialists, a group that overlaps with young, black, and latino activists that are rejecting existing community leaders aligned with Chicago's establishment. And after 2016, the national battle inside the Democratic Party between its corporate overlords and the millions who hope to see the party take up Bernie Sanders' "political revolution against the billionaire class" has left Chicago Democrats firmly on the party's right wing, politically more visibly out of step than ever with the mass of working people in the city.
We Need a Mayor for the 99%
The 2019 Chicago elections now stand as a historic opening and challenge for left forces in the city. Chicago is a Democrats-only town and the brutal status quo can be firmly laid at the party's doorstep. To break with Emanuel's destructive legacy working people in the city need a bold, independent fighter of their own in the mayoral race.
In 2015, Chuy Garcia was able to gain by running as "anybody-but-Rahm," but the campaign was held back by Garcia failing to show himself as a clear alternative to corporate domination. An independent candidate could genuinely campaign as a break from the rotten system. To succeed they would also need to go beyond Garcia's vague program. As the popularity of Sanders demonstrates, fighting demands can change working people's calculation of what's possible. To do this in Chicago, we'll need a campaign that is crystal clear in calling for an immediate $15 minimum wage, an elected civilian police review board, rent control, and taxes on the rich and LaSalle Street to fully fund schools, mass transit, and living-wage union jobs. This is a program that would start to get to the root of violence in the city by addressing poverty and inequality.

The CTU and other forces, like National Nurses United-backed Reclaim Chicago, Our Revolution, and the Democratic Socialists of America (DSA) have the resources and profile that would be required to bring together an independent mayoral campaign. They have the authority to call on other unions into a workers and community based campaign, and not just public-sector such as SEIU, AFSCME and the ATU (transit workers) but also the construction unions whose members would benefit from a plan to tax the rich and rebuild affordable housing and the city's infrastructure. Such a campaign could unite a workers' mayoral candidate with a slate of city council candidates running on a transformational platform. The city's business elites understand the potential that exists for a campaign like this to challenge their interests. Crain's confessed that:
"The real worry is whether Emanuel's departure means Chicago will elect a mayor and a city council who move in tune with the wave of populism that surfaced four years ago…and that has since gotten stronger."
Build a Mass Movement Against the Establishment
Nevertheless, to truly turn "the city that works" into "the city for workers," will require going beyond just electing candidates. We'll need a mass political movement in order to win big new gains in the coming year – like victories for schools and teachers in the 2019 CTU contract struggle and the conviction of Van Dyke – and to defend them against inevitable big business countermeasures. But the masses in society moving into struggle is also the core of socialist politics. And to truly solve some of Chicago's most deeply entrenched problems, like the vicious legacy or racism and segregation, will require a break from the system that has been built and profited off this injustice and moving toward the socialist transformation of society.
Therefore we need to start getting organized. Shortly after Emanuel's announcement, Alderman Carlos Rosa, a member of DSA, tweeted "[who] would attend citywide assemblies and/or neighborhood assemblies to collectively determine a 2019 platform rooted in Chicago's progressive social & political movements?" If such forums came together this would be a significant step forward. Not only could it help produce candidates ready to take on the establishment, but it could also link those candidates to mass struggle and appeal to them to help build it.
Independent working-class candidates should reject any and all corporate money and see themselves accountable to the movement in the streets. It's impossible to serve both the developers and the communities being displaced. Fighting explicitly in this way, Seattle City Councilmember and Socialist Alternative member Kshama Sawant has been able to act as the battering ram for radical movements in that city, leading to victories like the first major $15 minimum wage and millions of dollars to help working people in the Seattle housing crisis. Image what we could do in Chicago with a united slate of tenacious working-class candidates.

DSA has over 1,000 members in the city and if they, along with Rosa, were to initiate organizing meetings they could help build crucial momentum for the battle we need against Chicago's elite. Socialist Alternative stands ready to help build such meetings and to advocate for independent working-class and socialist mayoral and city council candidates to join the 2019 race.
The Mayor's departure leaves a vacuum that will likely lead to a number of new, more high profile candidates to enter the race and Emanuel reportedly consulted both former Presidents Obama and Clinton before finalizing his decision. Working people should count on the Democratic establishment and anxious business elites to regroup and devise a post-Rahm playbook to keep themselves on top. But this will take time and will not be an entirely smooth process. It's time for organized left forces to seize the initiative and for working people to prepare for the massive struggles against big business that will be necessary to win a fundamental transformation for Chicago's 99%.