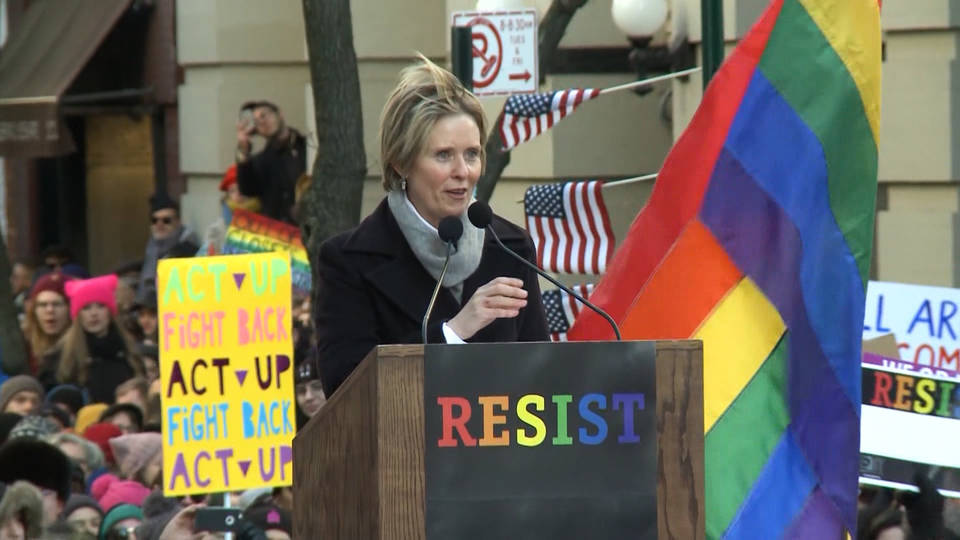 For the second election cycle in a row, Andrew Cuomo, the powerful governor of New York, is facing a left challenger in the Democratic Party primary; this time his opponent is the famous actor from Sex and the City, Cynthia Nixon.
Nixon has used her celebrity status for over a decade to fight for progressive causes, particularly defending public education. Now she is running an insurgent, left populist campaign against the "centrist" politics and "bullying" methods of Cuomo and the Democratic Party leadership. Instead, she calls for "a New York for the many, not just the few."
Like Bernie Sanders's 2016 presidential campaign, she rejects corporate campaign donations and advocates for pro-worker policies like fully funded public schools, an end to the school to prison pipeline, and taking on real estate developers and landlords. She regularly talks about racism and inequality, and supports a DREAM Act along with an end to the over-policing of communities of color.
Her campaign has attracted support from several progressive groups including Our Revolution and the Working Families Party (WFP), along with ire from the establishment. Former New York City councilmember Christine Quinn called Nixon "an unqualified lesbian" (Quinn and Nixon both identify as LGBTQ) and the corporate media has labeled her "divisive". It should be no surprise that Hillary Clinton has endorsed Cuomo – so much for electing more women!
There are many indications that Nixon's campaign has Cuomo somewhat worried. While his first public response was to dismiss her as part of what he called, "the season of silly," behind the scenes he's been using his large patronage network to browbeat and line up his support.
When three prominent member organizations of the WFP – Make the Road, New York Communities for Change, and Citizen Action – endorsed Nixon, Cuomo made a chilling threat: "If unions or anyone give money to any of these groups, they can lose my number." Cuomo's political bullying contributed to a split in the WFP,  with one section defiantly endorsing Nixon, while key unions including the CWA, SEIU 1199, and AFSCME 32BJ left the party to start a new ballot line and endorse Cuomo.
The governor is not so much worried that he will lose the election to Nixon. The most recent poll from Quinnipiac College gives Cuomo a comfortable 50 to 28 percent lead among registered Democrats and he has a $30 million campaign chest. He's more worried that NIxon can do serious damage to his so-called credentials as a progressive ahead of a potential bid for president in 2020.
Even if Nixon doesn't win, she is shaking up New York politics, stirring important debates, and sharpening opposition to the corporate leadership of the Democratic Party. With the right approach, her campaign has the potential to be a launching pad for an even stronger challenge to corporate establishment politics in the years ahead.
The main limitation toward a real challenge to the corporate establishment is the lack of a clear strategy about how to most effectively win the bold policies her campaign advocates. What Nixon puts forward is a flawed populist idea that electing "better" Democrats could win all her policies. Undoubtedly, elections right now offer opportunities to elect more left-wing representatives. But elections also have inherent limitations. Taking on the power of the billionaire class – who have enormous control over the economy in addition to almost unlimited political resources – requires a real struggle at the grassroots involving millions of people. Such efforts by working people will inevitably come up against the corporate interests that dominate the Democratic Party.
Nixon's campaign, by rejecting corporate cash, points beyond the pro-corporate framework of the Democrats, whose primaries and structures are rigged for the establishment. A key question is what will Nixon do if she is defeated in the primary? Will she capitulate and support Cuomo, thereby demobilizing the momentum behind her insurgent challenge? Or will she seize a unique opportunity to continue her campaign all the way to the November general election when more people will be paying attention?  
Under New York's "fusion" election law, if she loses the primary, she could still legally appear on the November ballot as a WFP candidate. The WFP, who endorsed Cuomo in 2014, will need 50,000 votes in the general election to maintain its ballot line. That means either Nixon runs, or they capitulate to Cuomo. We urge them to not be blocked by the primary and to continue running through the general election to build a stronger movement independent of corporate cash.
Unfortunately, Nixon and the WFP won't commit to this. Meanwhile the WFP has a long record of endorsing establishment candidates, including Cuomo twice. In Queens, they have endorsed corporate Democrat Rep. Joe Crowley against a primary challenge from Alexandria Ocasio-Cortez, a member of the Democratic Socialist of America. The WFP should stop endorsing any candidates who accept corporate cash, and transform itself into a vibrant membership-run organization that puts forward it's own independent working-class candidates and energetically builds struggles on housing, jobs, education and healthcare.  
For Nixon to make the strongest impact for progressive change in 2018, she must be prepared to break with the Democratic Party establishment entirely, and to build a genuinely independent political movement with a perspective that a new, completely independent left party is both needed and possible.