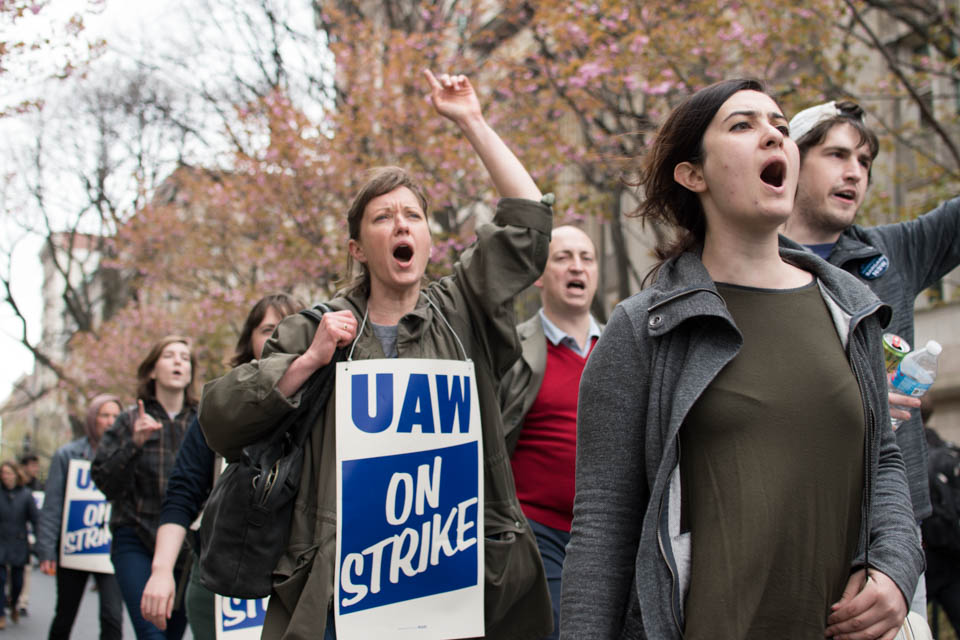 As school teachers across the country continue to strike for better wages and more funding for public schools, graduate student workers are also rising up and walking out of their classrooms. On Monday, April 30, the more than 3,000 strong Graduate Workers of Columbia (GWC), represented by the United Auto Workers (UAW), ended a week-long strike meant to increase pressure on the university to recognize the union and negotiate a first contract. Graduate employees, including research assistants and teaching assistants, without whom many full-time faculty cannot do their jobs, stopped all teaching and research activities, including and especially grading, until the end of classes on April 30. They also asked Columbia University faculty to hold classes off-campus to honor the picket line, which many did, and held a series of large and spirited demonstrations on campus.
Meanwhile, Student Employees of the New School (SENS-UAW), who have also been struggling to win a first contract, have announced their own strike date of May 8, to coincide with the final week of scheduled classes, and graduate workers at the University of Washington (UAW 4121) have voted in favor of a strike on May 15, after an insulting first offer from university administration there.
Thanks in part to the prestige and notoriety of the university, the strikes at Columbia received significant national and international attention. Despite several days of rain, the daily pickets from 11am-3pm were hundreds strong, with many students and members from other unions marching in solidarity. A large contingent of building trades unionists joined the pickets on April 24, and rank and file members of other local education unions, including the Professional Staff Congress of the City University of New York (PSC-CUNY), and NYU graduate workers (GSOC-UAW) also joined the protests throughout the week. Education Union leaders, however, were conspicuously absent from the protests.
The strike, which was authorized by an overwhelming 94% of the membership, marks an increasing militancy among graduate worker unions across the country to force universities like Columbia to reckon with the fact that graduate students who teach tuition-paying undergraduates and perform vital research are also workers who contribute to the vast wealth of the university, and as such that they have the right to negotiate for better pay and working conditions.
Although Columbia graduate workers voted to form a union more than two years ago, and although the National Labor Relations Board (NLRB) officially certified their union in December, 2017, the University President and former Federal Reserve Bank Chair, Lee Bollinger refused to negotiate with them. Instead, he has used his legal team, which includes the notorious anti-union law firm Proskauer Rose, to stall negotiations in the hope that a new NLRB appointee could overturn the earlier decision to certify the union. Indeed, this is precisely what happened to graduate employees at New York University in 2006, when a Bush-appointed NLRB overturned the certification of the graduate union there. While the graduate workers at NYU, also represented by UAW, have since gained voluntary recognition from their university and a new contract, Columbia is holding fast to its claim that graduate employees are students, not workers, despite the fact that that presidents at other private universities, such as Harvard, have agreed to negotiate with newly formed graduate worker unions.
The strike action, which seemed unlikely a year ago, was a tremendous step forward, and the solidarity displayed by other union members and students from around the city show that the public supports them. Unfortunately the strikes do not seem to have moved President Bollinger, who still refuses to even recognize the union; a fact which has caused  some rank and file members to consider escalating their tactics as the end of the semester approaches. Although the strike had, from the start, been scheduled to end on April 30, the Columbia Spectatorreported that a resolution to continue the strike indefinitely had been gaining support among several rank and file activists. This clearly shows that far from being over, this fight has in fact just started, and that Columbia graduate workers are now thinking and discussing the best ways of escalating and continuing the struggle, which may or may not include demonstrations on Graduation Day. Whatever escalating tactic they choose to pursue it will be critical to continue to expand the support that GWC members had already gathered among undergraduate students, other university workers, and other unions and members of the community.
Socialist Alternative believes that all working people and students have the right, regardless of what the bosses or the NLRB say, to organize and to fight for better wages and working conditions for themselves and their fellow workers. Therefore, we stand in full solidarity with the Columbia, New School, and UW graduate workers in their struggle to gain recognition for their unions and to win their contract demands, and we urge all rank and file unionists as well as all workers and students to support these strikes by joining future picket lines and contributing to their strike funds. It is only through such acts of common struggle, solidarity, and mutual support that working people and students will manage to win a better university system for all and to resist and survive the onslaught of austerity, economic crisis, and further attacks on unions and workplace rights.