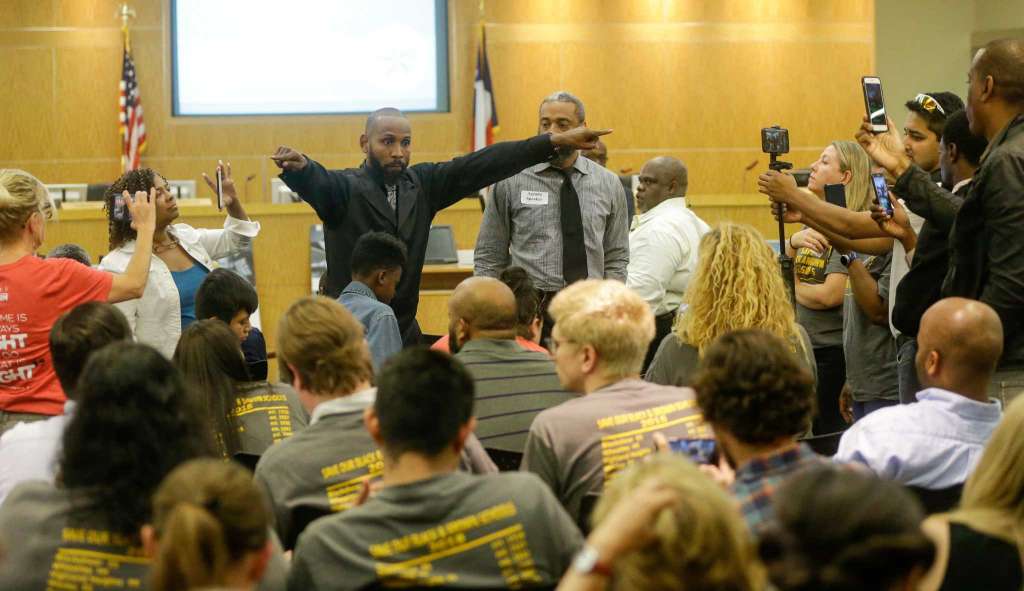 Over 100 students, teachers, parents, and activists attended a special meeting of the Houston Independent School District (HISD) Board of Education on Tuesday, April 24, to oppose a plan to turn ten HISD schools over to a private charter corporation. The district's scheme was part of a years-long push by politicians, beholden to corporations and billionaires, to sell Texas public schools to unaccountable charters and private partnerships. As the largest school district in Texas and the seventh largest in the nation, HISD has been a particular target of the nationwide assault on public education, led most recently by the Trump administration.
In 2015, the Texas legislature passed a series of laws, supported by both Republicans and Democrats, that essentially put a gun to the heads of Texas school districts, requiring districts to privatize or close "underperforming" schools, or risk a takeover of their entire district by the pro-privatization Texas Education Agency (TEA). The goal of this legislation was clear: if local school districts didn't do the dirty work to privatize schools, the state would.
In February 2018, HISD announced that it would seek "private partnerships" for ten schools, all in predominantly black and brown neighborhoods, before May 1 to avoid the risk of a takeover by the TEA. The Houston community, led by HISD parent advocates and black and brown activists, mobilized against these attempts to privatize neighborhood public schools, demanding that HISD instead fight the TEA. Despite this public opposition, HISD proceeded with its plan.
Before the meeting on April 24, parents, students, teachers, and activist groups – including Black Lives Matter, Indivisible, and Socialist Alternative – rallied in front of the HISD administrative building, chanting "Save our black and brown schools," "No partnerships! No charters! No closures! No TEA!" and "Sue the TEA!"
HISD's posture was confrontational from the outset, with reduced public seating and dozens of police called in to control community members. The public was allotted just 30 minutes for comment on the charter plan. Opposition to the plan was universal, with person after person speaking against it, including two Socialist Alternative members. When the crowd objected to an activist being removed from the podium by police for exceeding her allotted 60 seconds, Board President Skillern-Jones ordered the room cleared, an anti-democratic decision that escalated the tense situation and put community members in harm's way. The crowd chanted "No more sell-outs!" as police pushed and dragged activists and parents out of the building. Three women were detained, two of whom were arrested and charged. Charges were later dropped.
Shaken by the community's unified opposition, the board voted to adjourn the meeting shortly before midnight, without a vote on the plan. The following day, HISD announced that they would not attempt to hold another vote before the TEA's April 30 deadline, an important victory for students, teachers, and the community!
However, the threat of a state takeover and eventual privatization of our public schools remains a serious possibility unless we continue to organize a strong resistance. The temporary victory we achieved demonstrates the power of a unified working class movement, putting forward bold demands, to beat back attacks on our communities. In the coming months, we must continue to broaden and sharpen this struggle, opposing both further privatization attempts at the local level and a potential TEA takeover of HISD. This will require the continued unity of teachers, students, and the community, and increased teacher involvement is key. Texas teachers have suffered numerous attacks but are in a unique position to fight for our schools. In West Virginia, Kentucky, Arizona, Oklahoma, we've seen what teachers and the community can do when we come together, stand up, and fight back. To stop the corporate takeover of our schools, we need student walkouts and teacher strikes, supported by the community.
We demand:
No corporate partnerships! No charters! No closures!

Local, democratic community control of our schools; no state takeover.

Recall and vote out HISD Board President Rhonda Skillern-Jones.  The anti-privatization movement should run a candidate who is anti-privatization, independent, and refuses corporate campaign contributions.

No to the undemocratic removal of the public from a public hearing! No anti-democratic board policies limiting public speech.

No more high-stakes STAAR testing.

Fight racism and inequality – high quality, equally funded public schools for all.

Tax corporations and the rich to fully fund our public schools.

No more attacks on teachers. For strong, rank-and-file led teacher unions.