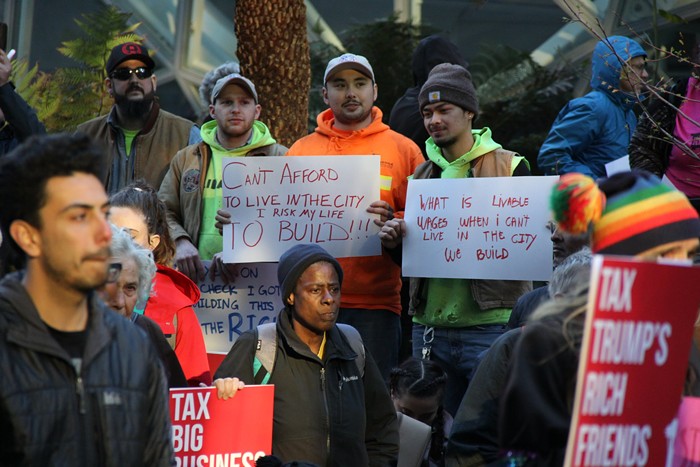 Originally posted on The Stranger.
My workday starts on an unfinished floor with no windows, 40 stories up. I scan Seattle's skyline, watching the endless headlights stream along I-5 and Highway 99. As the sun comes up, I can see people coming and going from the buildings that I helped build. I am part of the pulse of life and industry, knowing that none of this glass and steel would be here if it wasn't for me and thousands of other construction workers.
As a union ironworker, I've helped put up housing, hotels, and offices in Belltown, Capitol Hill, Fremont, and the Denny Triangle. I helped build the world's longest floating bridge, the light rail expansion, the infamous downtown tunnel, and overhead cranes at Boeing.
But despite these contributions, I can't call Seattle my home. I can no longer afford to live here.
I moved here during the recession, chasing a lead on a warehouse job, and eventually operating a steelyard crane at $12.75/hour. Compared to California, the cost of living was a relief. I was able to find affordable housing for the first few years. Nothing fancy, but it worked for my budget: Crashing with my brother in his U-District studio, sharing a room in a house, renting a one-bedroom apartment. I had to work multiple jobs before my big break came in 2014, when I got into the ironworkers union. The starting pay was double than where I was, which was timely, because my rent was going up 33 percent.
Iron work is hard and dangerous, but with the union wage I was able to look into buying a home. As I went through the shopping, approval, and paperwork process, my options within the city narrowed rapidly. My search began in South and West Seattle, but slid down through Renton and Tukwila. I landed in Des Moines, but even that would have been entirely out of reach if I were looking today. My co-workers on the high-rise who couldn't squeak in a mortgage when I did are commuting farther than me – from Tacoma, Everett, and beyond. And they are paying a good deal more in rent than I do on my mortgage.
From my worksite 40 stories up, a soon-to-be luxury hotel and apartment tower, I also see the human toll of our housing crisis. I look down on the flimsy canopies of people coughed up by this crisis, while the working class grinds along the choked highways to staff a city that's off limits when you're off the clock.
Enough time has been wasted debating band-aids. We need solutions to the housing crisis, ones that put the needs of the people over the profits of a few to provide permanent housing. Taxing the enormous private wealth hoarded in this city at a modest rate of $150 million per year and using it to fund 750 units of new public housing construction every year is the best proposal I've heard.
If I was earning the pay I got before I joined my union, I would likely be part of the statistic of homeless working people, or commuting twice as far to supply the steel used in Seattle's building boom.
That's why I supported the call in 2014 for a $15/hour minimum wage, which directly increased the pay of my steelyard co-workers. And it's why I support Councilmember Kshama Sawant's demand today to raise $150 million/year to pay for housing, by taxing the largest, most successful businesses in Seattle. I especially support her insistence that this new public housing be built with union labor, utilizing apprentice training and providing opportunities for people in the community to make better pay and to work under better conditions.
The Chamber of Commerce and big businesses have come out against this tax. But you don't have to be an economist to recognize that they can afford to pay it. Just come up to the 40th floor with me. Look around at the gleaming office buildings and luxury condos, at the maze of cranes, at the bustle of trains, streetcars, and buses serving the booming businesses. And then notice the people huddling under cardboard in storefronts, beneath bridges, and in every nook and cranny of our booming city. Look at the cars stuck on seemingly endless commutes.
We need housing now in Seattle. And my union sisters and brothers are ready to start building it.
But winning will require building a strong movement and bringing maximum pressure to bear against politicians who prefer to take their marching orders from big business. Last fall, establishment Democrats on the Seattle City Council voted down an earlier version of this tax on big business. And only a few months ago, many of the region's politicians met behind closed doors with Amazon executives and wrote a public letter to Jeff Bezos, saying they "would like to hit the refresh button" if Amazon had felt "unwelcome in Seattle" as the tech giant was threatening to take more of its business outside of our city in retaliation against progressive legislation like the $15 minimum wage.
Please join us in the next step of our struggle at the Tax Amazon Rally and Public Hearing on Monday April 23 at 5pm at the Seattle City Hall Plaza.
Let's tax corporations like Amazon so we can get going on this urgent work of making Seattle affordable for the people who build it and make it run.