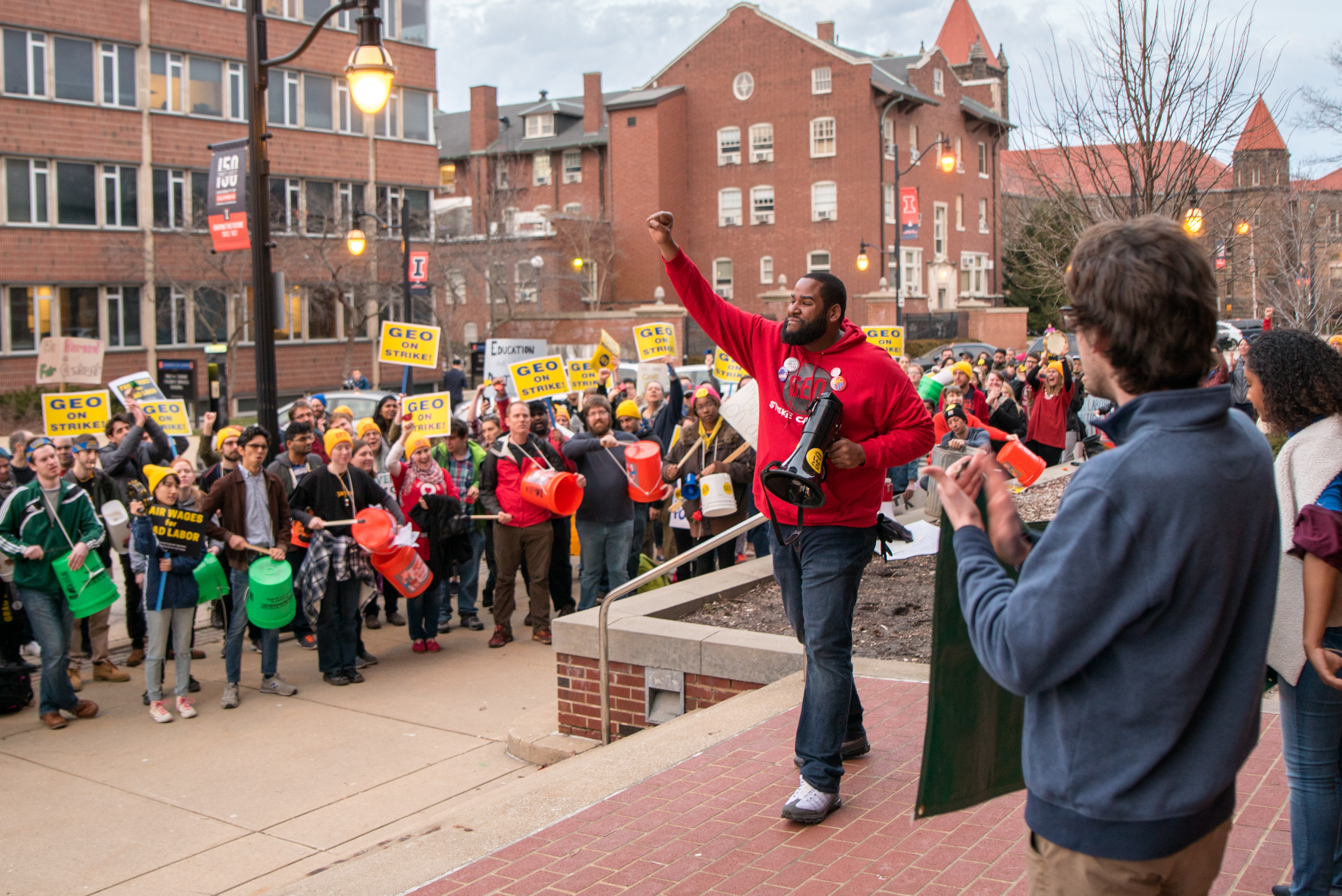 The two-week-long strike waged by Graduate Employees' Organization (GEO), Local 6300 IFT/AFT AFL-CIO at the University of Illinois in Urbana-Champaign (UIUC) against the university administration has been won!
Negotiations for the 2,700 graduate students began in early 2017. Over a year later, and only after 1,200 members and community participated in strike and picket action, the UIUC graduate students have beat back the neoliberal attacks led by Illinois Governor Rauner, and gained ground in wages and benefits. Members of Socialist Alternative, one of whom is a member of GEO, have joined GEO on the picket lines and rallies in solidarity.The second week saw escalation in tactics including a one-mile march to the University of Illinois President Tim Killeen's mansion on Tuesday, March 6. That evening, members of GEO occupied the office of President Killeen. Occupiers were joined the next day by members of the non-tenured faculty union, members of local SEIU and ASCFME, and members of the Champaign-Urbana community. That evening, a second occupation was started, this time of the office of Chancellor Andreas Cangellaris.
With two administrative offices occupied and support pouring in from unions and students across the nation, the administration was forced back to the bargaining table, ready to make concessions. A new and fair contract was signed by the administration on International Working Women's Day, March 8, and was accepted by the GEO membership on March 9, with 98% of the vote in favor of the proposed new contract.
The members of GEO have won the guarantee of tuition waivers for all UIUC graduate students holding teaching and graduate assistantships, a step toward ensuring academia will remain accessible to students of all backgrounds. Additionally, members won an increase in the minimum salary, with a 4.5% increase retroactive to the end of the previous contract and 2% increase annually for three years, as well as decreases in health care fees, with the University paying 87% of premiums (up from 80%) and 25% of premiums for one dependent up from nothing currently.
This is a victory for not just the graduate employees at UIUC, but a victory for all unions, students, and working-class people.