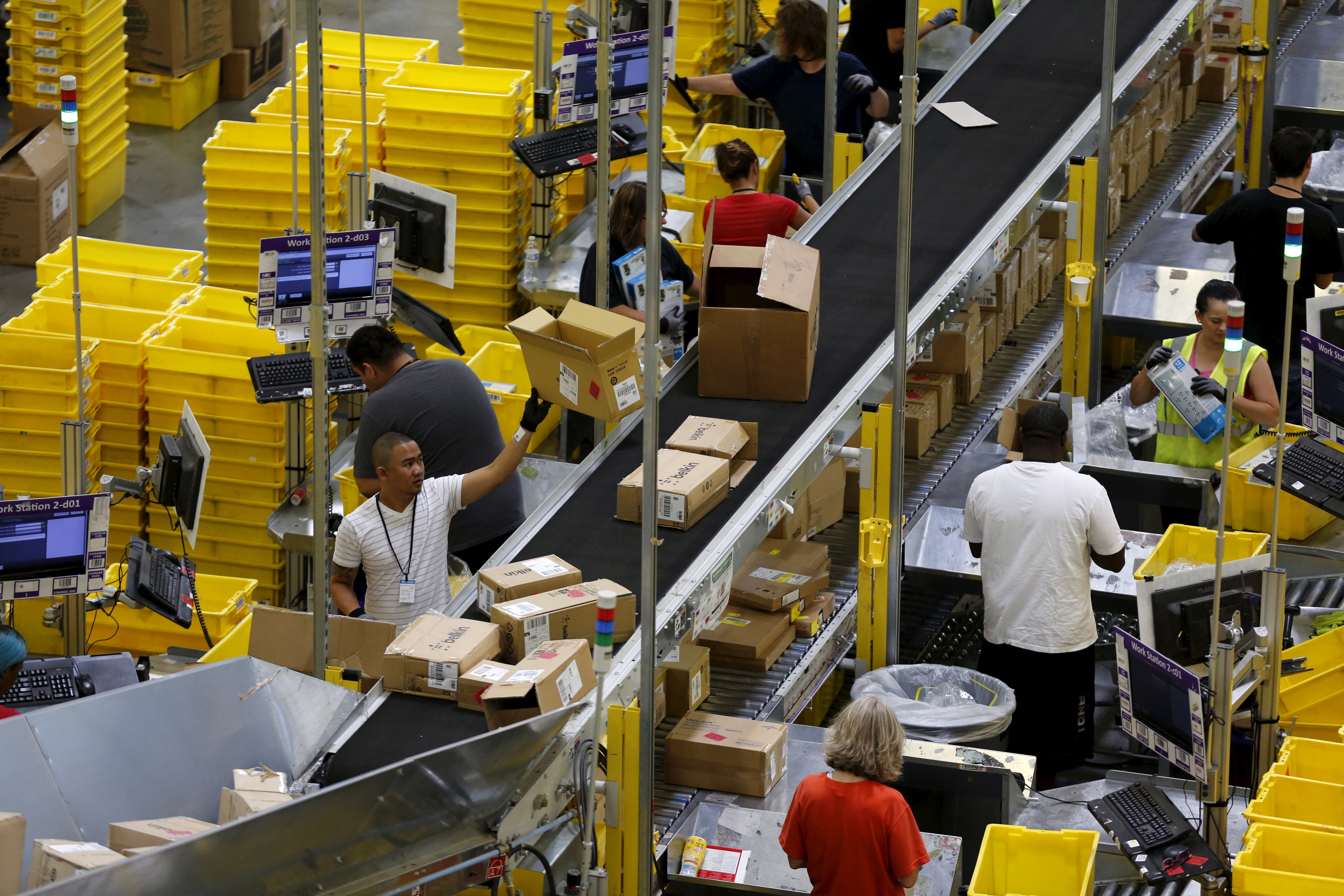 Rumblings are starting among new sections of the working class. Target workers in Christiansburg, Virginia went on strike for five days in September, winning their key demand related to sexual and racial discrimination. These workers have started to move down the path of their grandfather and grandmothers, by learning that they have enormous power in the workforce if they unite and move
into struggle.
Most important is the start of struggle by workers at the huge Amazon warehouses. Warehouse workers and supporters protested low wages and brutal working conditions in Manhattan, New York in December. Amazon warehouse workers went on strike at the biggest Amazon warehouse in Italy in 2016. Underground organizing drives are starting in warehouses in the U.S.
In the U.S. alone, there are more than 50 gigantic buildings, with over 40,000 fulltime workers. The total workforce of Amazon is over 450,000. Conditions are brutal.
Yet, Amazon CEO Jeff Bezos is the richest man on earth, with a wealth of over $100 billion. He makes more money in one minute than the average millennial makes in a year. This is only possible because, under capitalism, the bosses control wages and working conditions, and can therefore pay their workers less than the wealth that their labor produces.
Deplorable Conditions
A reporter who went undercover to work at an Amazon warehouse in England wrote: "Alone in a locked metal cage, 10 feet from my nearest colleague, a robot approaches from the shadows and thrusts a tower of shelves towards me. I have nine seconds to grab and process an item to be sent for packing – a target of 300 items an hour, for hour after relentless hour. Those who could not keep up with the punishing targets faced the sack – and some who buckled under the strain had to be attended to by ambulance crews.
"Many of the clocks have been covered over with tape by employees desperate not to be reminded how long is left of their shift" (Mirror, 11/25/2017).
Another Amazon worker explained: "If you're way over on one side of the warehouse and lunch is called, you have 30 minutes from that point to clock out, eat, and come back. You're spending half your time waiting to be scanned out so you can be sure you're not stealing anything. It leaves you with about 10 minutes for food." One Amazon warehouse worker estimated he walks 13 miles a day in the warehouse, (MentalFloss.com, 11/4/2015).
Workers face a daily barrage of arguments that they are powerless in the new gig economy, and that labor unions are a thing of the past. However, the boss makes no money when workers withdraw their labor – that hasn't changed.
There is still a powerful industrial sector economy in the U.S. Transportation workers, power workers, warehouse workers, grocery store workers and others have lots of power if the unions stepped up and mobilized union members.
The high-tech and digital economy is creating new powerful sections of the working class. Workers in the huge Amazon distribution warehouses outside most cities and major towns have enormous potential power. These are massive hubs which deliver products that represent a huge section of the economy, based on a just-in-time distribution system. If the workers shut down these warehouses, Amazon would have to grant them improved wages and working conditions or lose billions of dollars.
Outing the brutal working conditions at Amazon is a key part of mobilizing public opinion on the side of the workers. But even more essential, and crucial to creating any lasting change, will be the workers themselves organizing. Undercover organizing inside the warehouses is essential. Socialist Alternative encourages workers to take up this important work of building core groups of workers in the warehouse that can then mushroom into the powerful unions of tomorrow.
---
Can Retail Be Saved?
The retail industry as we know it will never be the same. There is urgent need for retail workers, both in traditional box stores as well as in the new warehouses, to organize alongside the wider working class for:
$15 minimum wage – a living wage for all!
Union jobs – we need democratic unions run by the rank-and-file to fight for better pay, working conditions, and social services, especially in Amazon warehouses;
Public ownership of top retail corporations under democratic control – break the power of the bosses! The enormous wealth and infrastructure of the retail sector should belong to all.