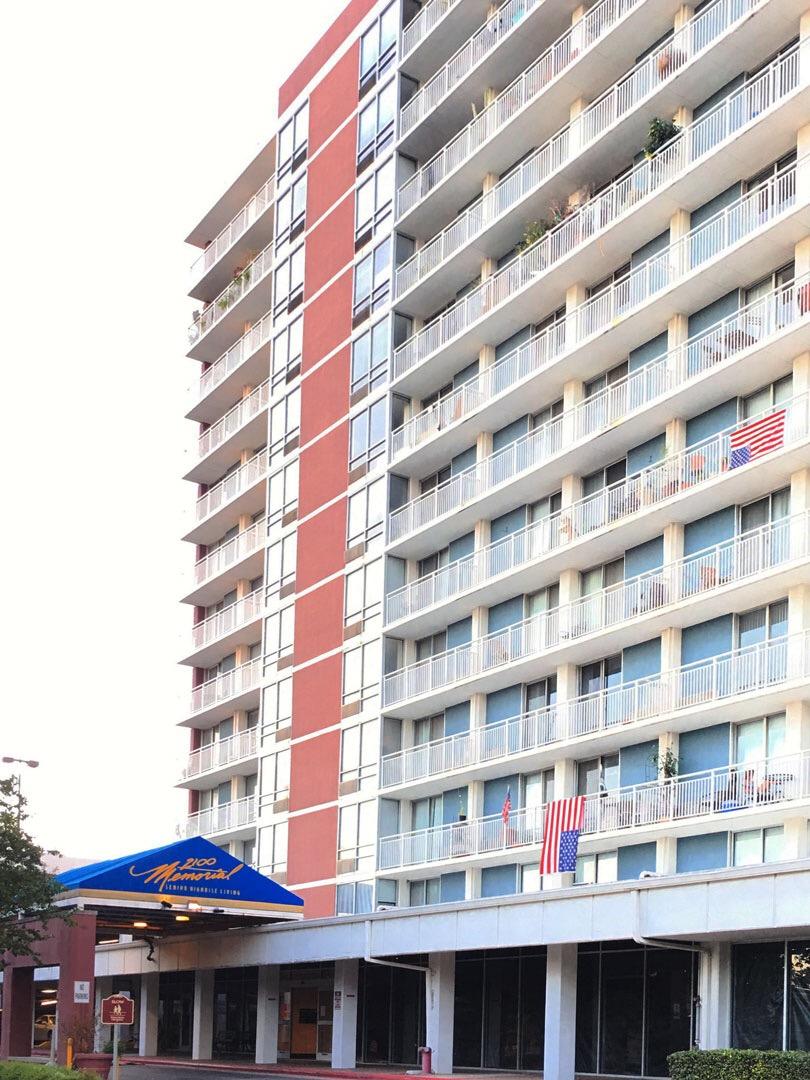 UPDATE:
After this article was posted, the campaign described below received this local news coverage:
http://abc13.com/seniors-fight-to-stay-in-their-homes-despite-damage/2523932/
https://www.click2houston.com/news/judge-agrees-to-hear-case-after-senior-living-center-tried-to-force-residents-out-following-Harvey
https://www.houstonpublicmedia.org/articles/news/2017/10/12/242175/hearing-on-evictions-of-senior-citizens-from-2100-memorial-drive-is-postponed/
http://www.khou.com/news/local/neighborhood/seniors-sue-to-stay-in-affordable-housing-following-harvey/482881694
Hurricane Harvey was a historic tragedy for the Gulf Coast, destroying thousands of homes and displacing tens of thousands of people in Texas and Louisiana. Harvey was a tragedy made far worse by capitalism and the capitalist response to the devastation in Houston has prioritized the profits of corporations and wealthy developers over the critical needs of ordinary working people.
The 2100 Memorial housing unit, pictured above, is a Section 8 public housing residence for the elderly and for veterans. It is located in the heart of Houston, just west of downtown in the historic Sixth Ward. Last week, without any warning, elderly residents opened their doors to find eviction notices stating that residents' leases were terminated. Residents were given only five days to vacate their units or otherwise incur the cost to store their possessions.
Rightfully angry, residents banded together and held meetings on September 19 and 21. There is anger towards the Houston Housing Authority and the V.J. Memorial Corporation for the ill-planned execution of the eviction process, which has left nearly 200 elderly residents scrambling to figure out if they can resist this eviction or whether they have to find relocation assistance. Furthermore, there is concern over HHA's lack of transparency in its failure to back up claims that the building is indeed unsafe for habitation with official documentation.
Last Thursday, the Houston Housing Authority failed to address most of the residents' questions, leaving residents even more anxious, exasperated, and angry. Many residents have nowhere to go and face difficulty getting adequate resources and information from the HHA. If evicted, residents fear that the HHA will not allow residents to return to the community they've called home for years. This would throw them into the city's unaffordable housing market whose shortages have been massively exacerbated by Hurricane Harvey.
On September 28, there will be a public meeting with 2100 Memorial residents, Socialist Alternative, Sixth Ward community members, Lone Star Legal Aid, and members of the wider community to demand transparency from the Houston Housing Authority and V.J. Memorial Corporation, and to demand that these entities are held accountable for the promises that they have made to residents. Only by organizing a mass movement of working people can we ensure that the recovery from Hurricane Harvey is fair, just, and equitable for all Houstonians.
We demand:
No evictions without documented proof that evictions are needed for the residents' safety!

Residents forced out of their apartments due to flooding should not have to pay rent! Landlords should be compensated based on proven need.

Full relocation assistance for anyone evicted!

Residents forced out must be allowed to return to their apartments after repairs without rent hikes.

Take over of empty homes or buildings to house the homeless!

Please click here to donate to help residents resist this eviction. (Please write "Houston Eviction Resistance" in the Notes section.)