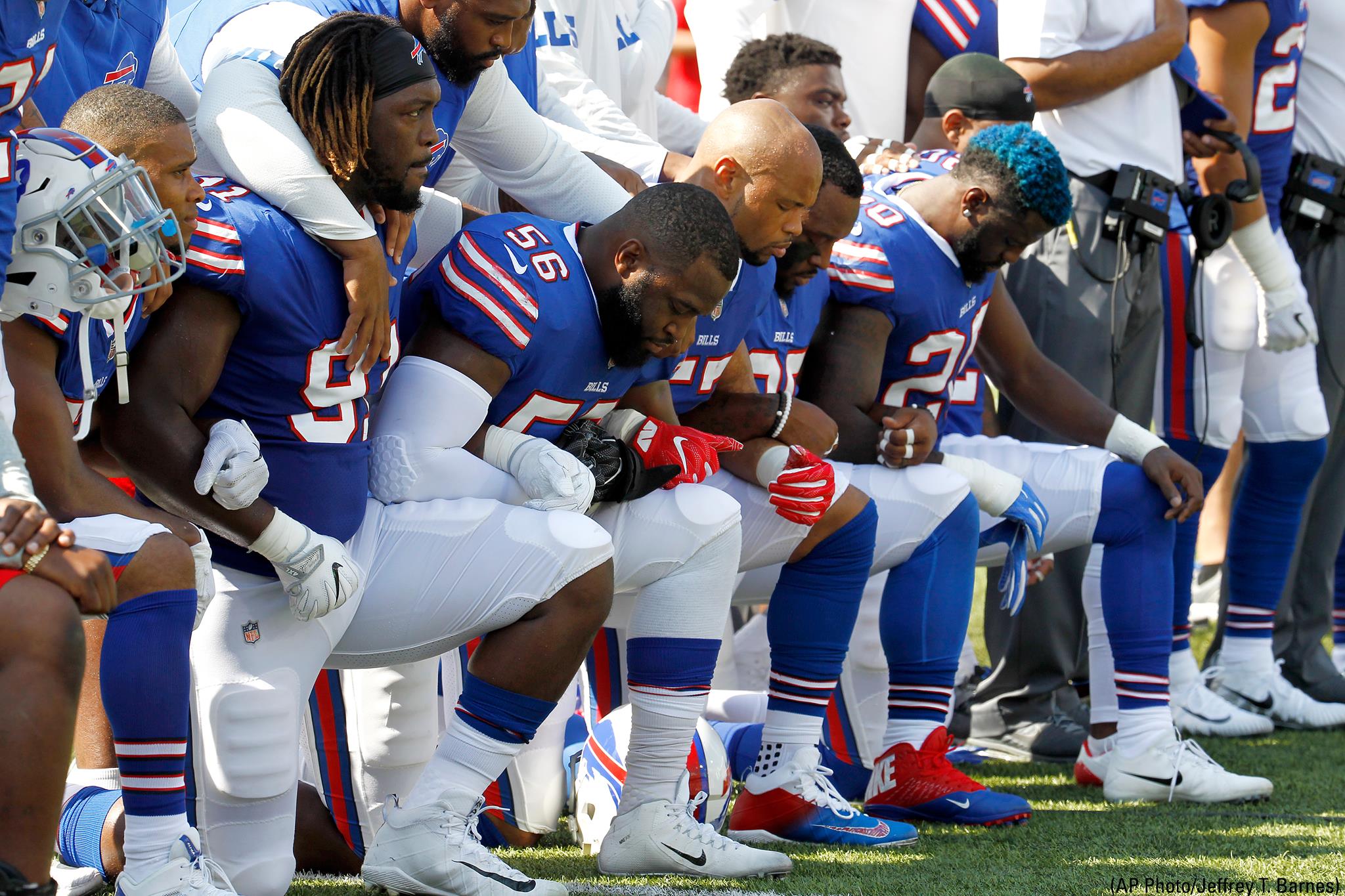 "Wouldn't you love to see one of these NFL owners, when somebody disrespects our flag, to say, 'Get that son of a (expletive) off the field right now. Out. He's fired. He's fired!'" said President Donald Trump at a rally in Alabama.
These comments provoked a firestorm of protests including entire teams kneeling and some refusing to leave the locker room for the national anthem.
In the popular consciousness, it all started with Colin Kaepernick's protest in solidarity with the Black Lives Matter banner by kneeling for the national anthem. Since then, a debate has ensued even among otherwise apolitical sports fans on the role of athletes in political protest, racism in the U.S., and racism in sports in particular.
"This is choose your side Sunday. It really is. And which side are you on?" said Hall of Famer Charles Woodson.
While the ongoing #TakeAKnee protest by NFL players escalated in response to Donald Trump, at the start of the season only a few players were continuing Kaepernick's protests, Michael Bennett being the most outspoken. But Sunday, September 24 was a turning point in the protest. More players protested during the anthem in one day than the entirety of last season. Even many owners were forced to lock arms with players (including Shad Khan and Jerry Jones who each donated $1 million to Trump's inaugural committee) and issued statements condemning Trump's comments as "divisive."
Mixing Sports and Politics
The week 3 protests on Sunday are a positive step forward, showing that athletes are not immune to shifting political conditions and owners are not immune to political pressure. Of course, this unity in the league is completely hollow and temporary. What was the response of these same owners to Colin Kaepernick who began kneeling last season? Or on the numerous occasions Trump said sexist, racist, and xenophobic comments in the past? Which side are they on during contract negotiations with the NFLPA? The big question coming out of Sunday is this: will the owners continue to stand with their players in protest or will they shut it down to get back to business as usual?
In the long run, the owners will take any side or position to protect their profits. Already, there are right-wing calls to boycott the NFL and those who both donated to Trump and knelt with players will take sides.
The players' protests will bolster the Black Lives Matter movement which threatens racist capitalism's stability in an increasingly unstable social and economic situation in the world and U.S. The athlete's role of "sticking to sports" has been enforced for so long because it is in the interests of not just the particular franchises they play for but the whole of sports and the entire capitalist system. Defiant players who protest police brutality, for example, can gain confidence to actively fight the owners for greater concessions on issues like on player safety. But of greater significance is their ability to use their popular platforms to embolden movements existing outside of the stadiums and arenas.
President Trump seems insistent on giving athletes more reasons to side with movements. In addition to the comment about kneeling football players, over twitter he recently disinivited Steph Curry of the Golden State Warriors from the White House. Now the entire Warriors team are declining to visit the White House! The more Donald Trump brings sports into politics, the more that athletes will fight back.
Fans and athletes cannot and should not allow themselves to be silenced on important political issues. They should stand up and help build movements against racism, sexism, and homophobia, to name a few. We stand with athletes like Michael Bennett, Colin Kaepernick, and all those who joined in the protests on Sunday and have courageously used their positions to highlight the plight of oppressed people and stand with movements like Black Lives Matter against racist police violence and discrimination.The greatest way to support activist players like Bennett and Kaepernick is to build a mass movement that includes their efforts in the fight for racial justice and ending law enforcement terror.