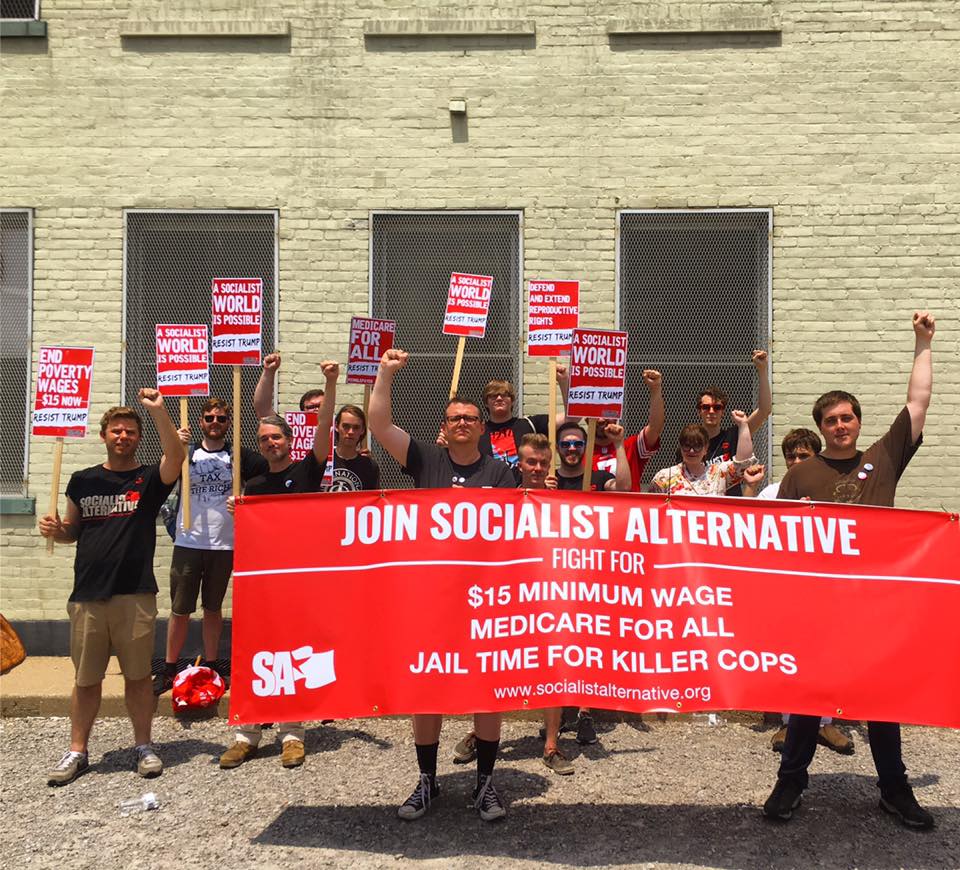 Splits within the Republican party have rendered the latest savage version of Trumpcare seemingly dead, but mobilizations to make sure it stays that way continue in Cincinnati with sit-ins, meetings, and rallies. A week after Bernie Sander's "Care not Cuts" rally in nearby Covington, Kentucky, Cincinnati Socialist Alternative, Democratic Socialists of America, Planned Parenthood and others led a protest calling for an end to the threat of Trumpcare. We also demanded healthcare for all working people paid for by taxing the rich and the for-profit healthcare industry.
Socialist Alternative member Kevin LeMasters, one of nine activists who occupied the Cincinnati offices of Republican Senator Rob Portman, reminded the crowd that while "Democrats in the House and Senate have correctly attacked Trumpcare… we should not be limiting ourselves to what is acceptable to the Democrats' leadership corporate donors. We need to fight to stop Trumpcare, but we also need to fight for what we need – healthcare for all!" Kevin went on to call Trumpcare what it is: "a massive transfer of wealth from from the poorest to the very richest Americans."
Without mass action, these transfers will continue, and the parts of the existing healthcare system that benefit working people will be lost, including many of the provisions created under Obama's Affordable Care Act (ACA). Socialist Alternative organizer, Emma Wilson, has a disabled mother who "under Trumpcare would never ever be able to afford cancer treatment." Emma continued, "we are at the point of life and death in our society—Medicare for all is not a figment of the imagination it is a demand we must all unite under."
Doctor Michael Binder reminded the crowd that the control of the entirety of the system by corporations has caused the costs of pharmaceuticals and other treatments to increase dramatically in the last several years. Every day, working for one of Cincinnati's biggest health systems, he sees patients who gained coverage under the ACA, but that "it doesn't go far enough. We need a system where everybody is in, and nobody is out. We need Medicare for all!"
To win this, we need a mass movement of the 99% that can fight this onslaught from the ruling elite. LeMasters says we need "escalating tactics like the sit-in at Portman's Cincinnati office." Beyond that, we need to broaden our movements to hundreds, and thousands of workers in every city and especially in healthcare occupations—doctors like Binder and nurses like those in the National Nurses Union give an idea of what such leadership might look like. History has shown: it is only the collective strength of working people that can fight effectively for socialist policies, turn back the tide of the right wing attacks and defeat the billionaire class once and for all.