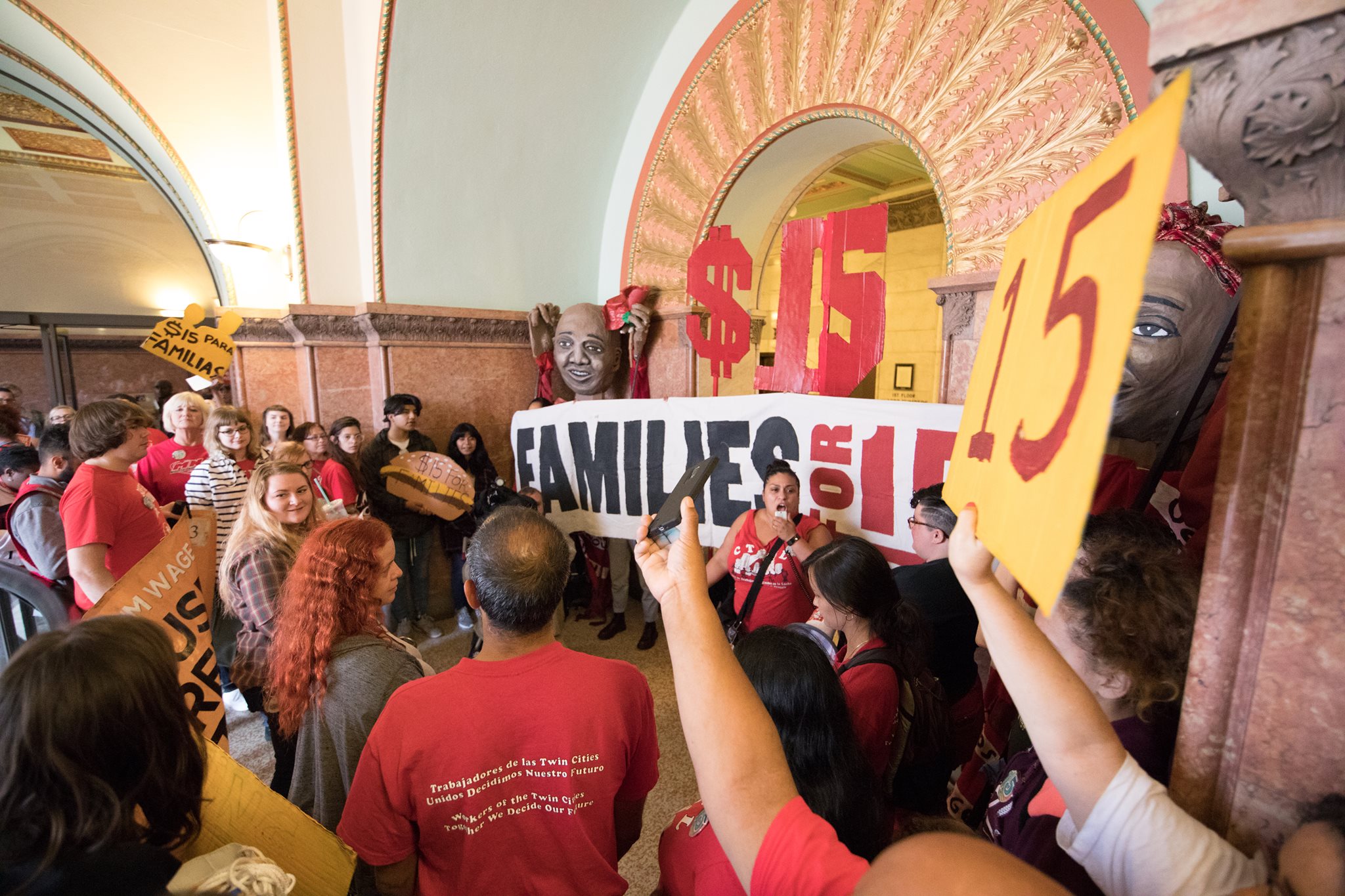 Minneapolis is getting a raise, and becoming the first Midwestern city to enact a $15 an hour minimum wage. The proposal will benefit 71,000 workers, overwhelmingly women and workers of color. Winning $15 in Minneapolis shows another way cities can push back against Trump's corporate-backed agenda.
In three short years, the fight for $15 in Minneapolis went from an isolated call from the left to become the central slogan of the Minneapolis labor and progressive movement. Socialist Alternative was the first to popularize $15 in Minneapolis back in 2013, when Ty Moore came within 229 votes of being elected to the city council.
Even after Kshama Sawant spearheaded a victory for $15 in Seattle in 2014, most in the Minneapolis political establishment ignored it. Unions and community groups took up the demand, but first tested the strategy of lobbying City Hall, which is dominated by Democratic Party politicians. There are no Republicans elected, so it seemed straightforward that City Council would pass $15 when the Democratic Party formally adopted it into its platform. Nevertheless, most city politicians refused to take any real steps forward.
Socialist Alternative and 15 Now Minnesota urged that the movement for $15 would not succeed if we limited ourselves to tactics that avoided a public clash with the local Democratic Party establishment. This debate over our movement's strategy came to a head, resulting in a section of the coalition challenging the deadlock in City Hall by putting the question of $15 directly to voters as a ballot initiative.
In a coordinated grassroots effort led by Socialist Alternative, 15 Now Minnesota, Neighborhoods Organizing for Change (NOC), Centro de Trabajadores Unidos en Lucha (CTUL), and backed by the Minnesota Nurses Association and Communication Workers of America, we collected 20,000 petition signatures in just nine weeks.
A majority of city council members and the mayor were fiercely opposed to the ballot initiative, both because it prevented them from watering down the policy on behalf of their business backers and because it would set a dangerous precedent, giving social movements confidence that they could rely on their own strength to win progressive change. Eventually the Minnesota Supreme Court, dominated by Republican appointees, came to the aid of City Hall Democrats to block $15 from the ballot.
While losing the battle in court, the $15 movement had decisively won the wider war for public opinion. As a result of our powerful grassroots campaign, a poll showed 68 percent of people in Minneapolis supported $15. Conceding to public pressure, the City Council launched a formal process to raise the minimum wage, but did not explicitly set the target of $15. Despite previous disagreements, the wider labor-community coalition for $15 has been broadly united behind pushing $15 to victory this year and blocking attempts to impose a "tip penalty" or other big concessions to corporations.
The overwhelming public support for $15 has encouraged Bernie-inspired insurgent candidates to challenge anti-$15 incumbents in this year's city council elections. In the end, most of the conservatives on the City Council either lost Democratic Party endorsement outright, or were blocked from getting the endorsement by pro-$15, left challengers.
After the experience of fighting big-business ties in City Hall for $15, I decided to run for City Council as well, though I chose to run independently of the Democratic Party. As my organization, Socialist Alternative, has consistently pointed out, the amount of support for our campaign, as well as the other pro-$15, left Democrats, shows that the Bernie mood for "political revolution" has in no way subsided, and that ordinary people are hungry for change at every level of government.
The most important lesson from the $15 minimum wage campaign in Minneapolis is this: working people cannot limit themselves to what is deemed acceptable by the political establishment and its ties to big business. We need to organize independently around our collective needs to get things done. This is how socialists fight for immediate reforms under capitalism in order to raise the confidence of working people to fight for more decisive change and ultimately to fundamentally transform society.

This article was originally published on Counterpunch.