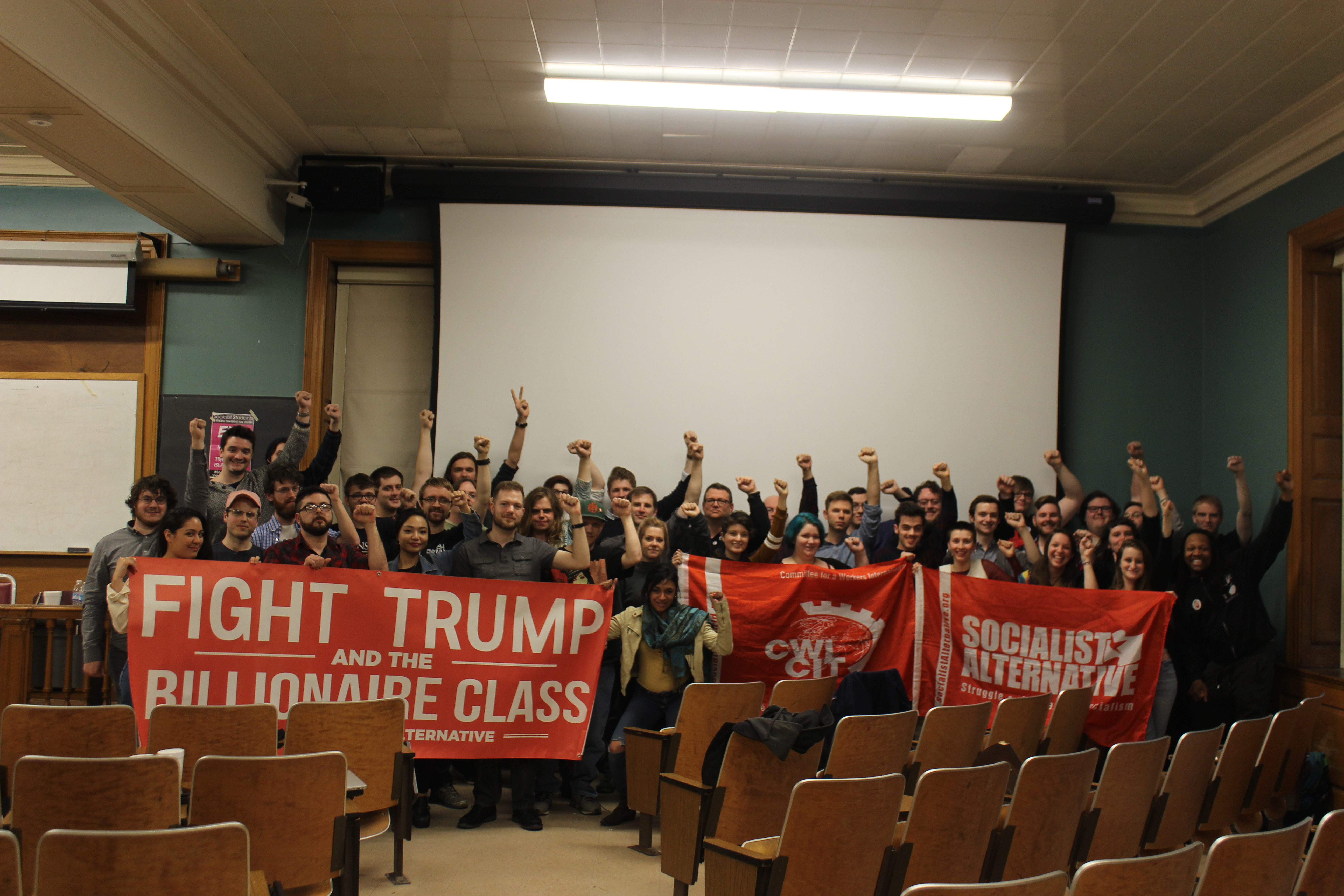 Since the inauguration of Donald Trump, there has been growing interest in socialist ideas; this is evidenced by the increase in membership of organizations like Socialist Alternative (SA). Because of this, Ohio branches of Socialist Alternative have seen tremendous growth. After a massive anti-Trump rally in downtown Columbus organized by SA on January 30, the Columbus branch doubled in size! The Cincinnati branch has seen an equally robust growth.
In order to accommodate this surge, we held the first ever statewide Socialist Alternative Convention in Ohio on Saturday, April 1 at Cincinnati University. There were 50 in attendance, with representatives primarily from Columbus and Cincinnati, but also from Dayton, as well as guests from Chicago, Boston, and Seattle.
The convention began with a discussion on the looming threat that Trump poses, and the vital need to develop a united mass movement in response. It set the goal of creating a strong Marxist core for the impending movement against Donald Trump and the billionaire class. All over the country, working people and youth are ready to move into struggle and to defeat Trump and his agenda we need to build a sustained movement that is willing to  escalate its tactics, using strikes, highway occupations, blockades, and non-violent, peaceful civil disobedience.  
The four workshops centered around strengthening the skills of the existing membership of SA – they focused on recruitment, the argument for a revolutionary party, the role of students in the workers' movement, and the importance of worker's media (namely the Socialist Alternative newspaper). All four of these workshops highlighted the need for one thing: strengthening the political understanding of existing members in order to develop a strong layer of leadership and membership that can take initiative, make quick and effective decisions, and continue to educate others in socialist politics.
The convention ended on several fantastic notes: firstly, Ohio SA members raised $3,300 to help send members to the Socialist Alternative Summer School in Minnesota this May. Additionally, convention attendees voted to adopt several statewide goals, including selling 100 newspapers per month and raising $150 per month for the fighting fund.
Overall, members left the convention determined to develop the Marxist core of the working-class movement and the movement against Trump across the state of Ohio.