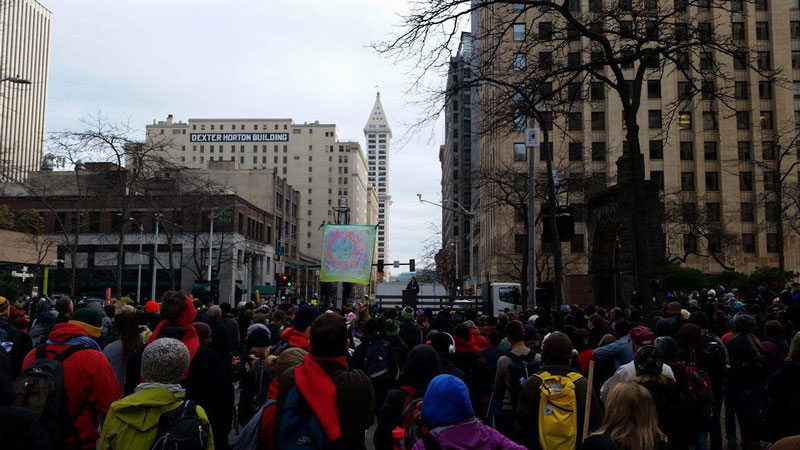 "Freedom only comes through persistent revolt, through persistent agitation, through persistently rising up against the system of evil." – Martin Luther King, Jr
Over five thousand people took to the streets for Seattle's 35th annual celebration of Martin Luther King, Jr. Day. It was the biggest in at least 14 years, due to the recognition of the threat posed by a Trump administration for working people and their communities.
As Socialist Alternative said: "Trump knows he will face massive opposition, and he will seek to criminalize dissent. This is part of what's behind his ominous talk about a 'law and order' offensive. He will go after the Black Lives Matter movement specifically. Former Mayor of New York Rudy Giuliani, a key Trump ally, has described BLM as 'inherently racist' and 'un-American.'"  

This march, as a proclamation of the strength of and solidarity with the black community, is major on a local level as well. The City of Seattle recently issued permits for construction to move ahead on the $210 million youth detention facility, despite the fact that in 2015, the Seattle City Council passed a resolution promising to oppose youth detention. "As of 2013, black juveniles were more than four times as likely to be committed as white juveniles, American Indian juveniles were more than three times as likely, and Hispanic juveniles were 61 percent more likely" (sentencingProject.org). Activists have brought to light the issue of a system that profits from placing our youth in a lifelong cycle of punishment and retribution instead of giving them the opportunity for restoration. Socialist Alternative supports the mass struggle against racist policing and mass incarceration and remains steadfast in working to block the new youth jail.
As Trump's agenda emerges and his appointments to cabinet and advisory positions in the White House are made the threat to the lives of working class people becomes clear. Trump said he was going to represent the "forgotten men and women" of the working class but his cabinet will have a higher net worth than the bottom third of American households combined!

Not only has he appointed billionaires and multimillionaires to his cabinet, most having no expertise in their given positions, he has made blatant attacks on working people and minorities. He promises to rapidly deport three million immigrants with special focus on muslim immigrants, nominate a right-wing justice to the Supreme Court who will be committed to going after Roe v. Wade, to support the rollback of Obamacare depriving millions of health insurance, to gut environmental protection in the name of "bringing back jobs" in the energy sector and beyond, and targets the rights of unions especially in the public sector.
Events of the Day
In the morning, workshops were held on topics such as funding public education, immigrants rights, how to fight for labor and civil rights in the trump era, and two discussions on black lives matter due to popular demand.
At 11 a.m., a rally held in the gym got the crowd excited to march with speeches and performances from community members, many of whom made reference to the work to come and unity we must build to fight back against president elect Donald Trump's agenda of hate. 
At 12:30 p.m., the march took off down East Union Street toward the Henry M. Jackson Federal Building in downtown Seattle, where another rally was held. Thousands of demonstrators took the streets armed with chants and signs to call out Trump's appalling words and actions directed at immigrants, muslims, POC, women, and LGBTQ people, as well as calls to end police brutality and not build a new youth jail in Seattle.
In the days to come, we have a huge opportunity to rise up and begin the process of building a powerful resistance movement against Donald Trump's hateful agenda and attacks on working class people. Socialist Alternative is working to build a clear anti-capitalist, socialist force that argues for a working-class-centered struggle against Trump and the entire system. If you recognize the need to organize and peacefully rise up against this brutal system please consider uniting with like-minded activists at Socialist Alternative.
"We as a nation must undergo a radical revolution of values. We must rapidly begin … the shift from a thing-oriented society to a person-oriented society. When machines and computers, profit motives and property rights, are considered more important than people, the giant triplets of racism, extreme materialism and militarism are incapable of being conquered." —Dr. Martin Luther King Jr.