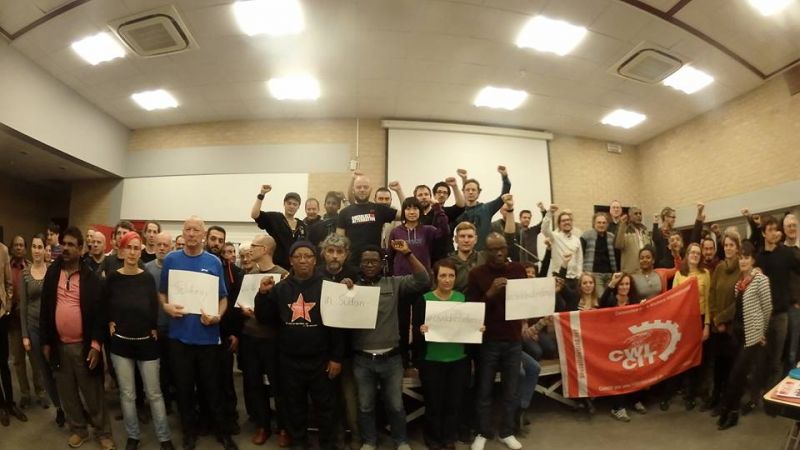 An excellent and inspiring six-day meeting of the International Executive Committee (IEC) of the Committee for a Workers International (CWI) ended on December 3. (See documents below)
Attending were 90 CWI members and co-thinkers from over 35 countries on every continent. Socialist Alternative, which stands in political solidarity with the CWI, participated, representing the United States. The meeting discussed, amended, and agreed documents on the world situation, Europe, the Middle East, and Latin America.
Particularly welcomed and applauded at the meeting were excellent contributions from two participating visitors from the Spanish organization Revolutionary Left (Izquierda Revolucionaria – IR), Juan Ignacio Ramos and Victor Taibo. IR has been at the forefront of the magnificent mass student movement across Spain that has achieved a significant victory over the Spanish government.
Orginally, IR members were organized as a section of the CWI, but in 1992 the majority of them split to become a section of the International Marxist Tendency (IMT), led by Ted Grant.
In 2010, IR, together with the majority of the IMT's Mexican and Venezuelan sections, broke with the IMT due to political differences on a series of strategic political questions.
In recent months, IR comrades initiated a process of discussion, debate, and practical collaboration with the CWI, with a view to a historic unification during the course of 2017.
While not every section of the CWI has faced a highly favorable situation for growth over the last year, many important steps forward were referred to during the IEC. This includes electoral successes in Ireland and Germany and significant successful student campaigns in South Africa and Taiwan.
Above all, every section of the CWI will be going into 2017 with a determination to build its membership and influence, no matter what the starting point.
IEC Documents and articles:
This report also published at SocialistWorld.net.