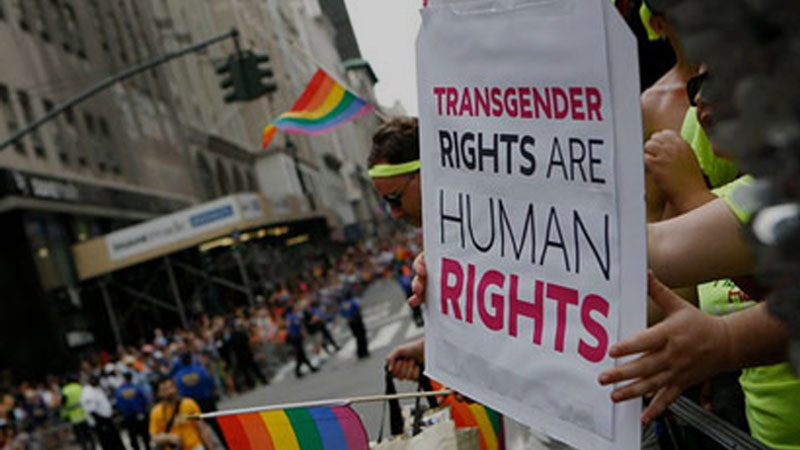 Transgender people have made major strides in visibility and won important victories in recent years. Nevertheless, trans people continue to struggle with hate-based violence, economic marginalization, and social exclusion. The stakes have been raised further as the incoming Trump administration will likely target LGBTQ people – and particularly trans rights – building on the anti-LGBTQ attacks Vice President-Elect Mike Pence launched as Governor of Indiana.
At least 26 trans people were murdered in the United States in 2016, the highest number ever recorded. "There has been a great uptick in violence against trans women of color, in particular, and trans people more broadly," said Danni Askini, Executive Director of the Gender Justice League. The increase in attacks is a stark reminder of the transphobia and racism endemic to capitalism.
At the same time, there has been a historic growth in trans rights organizing, with Trans Pride and Trans Day of Remembrance events being held in an increasing number of cities and more and more young people coming out of the closet as transgender.
The first Trans Day of Remembrance was memorialized in 1998 to draw attention to the hate violence directed at the trans community and to speak to its spirit of resilience and resistance. In addition, Trans Pride marches and rallies have been organized in many major American cities since the mid-2000s. These Trans Prides have brought together thousands of people, increasing trans visibility and raising confidence to struggle for trans rights.
Bathroom Bills and Gender Identity
Political attacks on the trans community have increased alongside the increase in trans visibility, with "bathroom bills" sprouting up across the country. House Bill 2 in North Carolina, passed in February 2016, requires trans people in government buildings and schools to use restrooms corresponding to their gender at birth. But the passage of H.B. 2 was accompanied by a wave of national and international criticism, including high-profile boycotts and cancellations from celebrities and sports teams, showing solidarity against the bigoted attack on trans people.
H.B. 2 also showed that discrimination against one oppressed group can often be the tip of the spear for attacks on the entire working class. An underreported part of H.B. 2 goes after worker rights as a whole: it restricts localities from increasing the minimum wage, passing paid family leave, or implementing medical leave laws. Trans and gender-nonconforming communities are more likely to be job-insecure or in poverty, and they are attacked on all sides by this measure.
Trans activists have also led a number of successful fights against recent anti-trans bills. In Washington State, a discriminatory bathroom bill, Initiative 1515, was blocked by trans activists before it even reached the ballot, while New York City reaffirmed citywide protections for people to use bathrooms that correspond with their gender identity.
Trans and Working-Class Issues: Housing, Health Care, Jobs, Criminal Justice
Trans people remain four times more likely to live in poverty than the general population and face high rates of hate crimes, unemployment, underemployment, homelessness, mental health issues, and health care inequality ("Understanding Issues Facing Transgender Americans," lgbtmap.org, February 2015).
One in five transgender people has been discriminated against when seeking a home, and more than one in ten have been evicted from their homes because of their gender identity. Forty percent of homeless youth are LGBTQ, with family rejection the leading cause.
The current status of trans people as more marginalized and impoverished than the general population means that working-class issues are often closely interrelated with trans issues.
At a LGBTQ town hall meeting called by Socialist Alternative member and Seattle City Councilmember Kshama Sawant, rent control, action on hate crimes, and a LGBTQ center were raised by activists as key demands in the fight for trans equality. These issues are also central to the struggles of trans and working-class people in other major cities. Unfortunately, the Democratic establishment in Seattle has not supported the calls for rent control or an LGBTQ center in spite of the movement's ongoing demands.
The fight against mass incarceration and the inhumane prison system is also critical, as trans people are one of the fastest-growing segments of the prison population, and the Transgender Law Center published a notable report in 2007 stating that trans inmates are 13 times more likely to be victims of sexual assault. Victims are overwhelmingly people of color, underscoring the connections between Black Lives Matter and trans issues. In 2012, Socialist Alternative reported on the case of CeCe McDonald, a trans woman of color in Minneapolis, Minnesota, who was unfairly jailed and forced into a men's prison after defending herself during a violent transphobic attack.
With a high rate of unemployment and underemployment, trans people are deeply invested in the fight against low wages and have been on the front lines of the Fight for $15 and 15 Now movements. Many have been radicalized in this and other struggles and have drawn more far-reaching and anti-capitalist conclusions.
Access to health care is now under imminent threat by Trump and the right wing. Trump campaigned on a promise to repeal Obamacare – which, in spite of its real limitations, has assisted many trans people in accessing primary care, hormone therapy, and sex reassignment surgery.
Threats to trans people and hate-based attacks have increased as the right wing has been emboldened by the election of Donald Trump. This underscores the need for LGBTQ people, people of color, and all working people to develop united movements and solidarity to fight back against Trump and the right.
What Socialist Alternative Calls For
The trans community has fought hard to increase its visibility and transform the discussion around trans issues. Their struggle has raised the importance of class issues like affordable housing, wages, and health care. To win trans equality, we will need to build powerful transgender and LGBTQ movements and unite with the struggles of all oppressed and working people.
We will also need to build a new party of the 99%, independent of corporate cash and influence, to unambiguously fight for our interests. While the Republican Party has spearheaded many of the worst attacks against the trans community, the Democratic Party has been complicit in undermining the rights of LGBTQ and other working people, as it has sided again and again with the pro-corporate status quo. Our movements will need to be independent of the Democratic Party, with leadership from and responsibility to the trans and LGBTQ communities, to continue the struggle for full LGBTQ equality and human liberation.
One trans member of Socialist Alternative described her situation this way: "Even if most of my oppression comes from my gender identity, my power comes from my unity with all working-class people!"
Socialist Alternative calls for:
United resistance to Trump's plans to turn back the clock on LGBTQ rights.
No to anti-trans bathroom bills and transmisogyny.
Affordable housing, rent control, and a national $15 minimum wage.
Working-class unity to combat the rise in hate crimes against trans and other LGBTQ people, immigrants, Muslims, and all others under attack from the right.
Medicare for all. Free access to hormone therapy and sex reassignment surgery.