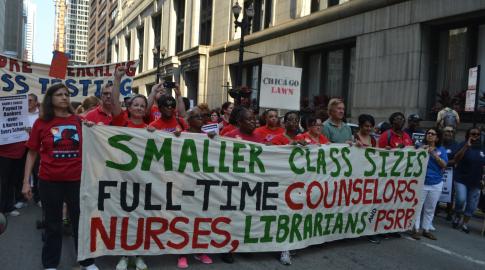 On September 29, the House of Delegates of the Chicago Teachers Union voted to give their employer, Chicago Public Schools (CPS) legal notice of an open-ended strike to begin on Tuesday, October 11. After 400 days without a contract, the union's 28,000 members had voted by an overwhelming margin – 96% of those voting, 88% of the total membership – to authorize a strike.
Socialist Alternative has always supported the CTU in its fight with the City administration and we prepared the attached statement to bring with us to the picket lines beginning at 6am on the morning of the 11th.
About ten minutes before midnight on the 10th, CTU leaders called a press conference to say that the strike was not going ahead. Two hours before, after an exhausting, marathon bargaining session over the three-day weekend, Mayor Emanuel's CPS board had made an improved offer which the union leadership decided to accept. The final decision whether to accept this tentative agreement will be made by the membership, after a meeting of the House of Delegates on October 19, but for now, the strike has been called off.
A discussion is now taking place among CTU members about whether to accept this offer, or to tell their leaders to go back to the bargaining table. There is a precedent for this: in 2003, then CTU President Deborah Lynch was sent back to get a better deal, and did. Then, as now, the abusive practices of the Chicago Public School board had brought the anger and frustration of educators, support staff, students, and parents to a boiling point.
Since the mid-1990s, state laws were passed with bipartisan support – state laws that apply only to Chicago teachers and no others – prohibit bargaining over "Decisions to determine class size, class staffing and assignment, class schedules, academic calendar, length of the work and school day, length of the work and school year, hours and places of instruction, or pupil assessment policies" unless the employer agrees to bargain. So although these issues can be discussed at the bargaining table, striking over these issues is illegal. As in 2003, there is a sense among a number of CTU members, as shown in news reports and on social media, that the union may have settled too soon and that an all-out stoppage would have sent the necessary message to Rahm, the City Council, and the State Legislature.
There are some very clear wins in this contract, notably that the Board will continue to cover existing employees' 7% pension payments. New hires, while making those payments, will get raises of 7% to cover this cost by mid 2017. There is real protection against layoffs, with up to 10 months pay for laid-off tenured teachers, and there is language providing some protections against excessive paperwork, as well as help with excessive class sizes from Kindergarten through 2nd grade and a first-in-the-country agreement limiting charter expansion during the life of the contract.
But numerous activists have criticized the Tentative Agreement (TA) for the lack of a convincing resolution to CPS's ongoing erosion of Special Education, wrap-around services, or class and caseload sizes for grades 3-12. For example, although the TA calls for working groups to address some of these problems, similar groups were created in the 2012 contract but have proved completely ineffective. Veteran employees face a pay freeze in the first two years, coupled with other language encouraging early retirement. The creation of 20 "community schools" with wraparound services leaves the system's other 580 schools without such provisions.
CTU leaders argue that these were not issues over which they could legally have taken members out on strike, based on the State laws passed during the past two decades. This points towards a more fundamental question: In a rigged system, can public sector workers, or any workers, win the war against austerity without violating these unfair laws?
Like many others both inside and outside its ranks, Socialist Alternative will be examining the issues and challenges facing the CTU and will be publishing more information and analysis in the coming days.
---
The following is the text of a leaflet handed out by Socialist Alternative members on October 11, 2016.
Solidarity with the Chicago Teachers Union!
Socialist Alternative offers its greetings and solidarity to the Chicago Teachers Union in your courageous stand against Rahm Emanuel and his hand-picked CPS board. As we write this, the mayor is still refusing to release over $400 million in TIF funds despite his hypocritical claims to care about our schools and our children's education, but CTU leaders are keeping up the pressure and negotiating right down to the wire.
Chicago is indeed "Broke on Purpose." Rahm has implemented round after round of school closures and cuts since 2012. The waves of foreclosures and job losses that followed the 2008 financial disaster are blamed on "unseen" financial forces, but the damage done by Rahm Emanuel's administration is overt and intentional.
In reality, Chicago is home to enormous wealth. Multimillion-dollar residences and office towers, lush hotels, parks and museums exist side by side with neighborhoods that have been starved of resources for generations. One quadrillion dollars a year flows through the Chicago Mercantile Exchange (CME) yet no taxes are paid on those transactions. This wealth must be tapped if we are to solve the deep social and educational problems facing our city.
The bold demand to impose a financial transaction tax on the CME has been supported by the CTU, but is currently on the back burner in the Union's efforts to secure a contract. If those efforts are unable to avoid a strike, we believe that a renewed emphasis on this massive potential source of revenue could help inspire a broader movement not only in support of the CTU and against Rahm's attacks on public education, but also for an ambitious program to revitalize our schools, neighborhoods and services. The potential for a mass movement against Rahm and the billionaires was seen in the spontaneous uprising of the #RahmResign movement after the Laquan McDonald video was released last November. This coincided with the huge interest in Bernie Sanders' campaign, summed up in the words: "Enough is enough. This country and our government belong to all of us, not just a handful of billionaires."
At the #MarchForBernie organized by the #Movement4Bernie (now the #Movement4the99%) in January – around the same time CPS' last contract offer was overwhelmingly rejected by the CTU – activists from the CTU, as well as Alderwoman Sue Sadlowski Garza, and representatives of the national Nurses' union (NNU), Communications Workers (CWA) and many other community leaders joined with the youthful leaders of the #RahmResign movement in Daley Plaza, then marched to City Hall chanting "Sixteen Shots and a Cover Up" before proceeding to the CME-owned Board of Trade to call for a financial transaction tax on La Salle Street. This shows the potential to build a mass movement against austerity and Mayor 1% in the Second City, if the correct lead is given.
Other unions, both inside and outside the public sector, can be drawn into this struggle. The Chicago Transit Authority's bus drivers, organized in the Amalgamated Transit Union are currently working without a contract, as are AFSCME's members who work for the State of Illinois and are also considering strike action against Gov Rauner. Both unions have already declared their support for the CTU's just demands and stood with educators on the April 1st political strike. If these key unions work together we could win the La Salle Street Tax and find the billions that Chicago and Illinois need to fund vital public services as well as decent pay, pensions and healthcare for public employees. The CTU has shown that it is the union most capable of leading this movement. We hope that in the coming days and weeks, we can work together to fight for a city that works for all of us, not just the billionaires.