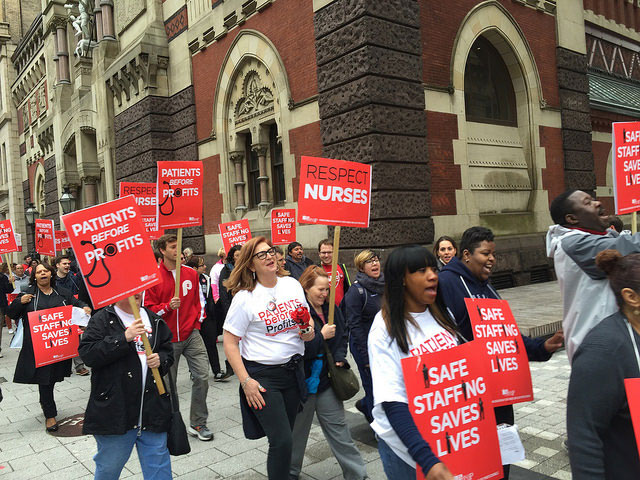 All nurses leave work crying from time to time. The work we do is physically, emotionally, and psychologically demanding. But nurses at some of Philadelphia's biggest, most prestigious hospitals were leaving in tears every damn day. Without the staff, equipment, supplies and training they needed to safely care for their patients, they feared for their patients and their licenses. Their stories were tragic: a nurse pulled to an intensive care unit was assigned a patient with a complex machine which inflates and deflates a balloon inside the aorta to decrease the workload on the heart. Never having been trained on this piece of equipment, she questioned the manager and was told to "Google it."
A brand new nurse pulled off of orientation to cover a callout, assigned a full eight – yes eight – patient load. Nursing research from the University of Pennsylvania has demonstrated an increase in mortality rates of 7% per patient over four assigned to a nurse on this type of floor. Therefore, every patient assigned to a nurse with eight patients has a 28% higher chance of dying than if that nurse were caring for the recommended four patients. Predictably, one patient did experience a life-threatening situation requiring staff to "code" him, that is, perform CPR and shock his heart When nurses confronted managers about the quality of the care they were providing, managers responded by describing the height of the pile of resumes currently on their desks.
The poor working conditions led to high turnover rates, resulting in nurses with just a few months experience orienting brand new nurses. They had to have each others' backs just to make it through the shift which led to a tremendous sense of camaraderie.
So, when one nurse reached out to union organizers this winter, dozens showed up to the first organizing meetings. And they told their friends, who told their friends at sister hospitals. Since January, almost 3,000 nurses and health care professionals at four different hospitals have voted to join PASNAP, the Pennsylvania Association of Staff Nurses and Allied Professionals.
The hospitals' anti-union campaigns have been fierce, but the nurses' and professionals' solidarity, passion, ingenuity, fearlessness and perseverance have prevailed. And we are not finished yet: the administration at Albert Einstein Medical Center petitioned the Labor Board to include its suburban hospital, a rehabilitation hospital, and another stand-alone facility in the recognition election in a vain attempt to cut across our organizing drive. The NLRB denied the request, but the administration's action spawned organizing drives at these smaller facilities which are currently on-going, inspired by the nurses victory at the main hospital.
Why Here and Why Now? Isn't Organized Labor a Shadow of Its Former Self?
President Obama's new National Labor Relations Board "quickie" rules have played a role in these victories. The new rules shorten the time frame between when the union files cards showing that workers want a union election and the election itself. This decreases the amount of time the employers have to conduct their anti-union campaigns. The new rules also allow workers to sign union cards online rather than on paper which can allay some of their fears about the boss seeing their signed card and retaliating. Though these changes to the organizing rules are quite minor, the pent up demand for a fightback pressed them to its full advantage.
Not unlike the Bernie Sanders campaign, which has given millions of working-class Americans an outlet for their anger and dissatisfaction with the political establishment, the chance to vote for PASNAP, a union with a proven track record of fighting for patient care and defending its contracts on the floor, has given these professional patient advocates an opportunity to strike a blow against profit-driven, insurance company-dominated, dehumanized health care. And they took it.
Health Care, Post-Great-Recession
Employers generally understood the Great Recession to be a fantastic opportunity to remake the job market. Hospitals were no exception. Non-union facilities cut staff and training, raised health insurance premiums, and eliminated pensions. For a few years, nurses hopped from one hospital to another, looking for a decent job where they could provide the care they were trained to give. Now, eight years on, it has become increasingly clear that there was no better facility on the other side of the fence or across the city. The only way to better care was to stand and fight for it through a union organizing drive.
Nurses won the battle of union recognition, now the work of bargaining contracts begins. The momentum of the subsequent organizing victories has emboldened the negotiating committees at the institutions which voted earlier in the year. Their contract victories, will, in turn, embolden the committees at the institutions which voted later.
Significantly, the established locals at Temple University Hospital – representing 1,200 nurses and over 500 technical and professional staff – will also be bargaining their contracts this summer. Following a victorious 28-day strike in 2010, the Temple locals made concrete steps forward in their 2013 agreements. The Hospital has clearly signaled it intends to take a much harder line in this round of negotiations. PASNAP will leverage its new power to challenge Temple as well.
Coordinated Action Across Hospitals
In the first coordinated action, 200 nurses, health care professionals and supporters from other city unions and faith-based organizations gathered under grey skies Saturday morning to press demands for safe staffing. Chanting "1,2,3,4 safe staffing on the floor, 5,6,7,8 Hahnemann must negotiate!" and "What do we want? Safe staffing! When do we want it? Now!" they marched to newly-organized Hahnemann Hospital and rallied outside before heading back to City Hall.
Escalating public actions combined with bold workplace contract campaigns led by the new rank-and-file leadership, tempered by their experience in the organizing drives, will force the employers to the bargaining table. With unionization rates at historic lows, employers routinely flout their legal obligation to bargain in good faith because they don't see the need. PASNAP intends to reacquaint them with the meaning and function of union power to win standard-setting contracts across Philadelphia.
320 Registered Nurses at Delaware County Memorial Hospital voted on Jan. 15th.
800 Registered Nurses at Hahnemann, January 20th.
450 Registered Nurses of St. Christopher's Hospital for Children February 10th.
30 Registered Nurses at St. Chris outpatient unit voted February 11.
100 techs at DCMH techs February 19th.
1000 Registered Nurses at Einstein on April 8.