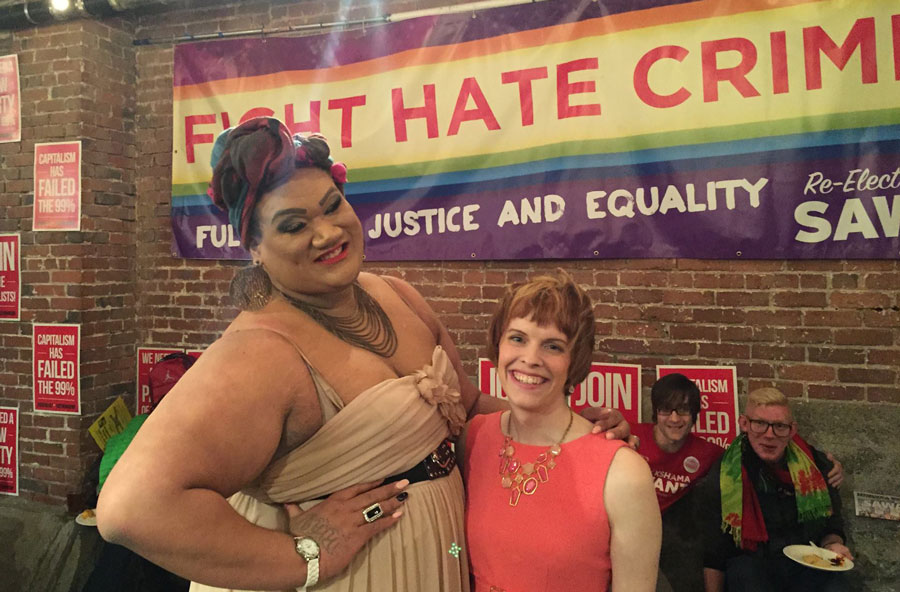 Danni Askini is a leading trans activist in Seattle and the Pacific Northwest. She is the Executive Director of the Gender Justice League and is one of the main organizers of Trans* Pride Seattle. Here, Socialist Alternative interviews her about the struggle for equal rights for trans people.
SA: Thanks for making yourself available! I know you are busy fighting to advance LGBTQ rights and, particularly right now, equal access to public restrooms and facilities based on one's gender identity. Why is this such an important issue, and what are the main obstacles the movement is facing?
Askini: I think that this is such an important issue because it really highlights the divide-and-conquer approach of our opposition, which is to target trans people – specifically trans women – and try to frighten the public to repeal core civil rights protections that the movement has won. The main obstacles are public misunderstanding about who transgender people are, and that transgender people are far more likely to be the victims of violence than to perpetuate violence. And I think that's really the core obstacle: overcoming that misunderstanding. What opponents are doing is saying trans women are men trying to enter women's restrooms, and that's how they try to frame it, conflating trans women with pedophiles and people who commit sexual assault.
SA: What is the best way for ordinary people to get involved in the movement and have an impact?
A: Yeah. So part of it is there is going to a protest on February 15, at the Capitol, to defend transgender people's civil rights; we need to apply pressure to uphold our movement's hard-fought civil rights protections. One of our big concerns is that the caucuses haven't been hearing from supporters of the nondiscrimination law, so we are also encouraging people to call in or email. People can get updates at WAsafealliance.org.
SA: If you win on this issue, what's next?
A: That's a good question. I think what's next is pushing our fight forward by demanding access rights for all restrooms – similar to the ordinance passed in Seattle, which would require all single-use restrooms to be gender neutral. Since the recent victories for marriage equality, we see establishment Democrats like Hillary Clinton – who long opposed marriage equality – trying to be part of the winning team. And we also see an attempt of the establishment to give the credit to Obama.
SA: How was marriage equality really won?
A: I would say it was grassroots mobilization and protest – in particular, after [California's] Proposition 8 – that galvanized the issue into cultural consciousness and a largely grassroots movement led by LGBTQ people. That we all deserve the right to marry the person we love: it was a decades-long struggle. I remember when we first moved here, in 1994, people were talking about same-sex marriage. People have been fighting and organizing … it was not Obama coming along and waving his magic wand and suddenly we got marriage equality.