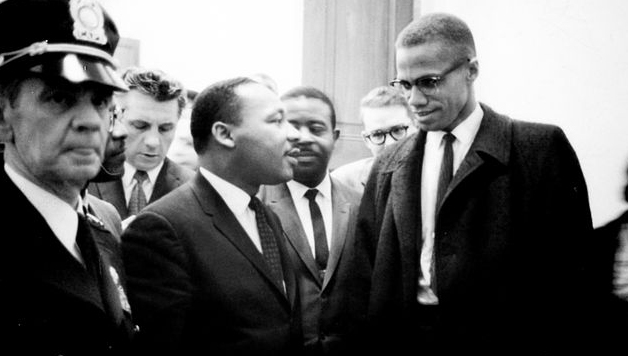 My Uncle, a total jock that ran yards for touchdowns instead of studying to get through high school, told me once the only book he ever read was The Autobiography of Malcolm X. I used to think that was crazy and maybe I still think it a bit. But if there is just one book that my uncle, a black man fighting to save his home from foreclosure, ever reads, the personal story of such a self aware revolutionary couldn't have been a better choice.
The media and Hollywood have done their duty in keeping the spirit of Malcolm alive, making his face an almost "cool" image to display. But only by reading his words can one begin to understand the process of his revolutionary mindset, one that went through many changes in his short life. As a Marxist, I understand that the material conditions in which we live are what shape our understanding of the world. One of Malcolm's greatest contributions to working class struggle was his travels to Africa that served to unite in his mind the struggles of all oppressed people, regardless of color. But that was not always the case. His first instincts were towards black nationalism. But only through reading the story of his life can one understand why he drew those conclusions.
The Autobiography of Malcolm X is an essential read for not only revolutionaries but ALL members of the working class. It begins with colorful examples on how capitalism has failed our most vulnerable i.e. the un-educated, the mentally ill, the jobless, the black youth, and evolves into an inspiring account of a man learning in the struggle the path to true black and brown liberation.
The lessons Malcolm learned are particularly relevant in the current Black Lives Matter movement. It serves to arm us with the ability to explain why black nationalism will not serve as a means to black liberation and how we need to fight capitalism instead. He may not say this in so many words but the key is understanding Malcolm's process. Workers and youth should listen the speeches of Malcolm but not fetishize his fervor. Workers and youth must read his writings about his life but not dwell on the excitement of his vibrant life. For what makes Malcolm so great is that he was forever learning, adapting and evolving his program to make himself a true, effective leader.