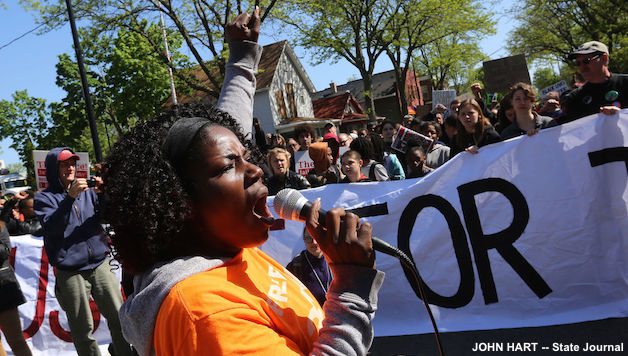 Nationwide Solidarity Action Monday 10/5
By Teddy Shibabaw, Madison Socialist Alternative
The Madison Police Department and City Attorney have been harassing Brandi Grayson, one of the most outspoken and prominent leaders of the local Black Lives Matter movement, led mainly by the Young, Gifted and Black Coalition (YGB). They've targeted her with extra citations for protests she took part in, have been following her, parking outside her house, visited her home and questioned her children without her presence. This police response is largely in retaliation to the role Brandi and YGB played in organizing mass protests and civil disobedience in response to the police killing of Tony Robinson last March. We must be vigilant in defending racial justice activists from police intimidation and harassment.
Socialist Alternative stands in full solidarity with YGB and echoes the following demands from a YGB Call to Action:
We demand the City Attorney's Office dismiss YGB founder Brandi Grayson's citations. We recognize that this attack on YGB founder Brandi Grayson is a tactic used by the Madison Police to quell the local movement for Black liberation led by Young Gifted and Black.
We demand the Madison Police Department put an end to the harassment and terrorizing of Brandi Grayson and of all Black people in Madison, WI. This means an immediate end to the racial disparities in arrests and incarceration in Dane County.
We demand Community Control of the police. We can only begin to get to grips with police brutality if ordinary people have a direct say in every aspect of policing policy. If we have community control Brandi would be protected from prosecution by Madison Police Department.
SOLIDARITY ACTION MONDAY 1pm-3pm Central
– Jam the phone and email lines of Madison Police Chief Mike Koval and City Attorney Michael May by calling/emailing them to demand #HandsOffBrandi! #HandsOffBlackWomen!
CLICK HERE to RSVP and read details of action
.
YGB have been successful in building a vibrant racial justice movement in Madison and Dane County. They have already scored some significant victories and support – most notably stopping a project to build a new jail that would have cost $150 million and forcing the County to pass a Jail Alternatives resolution that is being brought to fruition. And their organized mass response to the killing of Tony Robinson helped make Madison a focal point for the Black Lives Matter movement. Brandi Grayson is being targeted precisely because they've been too effective!
It's an all too familiar tale. Whenever movements become too successful in shaking up the status quo and ideological propaganda is not enough, the pro-capitalist establishment resorts to police intimidation tactics. Madison's political, media and cultural elite like to present an image of the city as a progressive paradise.  The reality is starkly different. The priorities of the political establishment, especially in the Mayor's office, has been a pro-big developer agenda that shunts everyone else aside but especially subjects Black and Brown communities to malign neglect and deterioration. It creates conditions that are used as excuses for over-policing of Black and Brown communities. There are huge racial disparities in employment, housing, education, health as well as police brutality and mass incarceration. The Black to White arrest rate in Madison is 11 to 1!
YGB is exposing these brutal realities and forcing the establishment to make some concessions. It has woken up and trained the eye of big layers of activists and the broader population to the actions of the police department and the judicial system. Longing for bygone days of business as usual policing without prying eyes, the Madison Police Department is beginning to use sharper intimidation tactics in a bid to stuff the genie back in the bottle. We cannot let it continue! We cannot let Brandi Grayson fall victim to that any longer. We must protect our fellow activists and fighters for racial and social justice. Join us in the call/email jamming action Monday!