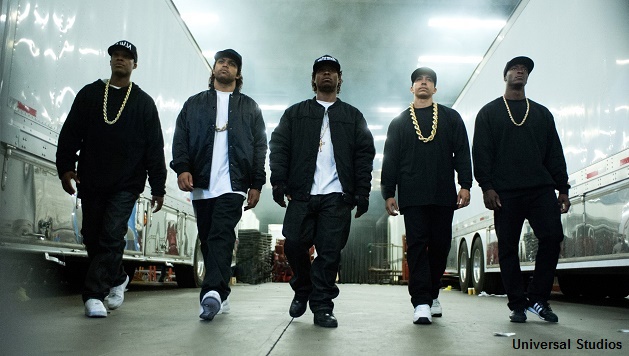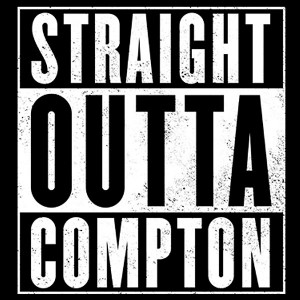 The theatrical release and commercial success of Straight Outta Compton, a biographical film that chronicles the rise and fall of hip-hop's super group N***** Wit Attitude (N.W.A), takes place at an important period in Black America, with rebellions in Ferguson and Baltimore against police terror and austerity, the rise of the Black Lives Matter Movement and the resurgence of conscious hip-hop like Compton's own Kendrick Lamar's To Pimp a Butterfly album. Let's examine the political, economic and social context of N.W.A's birth.
The Children of Capitalism, Racism and Hip-Hop
The development of N.W.A took place within the social and cultural explosion of hip-hop/rap music, an art form born in the mid-70s in Bronx, New York that centered on black and brown youth from the African diaspora (Caribbean and United States) in conjunction with politically and culturally progressive whites who were greatly influenced by the punk rock era. Hip-hop was built off the beats and rhythms of James Brown, Parliament Funkadelic and countless others. Bands like Blonde were early supporters of New York rap/hip-hop. In fact, Blonde's collaboration with New York hip-hop personality Fab Five Freddy in the song and video, "Rapture," was groundbreaking.
This cultural growth came in a period of ruling class offensives from President Reagan's trickle-down economics and conservative agenda. Reagan's overall agenda sought to return profitability to Wall Street, overturn the gains of the Civil Right's and Workers' Movements, extinguish the remnants of planned economies in Eastern Europe, and defeat mass social movements for self-determination and socialism worldwide, like in Grenada and Nicaragua.
Director F. Gary Gray begins the film in 1986 in the midst of President Reagan's War on Drugs Doctrine that put communities of color in California under siege by a highly militarized police force. The Los Angeles Police Department was and remains a notorious police force that physically and psychologically tormented working class and poor people, and in particular black and brown youth.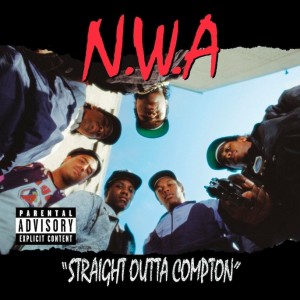 The founders of N.W.A, Ice Cube, Dr. Dre, Easy-E, MC Ren, and DJ Yella, (the acting was excellent with meticulous casting as the actors resembled N.W.A members like O'Shea Jackson Jr. as Ice Cube), all grew up in Compton, a suburb of L.A. known for street gangs. The prevalence of street gangs like the Bloods, Crips and Surenos was itself a byproduct of the government's violent dismantling of the Black Panther Party and Black Freedom Movement under the Nixon Administration and F.B.I's head J. Edgar Hoover's COINTELPRO (COunter INtelligence PROgram).
The scenes with law enforcement violence were stark and vivid as this generation draws parallels to today's police brutality following the deaths of Mike Brown, Freddie Gray, Sandra Bland, and too many others. The daily harassment of black and brown youth by the LAPD is reminiscent of the NYPD's stop-and-frisk program. N.W.A's landmark anthem "F*** tha Police" expressed the utter rage of black and brown youth towards arbitrary state-sponsored violence and surveillance that still resonates today. The violence by the state and within hip-hop culture was depicted with a realism that characterizes the violence under capitalist society. It culminated in the Rodney King beating and subsequent L.A. rebellion due to the acquittal of the law enforcement officers in 1992.
The fears of the establishment upon the release of the film led to heightened security at movie theaters. (As a point of information, not one incident of violence occurred or reported.) This was an attempt to further criminalize black and brown youth whose righteous anger towards capitalist state violence and law enforcement was on full display in the film. The conditions that produced N.W.A still exist in this era of President Obama, Ferguson and Baltimore.
It's all about the Benjamins
Hip-hop is a multi-billion dollar industry, an urban themed multi-media empire. As Kelly L. Carter states in "Who Gets Paid" (Ebony Magazine July 2007): "The 'Big Four' four major music labels — Universal Music Group, Sony BMG Music Entertainment, EMI Group and Warner Music Group and their sub-labels or 'imprints' account for more than four out of every five songs sold in the U.S., and 70% of music sold worldwide." It is the Big Four that set the message, sound, and image of the culture dictating what is cool and hip, all the while profiting hand over fist. The film itself highlights the shady business practices and blatant corrupt elements in the music industry encapsulated by N.W.A's manager Jerry Heller, performed by Paul Giamatti to perfection.
Many hip-hop pundits and historians will attribute the rise of gangsta rap to N.W.A during the golden era of hip-hop culture (1987-1993), and that popularity of gangsta rap led to a marketing plan to promote "the street." The entrance of Suge Knight, played by actor R. Marcus Taylor to menacing effect, exhibited the gang presence and thuggery in hip-hop, which was exacerbated and fueled by big business leading to the so-called "East vs. West" coast war and promotion of gangsta rap.
The music industry promoted a multitude of male and female artists with different gimmicks and musical innovation, comprising both positive and negative features. Acts like Salt-N-Pepa, Queen Latifah, Public Enemy, Tupac Shakur, and Ice T dominated the golden age of hip-hop, which had diversity and imagination.
However, big business desired to sell "gangsta" realism or black-on-black violence that dominated the media outlets 20 years ago. These images, voices and words are sent out to Middle America, as the authentic "hood." With that fantasy, everything else follows: the use of language without an historical understanding of racial epithets or the real conditions that exist in inner cities.
Say Her Name
"Now the title bitch don't apply to all women / But all women have a little bitch in 'em." – "A Bitch Iz a Bitch." – Ice Cube and N.W.A.
"It ain't no big thing – I just threw her through a door." – Dr. Dre in an interview with Rolling Stone on the attack on Dee Barnes in the 90s
Straight Outta Compton showcases, up to a certain point, the violence and misogyny in hip-hop. The scenes of hotel orgies, naked women and color casting that favored light skin actresses with prominent roles over dark skin black actresses in the film are ever-present.
What was missing from the film was the violence, allegations of rape, and deep misogyny of N.W.A. We must remember that Dr. Dre, Ice Cube, and Tomica Woods-Wright, Easy E's widow, are all executive producers of the film, and so a deep level of revisionist history is on display. This film can be seen as an attempt to rescue the negative narrative of Dr. Dre and Ice Cube's youth.
Since the end of N.W.A, Ice Cube has become a Hollywood star and fixture with such top grossing films like Boyz in the Hood, the Friday series, and Are We There Yet? Dr. Dre's status as a hip-hop mogul was cemented when he sold his Beats Electronics – purchased by Apple Inc. for $3 billion – but, he also is well-known for the creation of Aftermath Records, signing Eminem and 50 Cent, following his departure from Deathrow Records. Dr. Dre and Ice Cube have become successful figures under capitalism, whose rebellious actions against police violence and dastardly transgressions against women are swept under the rug never to see the light of day.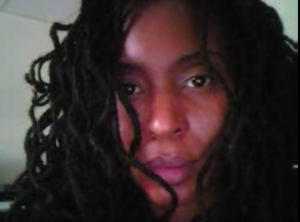 The decision to exclude the violence and physical abuse towards the women in Dr. Dre's life like R&B singer, former girlfriend, and mother to his grown son, Michel'le is startling. The case of hip-hop personality and television host Dee Barnes stands out in particular. Barnes was a well-known Fox show host about hip-hop music called "Pump It Up!" The attack on Barnes followed an interview with newly departed Ice Cube from N.W.A in 1990, which resulted in verbal and physical attacks from N.W.A and Cube's new Lynch Mob crew. Dr. Dre was upset about the interview with Cube on "Pump It Up!" and confronted Dee Barnes and attacked her brutally.  (Dee Barnes' account can be found here and her reaction to Dr. Dre's apology here.)
The success of the film and its revisionist history regarding violence towards women, in the face of a groundswell on social media and within mainstream media, was too great to be ignored. Dr. Dre was forced to make an apology to the women he hurt over the years. What is so troubling about this glaring omission from film, though, is the role of director F. Gary Gray. Gray was a cameraman and crew member on "Pump It Up!", and an eyewitness to the attack on Barnes. He not only remained silent over the years, but, as the director of Straight Outta Compton, he helped shape the film such that the violence towards women was left out. This is comparable to telling the Bill Cosby story and not mentioning the over 40 women that have accused Cosby of sexual abuse.
In the light of the overall attack by this system on women's rights, the repeated attempts to defund Planned Parenthood, and the deaths of countless transwomen in our communities, we must reject this revisionist history and say their names. We must confront patriarchy, sexism, transphobia, and state and domestic violence towards our sisters. This is a vital part of ending the violence and challenging capitalist exploitation.
Straight Outta Compton, made in Capitalist America
Straight Outta Compton is a fine and polished product of the corporate Hollywood machine. It allows us to revisit this important time period and consider the power of hip-hop/rap culture among young people through a narrow lens. The rise of the Black Lives Matter Movement – a life-affirming banner for black and brown working class and poor youth in face of police violence, endemic poverty and capitalist oppression – has had a profound effect on artists like D'Angelo, Janelle Monet, and J Cole. The everyday struggle of working people and social movements are raising their consciousness and music. As during the Civil Rights Movement, the Anti-Vietnam War Movement, and the Anti-Apartheid Movement in South Africa, protest or reality music is an outgrowth of struggle to end the daily misery, set to an infectious beat for justice and equality that no man can tear asunder.
For many, hip-hop/rap culture was and remains the CNN of our communities. N.W.A in their influence and contradictions was the child of neo-liberal capitalism and criminal neglect of working class and poor communities by the federal government under Nixon, Reagan, Bush I and Clinton. Straight Outta Compton should be viewed with a critical eye for it was the objective and material conditions that produced the most notorious hip-hop group, N.W.A.