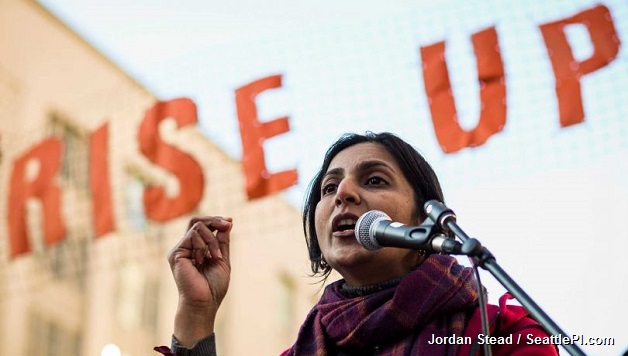 2014: A Year of Struggle and Victories in Seattle
One year ago, Kshama Sawant took office on the Seattle City Council after boldly campaigning for a $15 minimum wage. Only six months later, the movement achieved a historic victory. Seattle became the first city to pass legislation for $15 an hour – the highest minimum wage in the country.While Kshama alone cannot deliver the fundamental change needed in this country and internationally, over the past year she has already helped build coalitions and movements of workers, activists, and labor and community groups, who have gone on to win a series of important victories. This is the basis to build toward an affordable Seattle, for economic and social justice, and for a society based on solidarity and cooperation – a society of international democratic socialism.– Socialist Alternative
Over the last year, working people have begun the process of fundamentally shifting the political landscape in Seattle. Low-wage workers, 15 Now, the labor movement, and Socialist Alternative collectively waged the fight against corporations to win the passage of a $15 minimum wage. Seattle's victory has since inspired low-wage workers everywhere to continue building the movement against income inequality.
Together with dedicated indigenous activists, we succeeded in establishing Indigenous People's Day on the same day as the federal holiday Columbus Day, exposing the brutal history of colonization in the Americas and the continued disenfranchisement of the indigenous community. It was also a recognition of the rich cultural tradition of indigenous peoples and a step toward a larger movement for social and economic justice for oppressed communities.
We have campaigned against electricity rate structures that enable corporations like Boeing to pay lower rates than working families. While most of the city's political establishment moved to carry out status quo, corporate-friendly policies, we initiated the People's Budget campaign to fight for a fundamental shift in the city budget and won a series of amendments for ordinary people.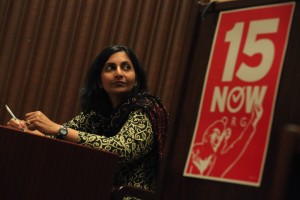 This year, we have fought hard for each and every gain to improve the lives of working people. These victories show what is possible when working people mobilize: We can overcome the resistance of the political establishment and their corporate backers.
We stood with the activists opposing a new youth jail, casting the sole City Council vote against the decision. The detention center will cost hundreds of millions of dollars, while a tiny fraction of that money will be spent on youth job programs. We and have raised our voices in support of the Black Lives Matter movement, against the the Israeli state's violence in Gaza, and with activists fighting climate change.
In April, our historic victory on the $15 minimum wage will begin to go into effect. As we celebrate, we need to build on this success in the fight for social and economic justice. We need a broader mass movement for affordable housing, for racial justice, and to tax the rich.
One year ago, political pundits speculated about whether the election of a socialist would lead anywhere. We have shown the beginnings of what is possible when working people have their own representation and organize themselves independently of the pro-corporate establishment. These victories indicate what could be further achieved by building a mass workers´ party, supported by labor and community groups, that could end the domination of corporate greed over society and build toward democratic socialism.
Creating a working-class alternative will require independence from corporate money and political parties. As in my election campaign, it means refusing to take business donations, as well as running outside both the right-wing Republicans and the pro-corporate Democrats. I also take only an average workers´ wage and donate the rest of my salary to build struggles for social justice.
Our movement in Seattle is just beginning. Socialist Alternative and I will continue to fight for the interests of working people, not wealthy corporations.
Join me in my re-election campaign this year. Visit KshamaSawant.org, volunteer, and please donate generously. With your help the story of socialist politics in Seattle has just begun. There is so much more to win.
Movement Defeats Attack on Seattle's Low-Income Housing — No Stepping Backward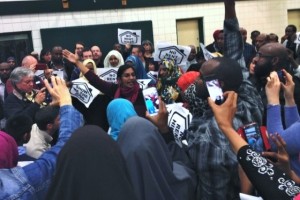 Low-income housing programs across the U.S. are facing brutal cuts. In Seattle, Councilmember Kshama Sawant, community activists, and tenants recently fought back and scored an inspiring victory.
The Seattle Housing Authority's (SHA) Orwellian "Stepping Forward" proposal was an attempt to force through a 400% increase in rents over five years. The SHA disingenuously claimed that work training would spur tenants to find higher-paying jobs and phase out of subsidized housing. The program would have effectively eliminated public low-income housing – rates would no longer be tied to income, and many would be forced into homelessness.
The movement against the SHA's proposal organized mass turnout to community hearings, did public outreach, held a sit-in protest outside the mayor's office, and brought enormous pressure to bear on the political establishment in Seattle. They raised signs and chanted demands such as "No Rent Hikes" and "Show Me the Jobs." At the final SHA hearing, they led a powerful walkout in recognition that their objections were not being listened to, and then they held their own organizing meeting.
In December, SHA conceded defeat and announced they would not be pursuing "Stepping Forward" in 2015.
A People's Budget
A budget represents one of the clearest expressions of a city's priorities. In September, while paying lip service to a progressive agenda, Seattle Mayor Ed Murray put forward a business-as-usual budget proposal only 1% different than the prior year's budget.
During the heart of budget negotiations, the majority of the city council attended a posh retreat hosted by the Chamber of Commerce. "What a brazen display of corporate favoritism. It is no wonder that the budget, year after year, is completely out of touch with the economic problems faced by ordinary working people," said Kshama Sawant.
As an alternative to a budget designed for big business, Sawant and Socialist Alternative organized a mass meeting for a People's Budget, bringing together human services providers, labor representatives, and community activists.
The People's Budget based itself on the needs of working people and the poor, rather than the greed of the 1%.
We were able to win critical amendments to the mayor's business-as-usual budget: immediate implementation of $15 an hour for the lowest-paid city-employed workers, funding for a year-round women's homeless shelter, research funding to investigate policies for municipal taxes on the rich, a bond sale proposal to finance a major program of building city-owned affordable housing and, for the first time, basic services for transitional homeless encampments.