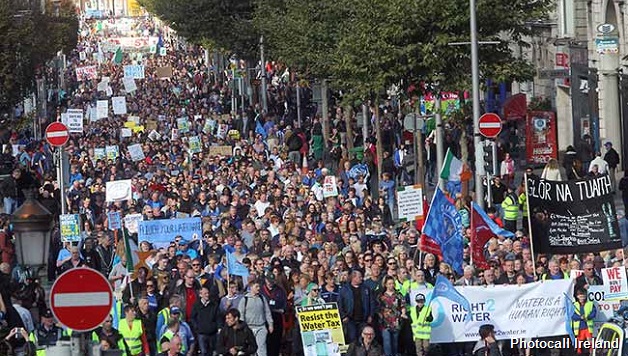 In Ireland, November saw the struggle against water charges, part of a deeply resented privatization of water, reach new heights.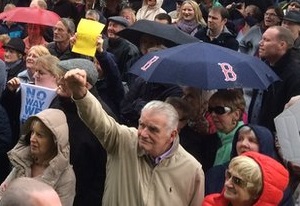 On November 1, 150,000 people protested nationally. All over the country, local protests are taking place on a rolling basis, against installation of water meters, against the politicians responsible for austerity, and against Gardai (police) brutality against protesters.
In mid-November, one local protest in Tallaght, Dublin, captured the attention of the national media when the protesters surrounded the car of the Tánaiste's (the Deputy Prime Minister), creating a stand-off with the Gardai that lasted two hours. Paul Murphy, TD (member of parliament) for the Socialist Party of Ireland, which is part of the Committee for a Worker's International, joined local residents in peaceful protest sitting in front of the Tánaiste's car.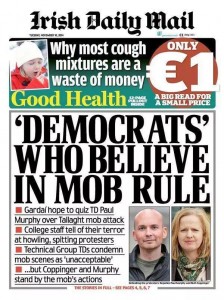 The Irish establishment tried to use this incident as a way to split the anti-water charges movement – accusing the Socialist Party and other anti-austerity campaigners of violence. The throwing of a water balloon at the Tánaiste has been described as terrorism, and one Fine Gael TD went so far as to compare the socialists to ISIS.
At the same time, the government has been forced to backtrack; they have dramatically reduced the amount that each household would be charged for the first few years, hoping to lull the population into accepting it and then to raise the charges.
The Irish people have experienced this tactic before with refuse charges and the household tax – both of which have risen since their introduction. The reality is that this issue has brought to the surface the pent-up anger from six years of endless austerity, mass unemployment, and cuts in working people's living standards. For full coverage of this ongoing struggle, go to SocialistWorld.net.