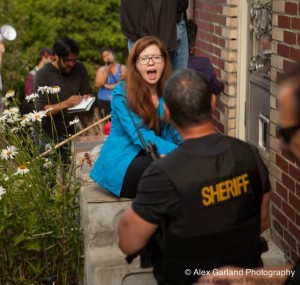 On July 18, Socialist Alternative candidate Jess Spear stood in solidarity with Standing Against Foreclosures and Evictions (SAFE), risking arrest to defend Jean and Byron Barton's home. These unjust bank foreclosures happen every single day, yet a growing number of homeowners are joining together to stop bankers' greed from trampling on human lives.
Jess Spear's opponent, Democratic Washington State House Speaker Frank Chopp, takes election campaign money from Chase Bank who foreclosed on the Bartons. Republicans and Democrats, such as Chopp, represent the banks that caused the financial crisis, and now are profiting from it through mass evictions. Support candidates who speak for human need, not corporate greed. Donate or sign up at VoteSpear.org
From the event page of SAFE in Seattle: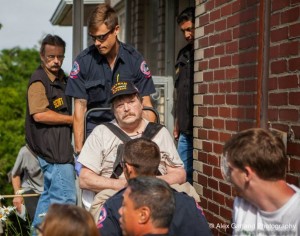 "The Barton Family has lived in their West Seattle Home for 61 years. The Bartons used to own a prosperous home remodeling business, but they were devastated by the recession, and the simultaneous heart attack and stroke that Byron Barton experienced as the Bartons' home was being foreclosed on. Byron is a decorated Vietnam veteran who is wheelchair bound and barely able to speak. His wife Jean can only work part-time for a homeless shelter because caring for her husband is a full-time job.
The house was sold at auction to Triangle Property Development — illegally so, according to the Bartons' lawyer, who claims in a lawsuit that the proper procedures were not followed.
The Bartons have no place to go that can accommodate Byron's medical needs, as well as their three children, who also help care for their father.
We are protesting Triangle's efforts to evict the Bartons, as well as showing solidarity with the family's legal challenge of the legality of this foreclosure. Please join us in helping the Bartons save their home!"