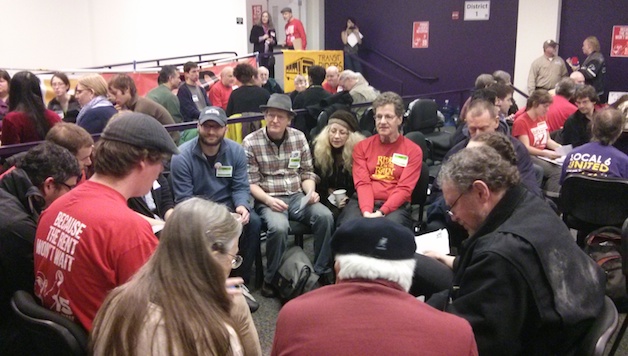 Devin Matthews, 15 Now Organizer
The February 15th Day of Organizing was a great success, with Action Groups being initiated in every district in Seattle. It was standing room only in SEIU 775's downtown headquarters, as 400 people took part throughout the day.

$15 is on everybody's lips, from working people on the streets, to the Seattle Times, to Mayor Ed Murray and the Seattle City Council (and not just Council member Kshama Sawant). A poll recently revealed 68% of likely Seattle voters support $15 without delay and without exemptions. But those in attendance on the 15th understood that we can't sit back and passively expect City Hall to pass $15/hr legislation just because it's popular. The only reason this issue made it onto the agenda at City Hall was because of action in the streets, ranging from fast food strikes to the successful labor-backed initiative in SeaTac and the truly grassroots campaign to elect Kshama Sawant to Seattle City Council.
Now that the establishment cannot avoid this issue, our task is to make sure that the legislation City Hall puts forward isn't just $15 in name only, with swiss-cheese legislation riddled with allowances and exemptions.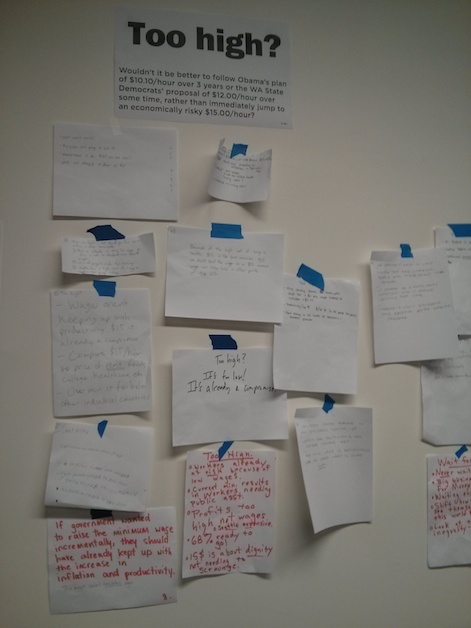 We say:
1. N0 tip penalty. A "tip credit" system means employers are allowed to pay employees less than the minimum wage if they receive tips. The federal minimum wage for workers that receive tips is only $2.13! This is unacceptable, leaving workers' livelihoods up to the good will of customers. Additionally, wage and tip theft by employers is already a widespread problem.  A "tip credit" would essentially legalize this practice.  A minimum wage is the base, all tips and benefits must be on top of that floor.
2. No worker left behind. Workers at small businesses and nonprofits should not be exempted from getting a $15 minimum wage. Regardless for whom we work we all face the same steep costs of living.  Small businesses and non-profits need to be supported, but not on the backs of their workers. Many large corporations already receive special tax breaks and other preferential treatment. We must level this playing field before punishing employees of small business with low wages.
3. No delay. Seattle Mayor Ed Murray has discussed phasing in $15 over a number of years.  Workers do not have the luxury of phasing in their rent payments.  The rent is due now, so we demand a full $15 now! Any legislation that passes must apply to all workers for a full $15 on Jan. 1, 2015.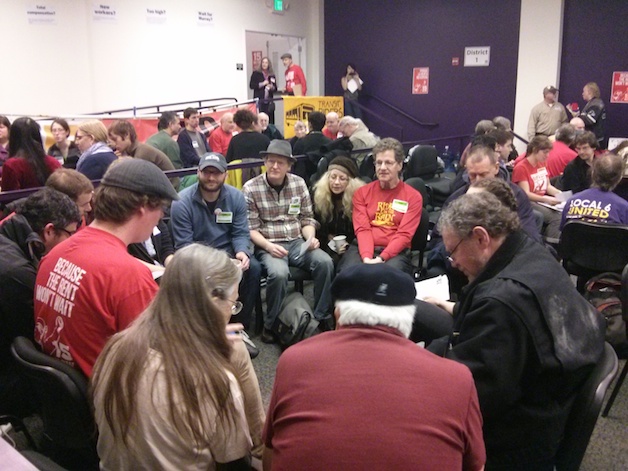 The recently formed Action Groups will echo these demands across the city, setting the bar for what is and what is not acceptable to Seattle workers.
Day of Feb. 15:
Following breakout sessions to arm activists with answers to typical arguments against $15, it was time to plan for action. While many went to workshops on topics including how to plan a picket, organizing low-wage workers, and the basics of door-to-door canvassing, the largest contingent began organizing district action groups. The first six meetings are already set. Find out which meeting is closest to you, and organize in your neighborhood for the March 7-15 Week of Action!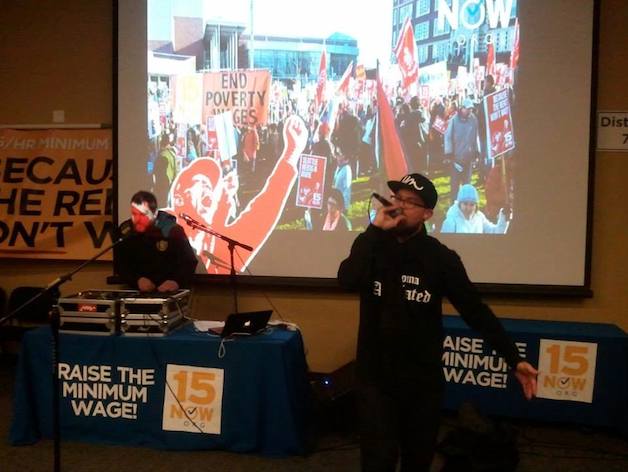 The day finished with a rousing rally, including speakers Sarah Scott, a low wage worker, Philip Locker from Socialist Alternative, Juan Bocanegra with El Comité, Jill Stein, 2012 Green Party presidential candidate, and Kshama Sawant. Hip-hop artist RA Scion closed the event with a set of his socially-conscious tracks calling on organizers to fight back!
So, we march forward to the March 7-15 National Week of Action. We are putting the politicians on notice: enact a strong $15 minimum wage ordinance, without delay, or we are ready to take an initiative to the people of Seattle. And we already know where they stand.