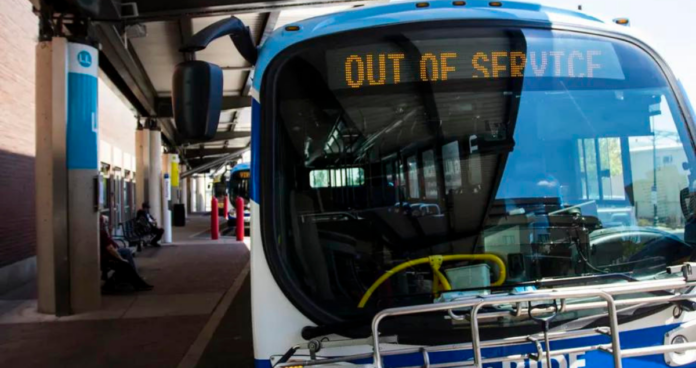 By Adam Burch, Amalgamated Transit Union Local 1005 in Minnesota.
Public transit across the U.S. is in deep crisis, even worse than the already-dire situation before the pandemic. On average, fares provide a third of transit systems' operating income. In the U.S. overall, there were 883 million fewer public-transit trips in the third quarter of 2022 compared with the same period in 2019, according to federal data gathered by the American Public Transportation Association.
In typical fashion, this crisis is being used to justify service cuts and fare hikes. These will have a disproportionate impact on working class riders who don't have alternative modes of transportation. This is to say nothing of increased traffic in major cities. A trip from home to work by car takes 90 times more urban space and infrastructure from residents than if taken by bus or tram.
In 2019, Kansas City, MO implemented a tax-funded zero-fare program which has been a major success. It cost an initial $6 million to kick off – the cost of building a parking garage for 233 cars. Similarly, Olympia, WA saw a 20% increase in ridership after implementing a fare-free program. There is an urgent need to overhaul the funding model for public transit, taxing the rich and corporations to make fully-funded, reliable, and high-quality transportation available to all. 
This is also of critical importance for fighting climate change. Transportation is the fastest-growing source of greenhouse gas emissions and accounts for 27% of global emissions. U.S. public transportation saves 37 million metric tons of carbon dioxide annually, equivalent to the emissions resulting from the electricity generated for the use of 4.9 million households or every household in Washington DC; New York City; Atlanta; Denver; and Los Angeles combined. Public transportation saves the equivalent of 300,000 fewer automobile fill-ups every day. 
To keep global warming to 1.5°C, the proportion of journeys in cities by public transport must double over the next decade. We need to tax billionaires and corporations to expand public transportation and make it free to use.