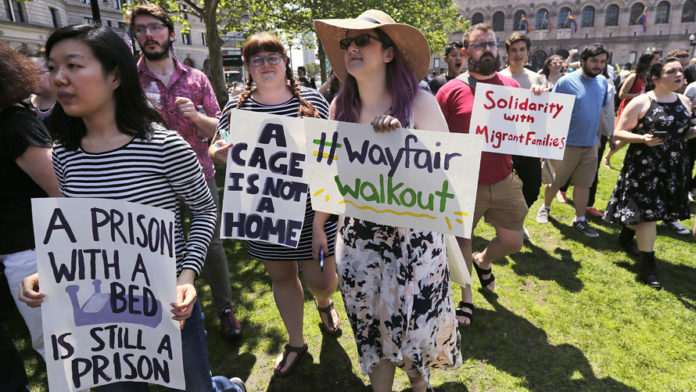 "Three days ago my baby soiled his clothes. I had no place to wash the clothes so I could not put them back on my baby. Since then, my baby of only three months has only been wearing a small little jacket made of t-shirt material. I have nothing else for my son to wear… I have been told they do not have any clothes here at this place. I am having to make sure I carry my baby super close to me to keep his little body warm."
-17 year old mom being held in a detention camp at the border.
Babies sitting in soiled diapers for days on end. Clothes that haven't been washed in weeks. Pregnant teens sleeping on concrete floors with only an aluminum blanket. These are the conditions in immigrant detention centers along the U.S./Mexico border. 
At any given time 2,000 children are separated from their parents and 16,000 people total are being held in U.S. Border Patrol custody. In a viral video from NowThis, Justice Department Attorney Sarah Fabian can be seen defending the Trump administration's practice of forcing children to sleep on cold cement without mattresses, access to toothbrushes, soap, or real blankets.  
The detention centers are filled beyond capacity, with 200 people crammed into one cell being forced to fight for enough floor space to lay down. Refrigerators are reported as having open bags of raw chicken leaking blood onto the shelves and candy is being used to lure hungry children back into their cells. 
The conditions in the detention centers have sparked outrage from millions of ordinary Americans – both immigrants and native born. While these detention centers are clearly not the same as Nazi death camps, Alexandria Ocasio-Cortez was right to shock people into seeing the horrible reality of these detention centers by characterizing them as concentration camps. Unfortunately, life outside these detention centers for Central American refugees is often no less horrific. Proof of this can be found in the horrifying image of Salvadoran father Óscar Alberto Martínez and his 23-month-old daughter Valeria washed up along the banks of the Rio Grande.
From Manufactured to Real Crisis
When Trump took office he talked about "hordes" of immigrants crossing the border, gaming the asylum system and defrauding immigration agents in order to gain access to the U.S. In manufacturing a crisis for political gain, he painted a picture of a border flooded with criminals and rapists being exported to the U.S. from Mexico. 
The early stages of Trump's fear mongering about a crisis at the border consisted of him writing complete fictions in order to throw meat to his base. However, as increasing waves of Central American refugees are seeking asylum in the U.S., this crisis has become real. The real crisis, rather than being marked by criminals and rapists storming the U.S. from Mexico, consists of tens of thousands of individuals and families fleeing devastating conditions in Guatemala, El Salvador, and Honduras and seeking refuge in the United States. 
The conditions they are fleeing, including vicious narcotics gangs, collapsed economies and ecological disaster are to a very large degree the result of the policies of the U.S. which has ruthlessly dominated the region for 150 years. This includes literally dozens of military interventions in the region, support for military coups and the imposition of the "free trade" agreement CAFTA.
A socialist government in the U.S. would work with the working class of the whole region to rebuild the economy on a sustainable basis. 
Divisions Within the Democrats
While Trump has mobilized significant support for his overtly xenophobic positions, 57% of Americans disprove of how he is handling immigration. A majority of Americans do not support his border wall and only 30% believe that it should be harder for refugees to seek asylum in the U.S. 
In recent days, massive divisions have been exposed within the Democratic Party on how to address the crisis at the border. These divisions have come to light in the context of a controversial bill for border funding. Under pressure from "centrists" in the party, Nancy Pelosi pushed through a Senate bill that contained far fewer protections for children than many House Democrats were willing to accept. The bill she advocated, which passed with more Republican than Democratic support, got rid of specific provisions like a 90-day time limit on children being held in temporary intake facilities. This led to fury from left Democrats like Alexandria Ocasio-Cortez who called this "an abdication of power we should refuse to accept."
Meanwhile, many Democrats seeking the party's nomination in the 2020 presidential elections have tacked left on the question of immigration. In the most recent Democratic debates, many of the candidates said that undocumented immigrants should have access to health care and that crossing the border should be treated as a civil rather than criminal offense. This goes sharply against the recent history of the Democrats. They want people to forget that under Obama 2.9 million people were deported, although Trump has certainly taken vicious cruelty toward migrant families to a new level. 
What We Stand For
Americans rank immigration second only to "the government" in their overall list of concerns. It will be a central question in the 2020 election.
Liberal politicians shed crocodile tears for migrants while supporting the continued domination of corporations who profit from cheap immigrant labor. The only way to defeat Trump's policies and defend the right to asylum is to build a mass movement across the country. The movement must seek to unite the working class, both immigrant and native born, against the divide-and-rule tactics of the wealthy elite and fight for good jobs and housing for all! 
The recent walkout of Wayfair workers against the company's sale of $200,000 worth of furniture to a BCFS, a nonprofit that runs migrant detention camps, represents an excellent step in this direction. After 500 employees delivered a letter to senior management asking the company to no longer do business with BCFS, management responded with a resounding "no." In response to this, hundreds of workers walked off the job on June 26th under the banner #WayfairWalkout. These are the exact steps we will need to be willing to take in order to shut down these camps and take down Trump.