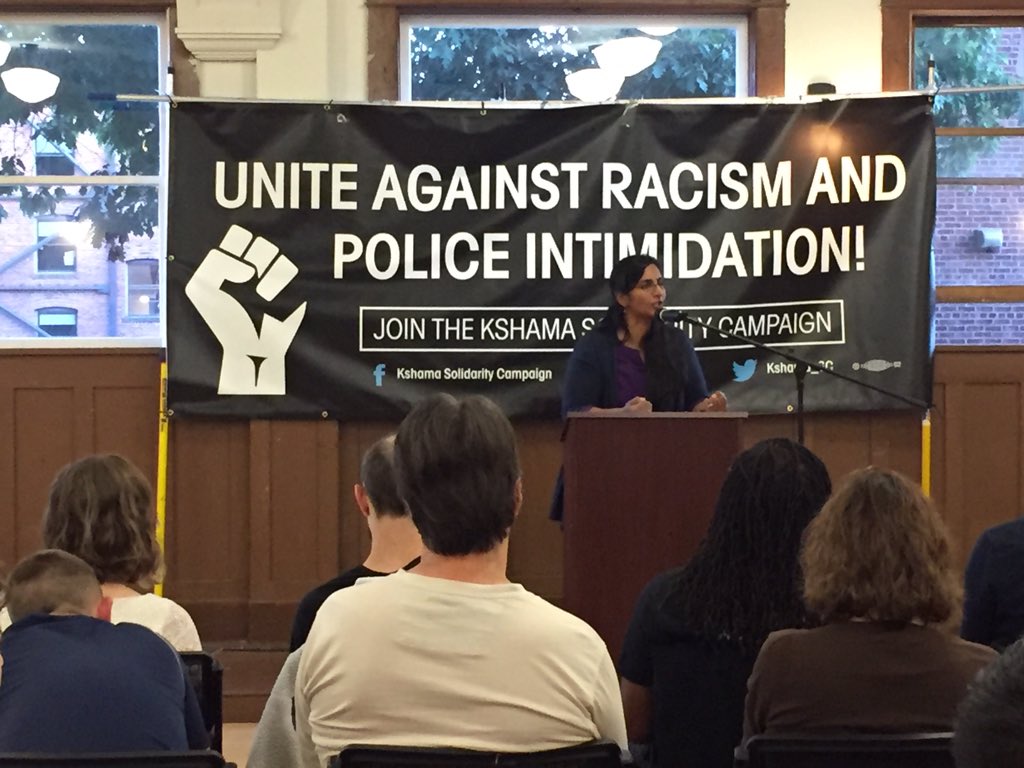 Nearly 200 people attended the launch of the Kshama Solidarity Campaign at Washington Hall in the heart of Seattle's historically-black Central District on June 23. United in the fight against racism and police intimidation, the event brought people together to push back against the defamation lawsuit brought against socialist City Councilmember Kshama Sawant by the two Seattle police officers who gunned down Che Taylor in 2016 – a black man attempting to comply with orders when he was killed. Their defamation suit focuses on when Kshama described the killing as a "brutal murder." The clear intent of this lawsuit, reflecting the views of the right, is to silence Kshama and any public figure speaking against police killings.
"Two years ago Che Taylor was killed. One year ago Charleena Lyles was killed," Eljeer Hawkins,a Socialist Alternative activist from Harlem, explained at the rally. "How do we move from a hashtag to a movement that can win victories?" Hawkins continued. This sentiment was the building block for all the speakers who included Juan Bocanegra, a Seattle Latino activist, and Matt Remle an activist from the Lakota tribe, both long standing activists who spoke about the power of having an elected official that bravely stood up and fought for their communities. It was clear that the Black Lives Matter spirit is still quite alive and looking for ways to express itself. Hawkins' answer began, "[we are] building on the basis that an injury to one is an injury to all!"As they try to silence a movement, we have to build a movement to fight them in the court of public opinion, not just through legal channels.
Lawsuits take money to pursue and there is speculation that the police suit is being funded by wealthy political interests. Ordinary people don't just have the money lying around to pursue a potentially long and costly lawsuit. Due to the public pressure of this campaign, the City of Seattle has had no choice but to defend Kshama in the courts  but reflecting the real views of the establishment, the Seattle Times is fond of printing attacks on Kshama as if it was her fault she was being sued! Kshama explained in her speech to the rally: "We are fighting for the clarity that the billionaires are not on our side. The millions of people who struggle to pay rent are on our side."
The Kshama Solidarity Campaign aims to mobilize people throughout Seattle and the nation to fight against police intimidation everywhere. At the launch itself, over $12,000 was raised to help this organizing effort.