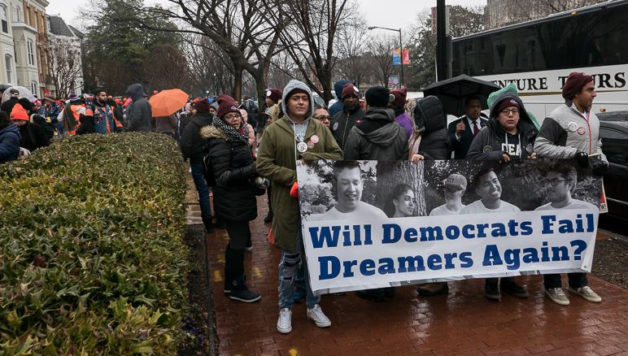 OCUPÉ EL EDIFICIO DEL SENADO PARA EXIGIR UNA JUSTA DREAM ACT
El 7 de Febrero participé en un día de lucha en Washington DC para exigir una justa Dream Act. En la era del trumpismo y frente a los incesantes ataques contra nuestras hermanas y hermanos indocumentados, decidí mostrar mi solidaridad con la clase trabajadora y los marginados.
Numerosas organizaciones de la costa este que luchan en defensa de los inmigrantes hicieron un llamamiento a esta protesta. Organizaciones implicadas en cuestiones de justicia social, como Mi Casa, Make the Road (Haz el Camino), Center of Popular Democracy (Centro de Democracia Popular), Good Job Nations (Naciones por el Buen Trabajo), NYC Justice League (Liga de la Justicia de NY) y la New York Inmigration Coalition (Coalición de la inmigración en New York) eran algunas de las que se sumaron. Había numerosos portavoces convocados en la Lutheran Church for the Reformation (Iglesia Luterana de la Reforma), a diez minutos andando desde el Capitolio.
La iglesia estaba a rebosar de participantes en la jornada de lucha, se estima que varios miles. Entre los oradores estaba Keith Ellison (D), representante de Minnesota, que hablo de manera muy similar a Berni Sanders, haciendo llamamientos a la necesidad de la solidaridad internacional. Criticó a la América corporativa y de los "intereses especiales" por no responsabilizar a las multinacionales por cruzar la frontera para lucrarse, de la misma manera que nosotros, los EE UU, lo hacemos con la comunidad sin papeles.
Dijo claramente, a una iglesia llena de participantes en la jornada de lucha, que Votaría NO a un proyecto de presupuestos que no incluyesen una ley Dreamer. Aunque Votar NO es correcto, desgraciadamente Keith Ellison no propuso una alternativa clara a Nanci Pelosi y a la dirección del Partido Demócrata, que han vendido a los inmigrantes. Hace grandes discursos, pero necesitamos de una estrategia para superar a los Demócratas que cedieron en la batalla presupuestaria sin luchar los derechos de los inmigrantes.
Fue muy interesante ver cómo tanto los oradores como la sala en general estaban furiosos con ambos partidos políticos por su falta de acción respecto al Dream Act. Linda Sarsur, conocida activista palestina de la Liga de la Justicia de NY arremetió contra los Demócratas y, para mi sorpresa, Ellison asintió con la cabeza a su discurso. Declaró que ella no es del Partido Demócrata y que nunca ha sido leal a los Demócratas y que se arrepentirán cuando las elecciones reflejen el estado de ánimo de la sala.
La jornada de lucha estaba orientada a asustar a los Demócratas respecto a los resultados de las elecciones que se celebrarán a lo largo de 2018 y para las que no tienen estrategia alguna. No hubo sin embargo llamamientos a movilizaciones masivas o a organizar formaciones políticas independientes, en otras palabras, no dar un paso decisivo. Hay enfado entre la gente pero, sin embargo, no hay un plan de acción claro sobre cómo conseguir una reforma amplia en materia de inmigración y respecto del Dream Act.
Después de que hablaran los ponentes, los manifestantes se dirigieron al Senado ocupando el vestíbulo del mismo. Fue una experiencia muy potente y conmovedora ver que toda esa organización venia de la juventud. Escuchar, "cuando el DREAMER está en peligro, ¿qué hacemos? ¡Levantarnos! ¡Luchar!" Un muestra de su rebeldía, furia y determinación, y en mi opinión una clara demostración política de que estamos ante un asunto decisivo.
A pesar de esto, también había una atmósfera de incertidumbre para muchos de los implicados en esta estrategia que solo apela a "esperar" que los Demócratas luchen junto a ellos. Esta contradicción se palpó entre varios de los participantes en dichas acciones.
Desgraciadamente, una vez que comenzó nuestra ocupación no se vio a ningún cargo electo de ninguno partido cerca, siguiendo con su rutina habitual en el edificio del Senado. Esto supuso para mí la confirmación al 100% de que ninguno de los partidos políticos está dispuesto a mojarse para apoyar a los DREAMERS, ni siquiera para hacerse una foto protocolaria. También ocupamos la oficina del Senador Chuck Schumer y a nadie le extraño que no estuviera.
Fue una sesión terapéutica necesaria para muchos de los participantes a medida que cada uno de ellos contaba su historia sobre por qué es tan importante la aprobación del Dream Act. Una beneficiaria de la DACA habló de la incertidumbre a la que se enfrenta cuando su estatus expire y lo duro que será no tener papeles y ser deportada a un país donde desgraciadamente se encontrará con aún más limitaciones. Terminamos no obstante haciendo saber, una vez más, a los empleados que trabajan con Schumer y los demás Demócratas que pagarían todo esto en las urnas.
En el Congreso continua el debate abierto sobre la inmigración y, sin embargo ya está claro, que los Demócratas han cedido. Esto se volverá más evidente a medida que se desarrollen los acontecimientos, al adoptar estos un enfoque pragmático y ante el fracaso del mismo a la hora de aprobar cualquier tipo de legislación, poniéndose en riesgo la financiación de áreas como la educación y la sanidad para sus electores.
Hay que destacar que en realidad los Demócratas no luchan por NINGUN sector de la clase trabajadora. Un partido real de oposición que se base en los intereses de los trabajadores se movilizaría entorno a un programa audaz, incluyendo un salario mínimo de 15$, asistencia médica gratuita para todos y un Dream Act justo para todos tanto en las calles como en el Congreso.