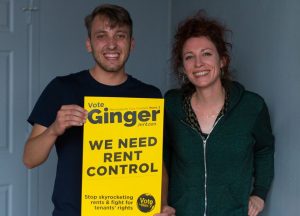 Like most cities across the country, Minneapolis is facing a burgeoning housing crisis. In Minneapolis this year, the homeless population rose by 4.5% – the first time it has increased since the national foreclosure crisis in 2010 – but the number of beds in shelters decreased.
Backed by politicians like Minneapolis Mayor-elect Jacob Frey, wealthy real-estate developers present the housing crisis as an issue of supply-and-demand. But despite apartment construction in the Twin Cities accelerating to the highest level since the 1980s, only 1 in 10 were slated to be affordable – and rents keep going up.
This past fall Socialist Alternative candidate Ginger Jentzen's campaign raised the issues of rent control and taxing the rich to build thousands of units of affordable housing and demonstrated the broad support for these policies. But as the movement moves forward and gains power, big developers and the landlord lobby will fight back, spreading propaganda aimed at eroding its support.
On December 9, just over one month after the election, 150 people joined Socialist Alternative, renters' rights organization Inquilinxs Unidxs por Justicia, and community leaders to discuss next steps in the movement to make Minneapolis affordable to all. Going forward, Socialist Alternative will continue building a powerful coalition of renters, tenants' unions, community organizations, unions, and working-class homeowners to winning the struggle for rent control.