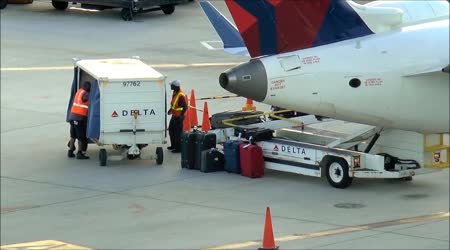 Ramp workers at Delta Airlines are organizing to get a union under the guidance of the International Association of Machinists and Aerospace Workers (IAM) union.
Last year Delta recorded a profit of $4.4 billion, almost $2 billion more than its competitors, and have made $866 million from baggage fees while baggage handlers' salaries have remained stagnant. At the same time unionized workers, such as the pilots, have seen pay rises.
Socialist Alternative has assisted in reaching out to workers at LaGuardia airport in New York City. We've met with one of the leading organizers, who asked to remain anonymous.
Socialist Alternative (SA): Why are you seeking to form a union?
Cliff: I've been working as a ramp worker for twenty-five years and have seen the quality of the job deteriorate. We lost a lot in job security and retirement benefits. I lost my pension. But the main reason is that the management makes rules for their benefit. I'd like a contract where both sides are held accountable. Junior workers don't have the same career opportunities as when I started.
SA: What are the major obstacles in winning a union?
C: 15,000 workers spread all across North America is a challenge to organize all at the same time. Airline companies spend a lot of money on anti-union firms to make it difficult to organize. While most industries will require 30% workers approval to recognize a union, the airline industry requires 50%. Another challenge is that the company relies on fear. They pushed the false narrative that if you're pro union – you're anti-company. Delta is a good company, and I like my job, but over time I've seen many changes in the way workers are treated.
Delta is the only airline to practice a ready-reserve program which manipulates employment laws in such a way that they replace part-time workers of 25 hours per week with ready-reserve workers who work 24 hours a week, so they don't have to pay them certain benefits.
The public should know that in addition to loading mail, freight, and cargo the workers also enter weight and balance information, handle ground movement of aircraft, and perform de-icing. Because they don't get enough hours, the ready-reserve workers need a second job, yet they're asked to perform these critical tasks by Delta. We think that they should receive the same benefits as everybody else. There shouldn't be two classes of workers.
SA: What has the union drive accomplished so far?
C: We've been organizing stations, holding rallies, and visibility events throughout the system.
We're seeing more people who are getting involved in the campaign, including support from people who have previously been opposed to having a union.
Across the country, many airport workers struggle to make ends meet while airlines are making record profits. People realize that the only response to corporate injustices is organized labor. In a blue-collar industry like this, a union is essential.
SA: Are there any plans of reaching out to other unionized workers for solidarity?
C: Yes, people have been helping from the nurses' union, Communication Workers of America, SEIU, International Socialist Organization, Socialist Alternative, and IAM. We do coordinated events with the Delta flight attendants who are also organizing for a union, and in Los Angeles, the American Airlines workers are helping out.
The workers have produced a newsletter, The Pushback, which has more information about their struggle. If you would like to help, check out dlramp.org, and Delta Workers Unite on Facebook. Get in touch with workers in your area and help build organized labor to fight back against corporate greed!