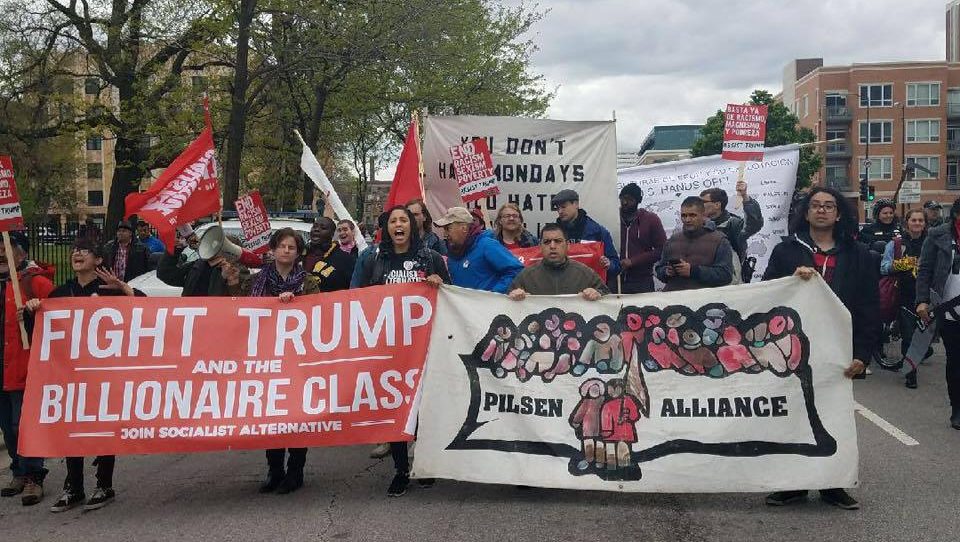 Around 20,000 people hit Chicago's streets on May 1st to send a powerful message of resistance to the Trump regime—a massive increase in turnout from previous years. Taken with recent demonstrations against Trump that gathered hundreds of thousands of Chicagoans, May Day signaled yet again the broad opposition to the right wing. Demonstrators called for a total rejection of the Republican pro-corporate and hate-filled agenda. Chants like "Immigrant rights, women's rights, same struggle, same fight!", captured the overall mood to unite the movements for women's rights and the environment with those opposing deportations, war and police violence.

In a positive development, numerous local labor unions joined dozens of other groups in organizing and mobilizing for May Day this year. The Chicago Teachers' Union (CTU) called on its members to take a day off work to join the protests and the Chicago Federation of Labor (CFL) hosted the main rally downtown—the endpoint of a rally and march beginning in Union Park on Chicago's near West Side.

The result was a May Day that was by far the largest in Chicago since 2006's "Day Without Immigrants". Actions proliferated throughout the city, including a rally outside Cook County Juvenile Detention Center held by Black Lives Matter activists and attended by CTU President Karen Lewis. It was a show of unity and strength 3 months after Trump's inauguration. However, many activists had been looking towards May Day as a destination for the first wave of protests that began on January 20th. This was a useful organizing tool that gave the movement rhythm and direction, but now we face the question: where does the resistance go over the summer?

A Summer of Resistance
To start, we need to build from the experience of mass demonstrations to commit overwhelming resistance against any new Trump attacks—whether they be on health care, immigrant rights, on populations abroad. Yet, we also need to escalate our fight back, bringing the millions turning out to demonstrations into a more organized and powerful opposition to Trump's right-wing machinery, which is largely stalled in the muck of its own divisions at present.
Withholding our labor is the most potent tool we have as workers, and if used properly can be the means by which we score significant victories against Trump—just as the CTU beat Mayor Emanuel in their 2012 strike. Although most of the dozens of the organizing groups did not endorse it, strike action was a significant part of the May Day planning discussions in Chicago. A limited, but significant number of workers did not go into work, including many Chicago teachers. Yet, many young people and workers still have no experience with strikes or struggle at the workplace. Unions and activists groups needs to continue and widen this discussion so the movement is prepared to implement strikes on a broader scale in the coming period.
Unions in particular have the organization and finances to build a strong fight back against Trump, and many rank-and-file members have become personally involved in the struggle against this right wing administration. However, many union leaders are still failing to provide a vision for how to build that struggle. The CTU voted down a measure to take a one-day strike on May 1st largely due to uncertainty amongst the rank and file on how this would fit into a larger strategy to stop attacks and win better schools. This was massively complicated by the fact that a declared strike would have been illegal, and many members are still smarting over the CTU leaders' failure to take strike action when it would have been legal, in defense of their contract only a few months ago.
Other union leaders in the CFL simply deferred to a Democratic Party leadership whose strategy amounts to waiting until 2018 elections, leaving millions vulnerable to Trump attacks in the present. One of the first steps that union leaders should take is to redirect the rivers of money they pour into the Democratic Party locally and nationally towards an independent movement that fights for the needs of working people. In a city like Chicago, where a fighting union like the CTU is three times more popular than corporate Democratic Mayor Rahm Emanuel, unions could help turn the movement against Trump into a movement for a political alternative and an unapologetic pro-working class program.

Radical Politics Can Defeat Trump
Our movement will also need a bold vision and program for political change to galvanize those ready to fight Trump. Thousands were attracted to a radical and socialist direction for the anti-Trump movement on May Day. Socialist Alternative, alongside other radical and pro-immigrant groups including Democratic Socialists of America, Pilsen Alliance and Comité Por Los 43, spent weeks in the predominantly Mexican-American neighborhood of Pilsen mobilizing for May Day strikes and protests. These efforts culminated in a militant rally and two mile march from Pilsen to Union Park that called for no more deportations, a $15 minimum wage, health care for all, and an end to the power of the billionaires. Taking lanes of a major street, the march stopped at the Mexican consulate to call for international solidarity and struggle of working people against global exploitation and warfare. This is the road the anti-Trump movement will need to take if we are to rid ourselves of not only the Trumps of the world, but the system of capitalism itself, which increasingly defends and relies on such monsters in order to continue its rule.