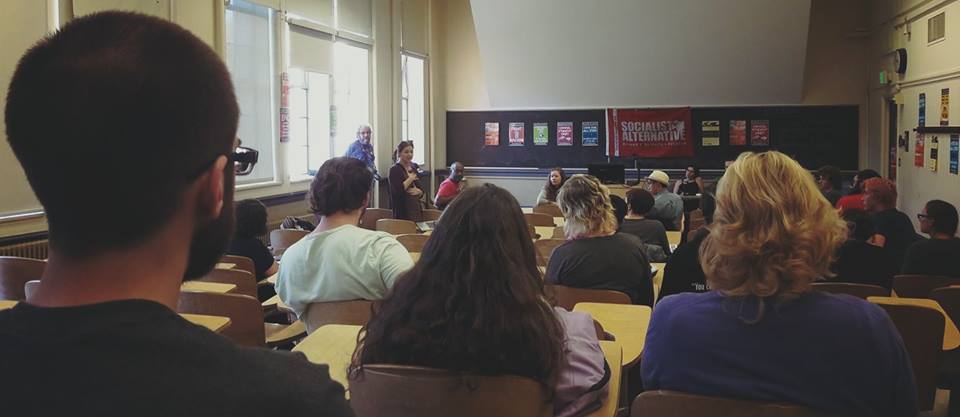 On Wednesday, October 5, 50 University of Washington Socialist Students met for the first time to discuss "a world in turmoil and the Socialist Alternative." Eleni Mitsou, a leading member of Socialist Alternative's sister organization Xekinima in Greece,sparked a great discussion on the crisis of capitalism around the world while connecting working class struggle and its link to student movements. Tying issues like U.S. imperialism's involvement in 134 wars, the Arab Spring, Occupy, and the global food and water crisis to the fight for 15, and the fight for equal housing opportunities.
Over the course of the discussion, people painted an unsettling picture of the world today. 1/9th of the world's population goes hungry even though there's enough food for everyone. Water is being privatized and water borne disease is rampant because people can't afford clean water.  62 people own the same wealth as half the world's population. The technology exists to address global warming and nothing is being done. Ordinary people are bailing out big banks and youth unemployment skyrockets. 60 homeless people have died on the streets of Seattle this year alone and the Democrats are fighting for tens of millions to be spent on militarizing the police.
What is the underlying connection?  A society being driven by profit, which is not owned by those who create the wealth (the 99%) and not used in their interests. Socialist Alternative members put forward their appeal to join Socialist Students. That instead of attacking the symptoms, we must unite and build a massive movement and a party of the 99%. That together we can eradicate unemployment, cut the work day in half, and have a real voice, a real democracy in the form of elected councils from schools, work, and communities.
When we band together, we win. We won a $15 dollar minimum wage in Seattle. We blocked the the most expensive police bunker in the country.. We elected real Socialist leaders into office like Kshama Sawant, twice! These reforms, these gains are the building blocks to a better world.
This fall Socialist Alternative launched Socialist Students because we understand the powerful voice students can have.From the huge support youth had for the Bernie Sanders campaign to the role they are playing in the Black Lives Matter movement it's clear students everywhere are getting excited to not only explore the ideas of socialism but to get activeand let their inner activist out.
Socialist Students will continue to meet regularly. Their first event, a "Stop Trump" rally and march on UW campus is scheduled for October 20th at 3:30pm.