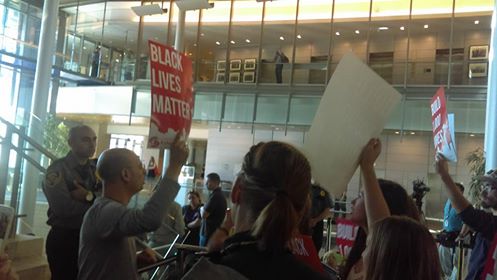 Every year and on every level of governance, the city budget represents an open statement of priorities. This year members of Socialist Alternative joined approximately 100 working class people in Seattle's City Hall for the mayor's public budget announcement on Monday, September 26th. Coming on the heels of the successful "Block The Bunker" movement led by Black Lives Matter activists against building a new militarized police precinct, the main focus was to put pressure on Mayor Ed Murray and his administration to use the 160 million dollars from the recently defeated project to build 1,000 units of public housing instead.
Upon arrival at 11am attendees were instructed to line up in a roped off movie-theater style line that was surrounded by an unprecedented 15 private security and police officers. Thirty minutes before the meeting was supposed to start, the fire department declared that the council chambers was at capacity–even though no one from the line had been let in! The mayor had hosted an invite-only event just before the budget announcement and led all of his private guests up the elevators into the chambers–bypassing the line and everyone who had been waiting for nearly three hours!
When the meeting began, Socialist Alternative member and City Councilmember Kshama Sawant filed a motion to allow members of the public into the supposedly public budget announcement. The motion was voted down 7-2 with so-called progressive Democrats of the council, who had been voted in on the promise to listen to the community, openly voting to keep the public at bay. As Mayor Ed Murray introduced his Seattle Budget for 2017, his words were at times drowned out by a hundred voices chanting, "Let us in!", "Whose city hall? Our city hall!", "We are ready to fight, housing is a human right!" and "Shame on Murray!"
Media and attendees in the chambers reported that persistent, impassioned chanting could be heard from the lobby below. Virtually all of the news coverage of the event highlighted how the mayor excluded the public from the meeting.
Members of the public were finally let into the chambers once the mayor and all his guests had left. Socialist Alternative members along with the community called Mayor Murray out for his business as usual budget, with one reminding him "In case you forgot, you declared a homeless emergency in this city," since he has still yet to put serious funding towards this emergency.
This negative attention on the mayor serves to kick off a public fight back to prioritize homes over bunkers, schools over jails, and the needs of working people of Seattle over the interests of big business and developers.