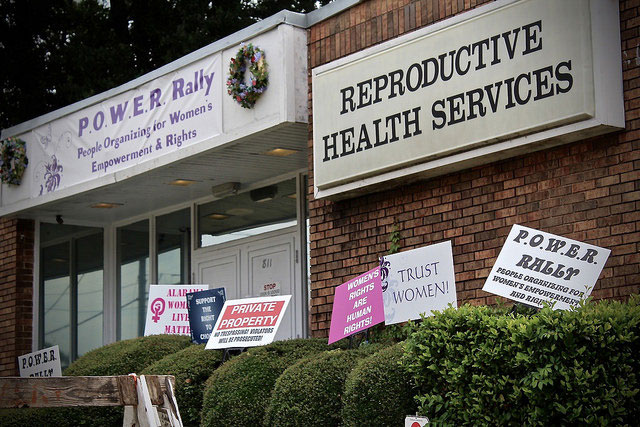 On May 12, conservative leaders in Alabama launched another sneak attack on women's reproductive rights when Governor Robert Bentley signed SB 205 into law, mandating that abortion clinics be located at least 2,000 feet from any elementary or middle public school, the same distance required for convicted sex offenders.
Not coincidentally, the law threatens to shut down two of the five abortion clinics remaining in Alabama, and the only clinic in the northern part of the state. Combined, these two clinics provided 72% of all abortions in the state in 2014. Further, black women accounted for 60% of abortion patients, a fact that prompted the state legislature's Black Caucus to sing the civil rights anthem "We Shall Overcome" when the bill was passed in the State House and Senate.
The very same day, Governor Bentley signed a second anti-choice bill into law banning dilation and evacuation for abortions performed in the second trimester. As dilation and evacuation is the standard procedure used for second trimester abortions, the law signifies yet another attempt by conservatives to unnecessarily limit abortion under the guise of concern for women's health.
Despite the impassioned and well-meaning demonstration by Black Caucus legislators, Democrats in Alabama and around the nation have been unable to slow the constant onslaught of anti-choice legislation from Republican-controlled states. Since 2010, these states have adopted 288 abortion restrictions, nearly as many as were adopted in the previous 15 years. Also in recent days the Oklahoma legislature passed a bill which would make performing an abortion a felony. Only the governor's veto stopped this becoming law. While these restrictions are often challenged in court by civil rights groups, these legal battles sometimes take months to be resolved, during which time working women, disproportionately  women of color, find themselves without access to safe, legal abortion or affordable reproductive health care.
The only way to effectively end this war on women's reproductive rights, and to ensure that all women in all states have access to safe, legal abortion, is for working and poor women and men across the nation to join together in mass demonstrations, like the mass occupation of the Texas Capitol Building in 2013 by thousands of vocal protesters. As the last several years have clearly demonstrated, women cannot rely on either of the two parties of the ruling class to protect their hard won reproductive rights.
Democratic politicians are more afraid of mass movements than the Republicans' conservative agenda. The Democrats' corporate paymasters have no desire to see a return of the radical women's liberation movement of the 1960s and '70s that demanded higher taxes on millionaires to fund childcare and free abortion on demand and inspired other radical movements.
We need to build an independent party of and for working people that can help organize mass rallies and truly fight for the rights and health of working and poor women everywhere.