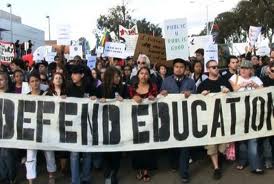 New York Governor Andrew Cuomo has backed down from a provocative proposal to cut  $485 million, or one-third of the budget, in state funding from the City University of New York's (CUNY) system. While a relief it's disgraceful that the debate has been about cutting funding and not increasing it. JAMES HOFF, a member of CUNY's Professional Staff Congress (PSC), reports on the brewing fightback.
On March 10, more than a thousand CUNY faculty, staff, students, and community members gathered in front of the offices of New York State's Democratic Party Establishment Governor Andrew Cuomo to demand a fair deal for the 25,000 members of  CUNY's Professional Staff Congress (PSC) union who've been working without a contract for six years. Billed as "CUNY Rising," the union-sponsored event was followed by a smaller public meeting with union leaders and members of the Working Families Party and other community organizations to chart a political path forward to a fair contract.
Two days later a very different kind of meeting, advertised as the CUNY Struggle Popular Assembly, was held at the Graduate Center. ore than 100 CUNY activists, faculty, staff, and community members, including dozens of rank and file unionists, gathered for a day-long public assembly to formulate a set of demands and actions for transforming the university. Among these demands were calls for a free and open university without tuition or fees, full pay equity for the thousands of exploited adjunct faculty and graduate students, and a fair contract for all members of the PSC.
Though radically different, these two events, as well as the dozens of recent protests and rallies at CUNY, showcase the growing militancy of the university community. They also point the way forward for a renewed and united fightback against Democratic Party politicians like Governor Cuomo and New York City Mayor Bill de Blasio who have all failed to reverse or address the decades-long privatization of the once great university system.
They Say Cut Back
Like other public universities across the country, CUNY has been subjected to decades of budget cuts that have led to skyrocketing tuition and fees, making the university increasingly unaffordable for the working class and students of color it was originally founded to serve. In less than three decades annual tuition at CUNY's four year colleges have increased by an astounding 400% (from $1,250 in 1989 to $6,330 today), and the unelected CUNY Board of Trustees is set to debate yet another round of multi-year increases that could raise tuition every year for years to come. Meanwhile, the percentage of the university's budget that is covered by the state and city has shrunk to historic lows. Currently only a little more than 50% of the University's senior college budget is funded by the state. The remaining is funded almost entirely by student tuition and fees.
Thanks to Governor Cuomo, the university is now facing one of the most devastating budget cuts in its 170 year history. Legislators in Albany are currently debating the Governor's proposed 2017 budget, which, until recently, included a $485 million cut to the state's share of CUNY's operating budget. Though the governor claimed the shortfall could be easily offset by reducing administrative costs–code for slashing jobs–CUNY Chancellor James Milliken warned that such a cut could lead to massive layoffs or even the closing of several campuses. Though the Governor seems to have backed off the proposed cuts, it's clear he has no intention of restoring the much needed funding. Indeed, as many observers have noted, the Governor's cuts to CUNY's budget were likely little more than a game of smoke and mirrors designed to soften the blow of a budget that contains no funds for increased personnel costs, and does not keep pace with inflation or increased enrollments.
While CUNY students have seen their tuition increase dramatically, the faculty and staff of the university are also under the gun. The members of the Professional Staff Congress union have been working without a contract for six years and have not received a raise since 2009. In November, after years of resistance, CUNY's management made an offer of a partially retroactive 6% wage increase over six years. Since the cost of living in NYC has increased by 23% during this same period, that offer would have meant a significant pay cut for the thousands of hard working union members who make the university run. It was resoundingly rejected by the union. In response CUNY's management has since turned to the state for help, filling for mediation with the anti-worker New York state Public Employee Relations Board.
We Say Fight Back
In response to the deteriorating conditions of negotiations, the PSC has begun building for a historic strike authorization vote. Such a move would be unprecedented, seeing that the New York State Taylor Law expressly forbids public employees from going on strike or taking any kind of action that stops, slows down, or otherwise interrupts regular work. Punishments for violating the Taylor Law include jail time for union leaders, fines of up to two days wages for every day of work missed, and the suspension of card check dues.
Whether the union leadership is prepared to utilize a strike authorization, thereby breaking the law, is another question. The last time the Taylor Law was defied was in 2005 when thousands of public transit workers, represented by the Transport Workers Union Local 100, shut down the subway system. The leaders were jailed, members were fined, and the union suffered a setback. One big difference today is the widespread anger at the political establishment and the 1%. The Taylor Law can be defeated, if the union takes a strategy of fully mobilizing community support linking strike action to a struggle for all working families and drawing in the wider labor movement, students, and other broad support in an active and organized way.
The PSC union has 25,000 members. So far 4,000 have signed a pledge for a strike authorization vote and the union has held a couple spirited rallies. But, preparing a strike will require activating a large number of members, along with the tens of thousands of students and wider community. A whole layer of PSC members would need to take up ownership of a serious strike mobilization, organizing big campus meetings and campus actions, in preparation for larger mobilizations of 10,000 or more, as a decisive means of seriously building up the confidence of members that a strike can be successful. This is possible, but takes a leadership committed to galvanizing the membership by taking up key demands like pay increases for tenured faculty of 5% a year, and an increase in per-course salaries of adjunct faculty from $3,000 to the MLA recommended salary of $7,000. It means building democratic organizing structures to involve wider numbers of members in the planning of the struggle at CUNY.
Such a bold strategy would inevitably come up against the opposition of the Democratic Party establishment.  It's clear Governor Cuomo is a corporate politicians and not on the side of the CUNY workers and students. But Mayor de Blasio, along with the entire Democratic Party, a party dominated by big business, cannot be relied on. It was recently exposed the Mayor has taken more than $1 million in donations from big developers and real estate companies for his now defunct charity, Campaign for One New York. The PSC snubbed Cuomo for an endorsement in the last election. But, the unions should go farther and stop funding parties and politicians that take money from big business. We should start running our own candidates, independent of the Democrats, as a step toward launching a new party of the 99%, which would be a necessary tool to mobilize millions of working people against the corporate establishment and their social service slashing agenda.    
CUNY has seen more than its fair share of struggle and has weathered countless crises' over the last century, but there has not been a moment like this in decades. CUNY stands on the precipice of an historic opportunity to stand up to the bosses' Taylor Law and to push back the forces of austerity, setting an example for faculty and students across the country.