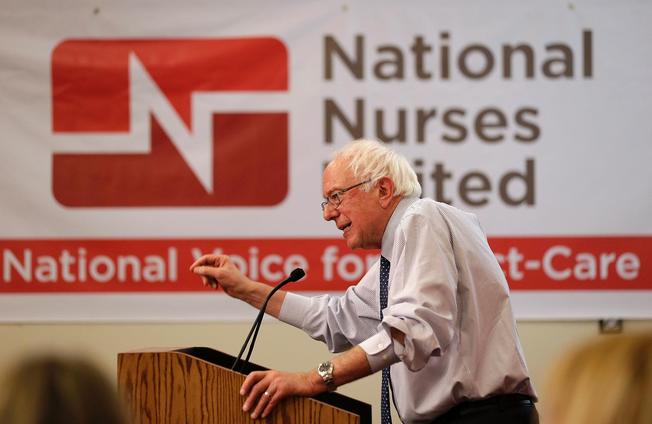 In a coup for the Bernie Sanders campaign, the AFL-CIO, the largest federation of unions in the U.S., has decided to remain neutral during the primaries, at least for now. This surprising announcement reflects the growing political division within the labor movement between large sections of the rank and file and the leadership of many unions on who to endorse.
Bernie Sanders has won the endorsement of nearly 100 union locals, the National Nurses Union which has been barnstorming across primary states to get out the vote for him, the American Postal Workers Union, as well as the 500,000 member strong Communications Workers of America.
Shamefully, despite Hillary Clinton's record of supporting anti-union legislation like NAFTA and receiving millions in speaking fees and campaign contributions from the likes of Goldman Sachs, the executive boards of many of the largest unions have endorsed Clinton. SEIU, ASCME, UFCW, the Machinists' union (IAM), and both major teachers unions, the AFT and NEA, in all representing nearly 10 million workers, are trudging the same worn path to the dead end of the Democratic Party establishment. In the case of SEIU and AFT, for example their endorsements of Clinton   have been met with staunch resistance from some locals.
This situation exposes the crisis facing the labor movement. While unions overall continue to be pushed back with "right to work" legislation now passed in over 25 states, most of the leadership is afraid to separate itself from the  the Democratic Party establishment and get behind Sanders. This is despite the failure of the Democrats to meaningfully do anything to support the unions when they last controlled Congress between 2008 and 2010 and the willingness of the Democrats to support numerous attacks on union rights, workers' benefits and social services for working people at state and local level.
Sanders' campaign is the best opportunity to galvanize working people behind a pro-worker program in decades. But this requires moving in the direction of political independence. The unions representing nearly 2 million unionized workers standing with Sanders are the tip of the spear, pointing the way forward for labor.