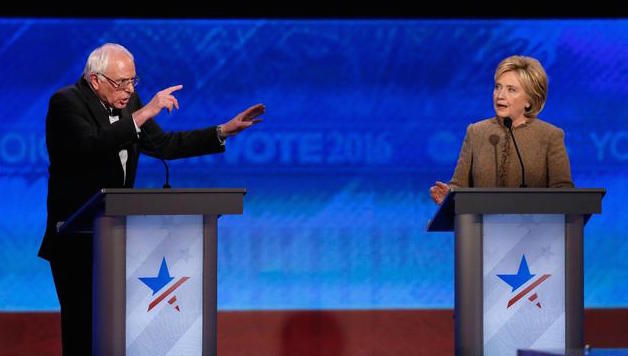 Following the Democratic Primary Debate, Rich Discussion on How to Beat Clinton Establishment
On December 19th, Socialist Alternative in Seattle held a debate-watching house party for the third Democratic Debate. After registering the event on BernieSanders.com, 80-100 people attended, bringing a very mixed crowd, a majority of younger people and half of the people were not involved in political activities at all before. We watched the debate together, paying close attention to the attacks that were cast and the ones that were missed. We broke out into unanimous applause when Bernie responded to the question "Will Corporate America love a President Bernie Sanders?" with a flat "Nope, I think they won't."
When the debate ended, we stayed and had a roundtable discussion about what we just saw and what is needed for Bernie to win against Hillary's fake-progressiveness.
It was kicked off by Socialist Alternative's Jess Spear who spoke about the open room for Bernie to more sharply challenge Hillary Clinton on her track record, which is a smear of corporate-friendly policies at the expense of working people, and the need to organize outside of the sphere of the DNC (Democratic National Committee, the machine that runs the Democratic Party) who has made it clear that they will use every tool at their disposal to undermine Bernie's campaign. Jess emphasized the need to build toward an independent party of working people.
There was a lot of excitement in the room around next steps to help the campaign in the wake of the DNC's heavy-handed attack on Bernie. There was a feeling of the need for a fight-back, and the discussion incorporated seemingly everything from phone-banking to agitating in unions to endorse Bernie to art demonstrations to holding debates between Hillary & Bernie supporters. People expressed their disgust about Clinton's hawkish foreign policy, but also Sanders' lack to counter that with proposals based on the struggles of working people in the region who are confronted with oppressive US-supported regimes in Saudi-Arabia, Jordan, Egypt and many more. There was a rich discussion about which way forward with one pivotal point of universal agreement: Win or lose in 2016, we need to continue to get more organized. It was in that opening that Socialist Alternative announced the recent launching of #Movement4Bernie, an independent grassroots organization outside of any influence by the DNC aimed at maximizing the on-the-ground organizing of Bernie supporters.
It was a successful night of political discussion and organizing, and spurred the immediate planning of multiple socialist debate screenings for the next debate.
Socialist Alternative also organized similar watch parties in other areas. For example in Chicago 130 people attended it. Let's come together to get the political revolution against the billionaire class on the way. Organize your own Sociailst Watch Party and Discussion on January 17, 2016, register it on BernieSanders.com and bring together an interesting crowd to build a #Movement4Bernie.