Socialist Alternative Seattle City Councilmember Kshama Sawant's re-election campaign is on the frontline of struggles against the political dominance of the 1% in Seattle and across the country.  Sawant led the fight for the nation's first $15 minimum wage in a major city in 2014 and is now fighting for housing justice for all working people.  It's because of this that Seattle real estate interests and corporate CEOs have contributed over $80,000 to Sawant's opponent, and are determined to beat Sawant and crush any movement that threatens their profits.  Join the movement for independent politics that is challenging the status quo.  Buy your tickets here before they sell out!
With rents going up in cities across the country, working people are being squeezed as more of their income is transferred to property owners and housing developers.  Kshama Sawant's campaign for re-election to the Seattle city council has brought the issue of housing justice front and center with over 1000 people attending a debate on rent control organized by Councilmember Sawant.  In San Francisco and Oakland, community groups have organized to stop luxury high rise developments in working class neighborhoods to fight back against gentrification and displacement.   
Roots of the Housing Crisis in Bay Area
The affordable housing crisis is in full swing in the San Francisco Bay Area.  Everyone has stories to share about how insanely expensive housing has become.  The scientist working at a pharmaceutical company who lives in an old RV after a no-fault eviction; the latest apartment rented in a co-worker's building went for $5500/month for one bedroom and no parking; the friends who are moving from an East Bay suburb 15 miles from San Francisco to a town even farther away because their rent was being raised 100%.  San Francisco might be ground zero for eye-popping rents in absolute numbers, but Oakland, a city that has traditionally had a large working-class and black population, has the second highest rate of rent increase in the nation and an 88% increase in asking rents over the last 5 years!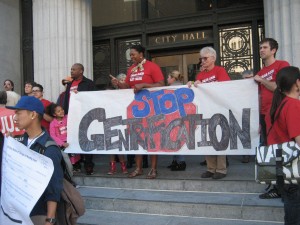 Housing developers, and the mainly Democratic party politicians that they fund, are running amok in cities all over the country where housing is scarce.  With virtually no wage growth since the financial crisis, most workers and young people cannot pay market rates for apartments and are forced to double up or relocate far from their jobs and communities.  The character of cities is changing dramatically as working people and people of color are pushed out of the communities where their parents and grandparents raised families.
With a growing number of people finding jobs in the nation's strongest economy, the Bay Area is facing a severe shortage of affordable housing.  Housing developers are responding by building luxury housing that is 'in demand' by high-paid workers and professionals, and super-rich speculators from the US and abroad.  San Francisco's strong economic recovery continues to march on, with jobs in the tech industry accounting for 27% of job growth since 2010, and "the tech multiplier effect," or new jobs created because of new tech jobs, responsible for another 36%.  There are now more people employed in San Francisco than at any other point in the city's history.  With the average San Francisco tech worker making $156,000 per year, inequality in San Francisco now rivals that of Rwanda and Guatemala. The logic of capitalism dictates that housing developers, unencumbered by the basic needs of existing communities, will continue to build for the wealthiest segment of the market in order to make the biggest profits.  
The greed of many of the big housing developers cannot be overstated.  Angelo Sangiacomo, one of San Francisco's biggest landlords, harassed low income tenants in rent-controlled apartments for years in a struggle to build a new high-rise tower, which would not fall under rent control.  City government eventually negotiated a deal where Sangiacomo would get his new building, but existing tenants would be able to move into the new units at their existing rent levels and continue to have rent control.  The City Attorney is now investigating reports that 16 of the new rent controlled units are being rented short-term as tourist rentals. Oakland city council members' single biggest source of funding for the first half of 2015 was the real estate industry, according to the East Bay Express.   
Community Organizes a Fight Back
Despite the unprecedented money, power and government access of the big housing developers, grassroots movements of ordinary working class people have denied the developers their outsized profits in two planned luxury apartment buildings.  In San Francisco, community members and activists in the Mission district, an historically Latino area that has been ground zero for displacement of working class residents, organized to stop development of a 331-unit apartment building expected to net housing developer Maximus some $1 million per unit in profit.  Maximus worked with consultants with deep connections to the San Francisco Democratic party political machine to orchestrate a campaign to "clean up" the proposed building site at 16th and Mission, which amounted to constant police harassment of homeless people and community members.  After two years of organizing, protests and an occupation of City Hall, the deal was scuttled.  Now activists are putting their energy into passing the Mission Moratorium, a ballot measure that would stop all new 'market rate' housing development in the Mission district for 18 months.  
Oakland community activists in the working class Eastlake neighborhood beat a planned luxury condo project after organizing protests at city council meetings, including a meeting that was completely shut down by protestors.  In July, the city finally backed down from its plan to sell the land to a developer who is closely connected to two city council members (Democratic party members, like virtually all of Oakland's local officials), and who has a history of getting public funding for his projects when he threatens to stop work due to cost overruns. There is now a proposal created through an inclusive, democratic process for how to use the land to best meet the needs of the community.   
Strengthen Renters' Rights and Rent Control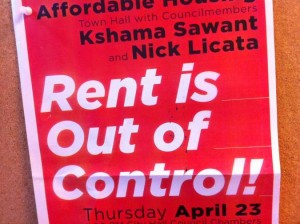 With Seattle tenants also facing skyrocketing rents and displacement, socialist Kshama Sawant's re-election campaign is centered on a plan to make Seattle affordable for all working people, including rent control, making the developers pay (by levying maximum "linkage fees" on new housing development) to fund affordable units, the development of thousands of units of high quality, city-owned housing, and a Renters' Bill of Rights which limits move-in costs to one month's rent.  Several Bay Area cities already have rent control, but with newer buildings exempt, loopholes like Ellis Act evictions are always a threat to tenants, particularly during periods when property values are rapidly rising. Although legislation has passed in San Francisco that makes evictions more costly for landlords, what working people need is an extension of rent control to all buildings, including new construction.
San Francisco Bay Area renters need stronger housing laws that will protect renters from evictions and force developers to create or fund more affordable housing units.  The Eastlake and Mission District activists serve as models for grassroots organizing to stop the luxury housing profiteers and force affordable housing onto city governments agenda.  If the big developers can't or won't provide decent, affordable housing ordinary workers, then cities should take over the job, using fees from private development to help fund it.
Victories against luxury housing developments show that when we organize, we can win.  We need to build on those victories and create a powerful movement that will fight to set the agenda for housing in our communities.  Because most of the political establishment is firmly in the pocket of the real estate industry, we need independent candidates who don't take any money from big developers, and who will fight for affordable housing for working people and against gentrification and displacement.